Breast Cancer Treatment & Surgery
OUR APPROACH TO TREATMENT
Houston Methodist's experts collaborate to offer the most advanced options in breast cancer treatment, including radiation oncology and reconstructive surgery to treat breast cancer. Our goal is to provide the most effective treatments, while preserving healthy tissue and cells.

We deliver powerful and targeted treatments designed to precisely attack cancer cells and limit radiation exposure to healthy tissues. Our radiation oncologists are leaders in their field, researching and providing the latest technologies to reduce treatment side effects. We also offer heart-sparing prone positioning to patients with left breast cancer to avoid heart and lung radiation exposure.
Dr. Spiegel, Dr. Lim and Dr. Friedman on Nipple Sparing Mastectomy & Breast Reconstruction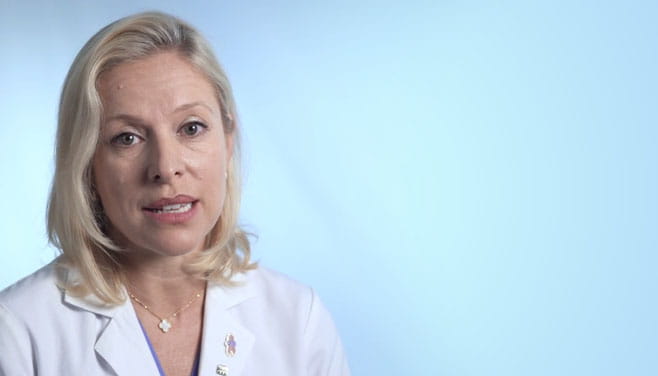 During a sophisticated mastectomy procedure, our surgeons remove cancer while sparing the patient's nipple. Then we reconstruct the breast using the patient's own tissue. This innovative microsurgery, pioneered at Houston Methodist, allows for more natural-looking results and improves nerve sensation in the skin.
We consult with you to develop personalized treatment plans for all breast cancer stages, and offer qualified patients opportunities for clinical trial participation.
Additionally, specially trained breast surgeons and plastic surgeons develop plans to remove cancerous tissue and reconstruct patients' breasts to appear as if they haven't been operated on. Our doctors have expertise in nipple-sparing mastectomies and perform them whenever possible, including on patients who have been told by doctors elsewhere that they are not candidates for the procedure.
The nipple-sparing mastectomy is a "game changer," our surgeons say, because it is safe, effective and cosmetically appealing for patients. The procedure can save patients' lives and leave them feeling good about themselves, feeling whole.
Our breast surgeons at
Houston Methodist Surgical Associates
and our plastic surgeons at
Houston Methodist Institute of Reconstructive Surgery
have studied and perfected surgical techniques, including nipple-sparing mastectomy, to maintain breast sensation, which is important to many patients.
Patients choose Houston Methodist for our innovation and expertise in breast cancer surgery and treatment.
Treatments and Procedures
Breast cancer surgery – removal of cancerous tissue, and possibly lymph nodes and muscle, from the breast and breast area, including:


Mastectomy – breast tissue removal
Total mastectomy – removal of breast tissue, nipple, areola, skin and at least one lymph node for biopsy
Modified radical mastectomy – removal of breast tissue, nipple, areola and some lymph node
Radical mastectomy – removal of breast, lymph node and chest wall muscle
Partial mastectomy – removal of the cancerous part of the breast tissue, as well as some normal tissue
Nipple-sparing mastectomy – removal of all breast tissue, sparing the nipple
Skin-sparing mastectomy – removal of inner breast tissue, the nipple and areola, but the skin is spared
Lumpectomy – removal of the tumor and a limited amount of surrounding tissue. It is a form of partial mastectomy, but more healthy tissue is preserved
Hidden Scar Breast Cancer Surgery

–

an advanced approach to remove cancerous tissue through a single incision made in a discreet location

Radioactive seed localization (RSL) – a tiny, radioactive seed is implanted before surgery to help surgeons find abnormal breast tissue seen on mammograms, ultrasounds or MRIs that otherwise would not be felt or seen during surgery. Surgeons remove the seed along with abnormal breast tissue during surgery, sparing healthy tissue