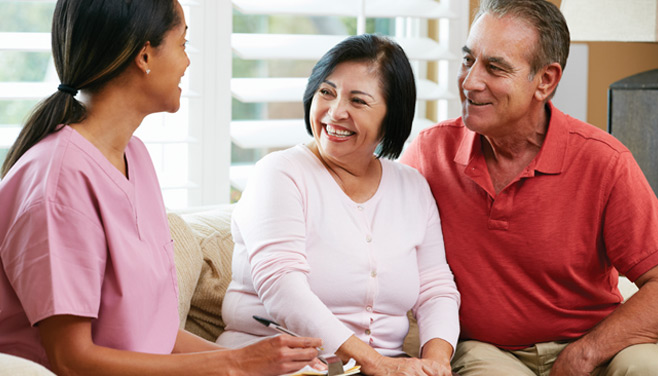 At Houston Methodist, we are committed to you, our patient, and your overall health and well-being. Fulfilling this commitment requires a comprehensive, team approach in the detection and treatment of cancer in an environment that is rich in collaboration and compassion. Our highly trained and specialized clinicians manage cancer with the latest technologies and at the highest level of expertise, providing individualized therapies that optimize your treatment.
Cancer is a complex disease, and treatment planning requires the expertise of many clinicians across varied medical specialties. At Houston Methodist, our doctors collaborate across specialties in the prevention, detection, diagnosis and treatment of cancer. This interaction allows for the development of a unified plan that benefits from the combined clinical and research expertise of our highly specialized physicians, researchers and other health professionals. Our oncologists work together to ensure that you receive comprehensive and coordinated care from diagnosis to recovery. You will receive an individualized plan that is unique to you and takes into consideration your needs and treatment goals.
Houston Methodist Cancer Center recognizes that prevention, diagnosis and treatment of cancer extend beyond your physical needs. A range of skilled and highly specialized professionals provide coordinated, compassionate care for you and your caregivers. Our goal is for you to focus on your health while our support staff provides peace of mind by taking care of everything else.
We offer a variety of therapies and support services to minimize the emotional and physical effects of a cancer diagnosis to keep you strong and to keep your treatment plan on course. These support services include
patient navigators
, spiritual advisors,
dietitians
,
wellness programs
,
patient support groups
, physical and massage therapists, financial counselors and other
patient assistance
services.
We can also help you find local housing and transportation options so that you and your family members travel and stay in comfort. Learn more about our services designed for those
traveling from outside of Texas
or
outside the United States
.

We collaborate with a variety of organizations, both nationally and locally. Learn about the additional resources available.

You are an essential member of your cancer care team, and staying informed, positive and involved is vital in your battle against cancer.