Lung cancer is by far the deadliest cancer for both men and women in the United States. More people die from lung cancer than colon, breast and prostate cancers combined.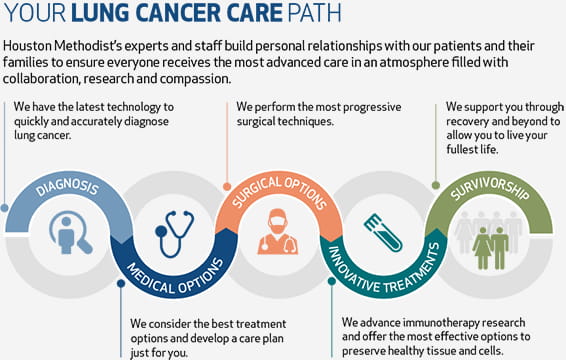 What Is Lung Cancer?
There are two different types of lung cancer: small cell lung cancer and nonsmall cell lung cancer. Small cell lung cancer metastasizes (spreads) more rapidly than nonsmall cell tumors, and is almost always caused by cigarette smoking.

Nonsmall cell lung cancer is more easily treated, and if detected early, can be cured with surgery in more than half of all cases. Although carcinogenic chemicals or pollution exposure can cause nonsmall cell lung cancer, the best way to reduce your risk of lung cancer is to avoid smoking cigarettes.

How Can Houston Methodist Help?
Our doctors at Houston Methodist Cancer Center offer state-of-the-art detection for lung cancer through our Lung Cancer Screening Program. We have also achieved breakthroughs in thoracic surgery for lung cancer and other diseases of the chest.

At Houston Methodist, we are dedicated to providing proactive lung cancer screening to our patients, as well as leading-edge diagnosis and treatment options that deliver the best possible results if a tumor is found.

For more information on our lung cancer screening program and to find out whether you are eligible, call Houston Methodist at 713.441.LUNG (5864).



Choose a Cancer Center Location