Services at Baytown Hospital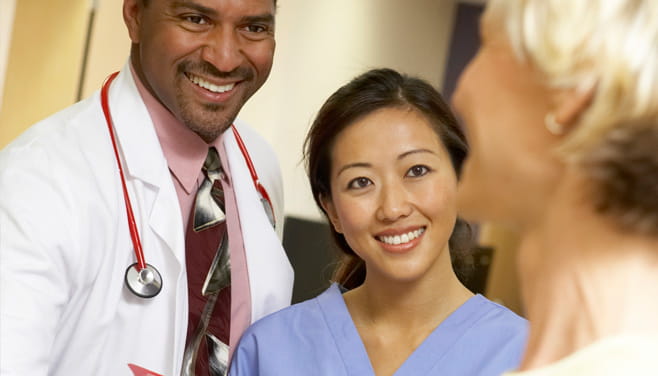 Houston Methodist Baytown Hospital offers the full spectrum of medical and surgical services for all ages and stages of life. Our services include emergency care, cancer care, women's services, cardiology, neurology, stroke care, primary care and a range of other specialty services. From routine wellness exams to advanced treatment of complex diseases, you can count on our doctors and specialists to provide high-quality, compassionate care that's close to home, with convenient online scheduling.
Explore Our Services
Learn more about the programs and services we offer, including these featured services:
Physician Practices
Primary Care Group
With locations throughout the Greater Houston area, Houston Methodist Primary Care Group is dedicated to providing high-quality patient care for the entire family. Our skilled team of doctors and specialists will work with you to manage chronic illnesses such as diabetes, high blood pressure, asthma and more. Houston Methodist Primary Care Group is proud to be a part of Houston Methodist and its family of hospitals, ensuring efficient access to specialty and hospital services whenever the need arises.

Specialty Physician Group
Houston Methodist Specialty Physician Group is a group of specially selected medical practices representing a wide range of specialties. Our physicians are leaders in their fields, with extensive clinical experience. All were chosen based on their proven ability to provide top quality, values-based medical care to residents of the Houston area.
Spiritual Care
When your life is interrupted by an illness or accident, addressing your spiritual and emotional needs is an important part of your care. We have several resources available when these needs arise.

Our Chaplains are board-certified ministers who specialize in caring for you spiritually and emotionally. A chaplain is available to listen and talk with you, to pray with you and to help you find additional spiritual resources.

If you wish to have a minister or other clergy from your personal place of worship visit you, we want to assist you in contacting them. If you would like to have a priest to provide the sacrament of the sick or the sacrament of confession, we can ask a local priest to come. If you wish to take Holy Communion, this is available from several sources.

The Department of Spiritual Care and Education is staffed by a chaplain Monday through Friday, 8 a.m. to 4:30 p.m., and can be reached at 281.428.4401.