Houston Methodist
Baytown Hospital
Houston Methodist Baytown Hospital
4401 Garth Road
Baytown, TX 77521
281.420.8600
Get Directions
Houston Methodist Baytown Surgery Center
1677 W. Baker Road
Baytown, TX 77521
Get Directions
Houston Methodist Baytown Outpatient Center
1677 W. Baker Rd.
Baytown, TX 77521
Get Directions
Despite the COVID-19 crisis, our doctors continue to safely see patients virtually and in person, as needed.
Learn More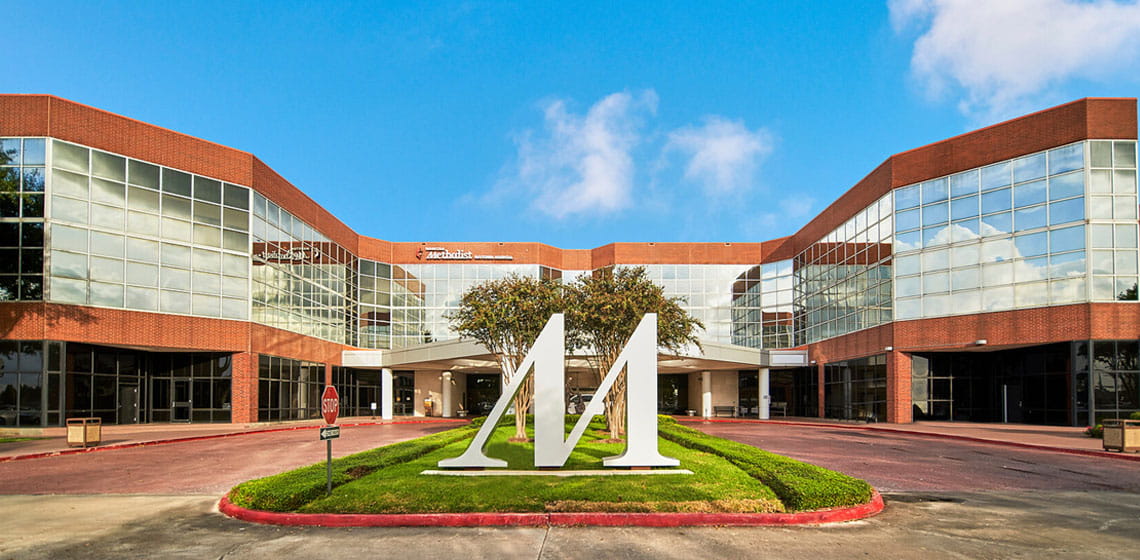 Welcome to Houston Methodist Baytown, a full-service, acute care hospital serving communities in Harris, Chambers, Liberty and surrounding counties. Through the years, our hospital has grown with the community, enhancing and expanding technology and services every step of the way. Today, Houston Methodist Baytown offers comprehensive care provided by expertly skilled physicians, nurses and staff.

The ongoing transformative inpatient and outpatient building expansion and renovation projects are all major elements in the hospital's overarching mission to serve our community with unparalleled safety, quality, service and innovation. We are proud to offer you an exceptional array of state-of-the-art programs and services including minimally invasive robotic-assisted surgery, cancer care, heart and vascular, neurosciences, gastroenterology, orthopedics & sports medicine, women's health and much more, all close to home.
Learn more about us >
Learn more about Professional Contributions of Nursing at Houston Methodist Baytown Hospital >
---
COVID-19 HOSPITAL ENTRANCE INFORMATION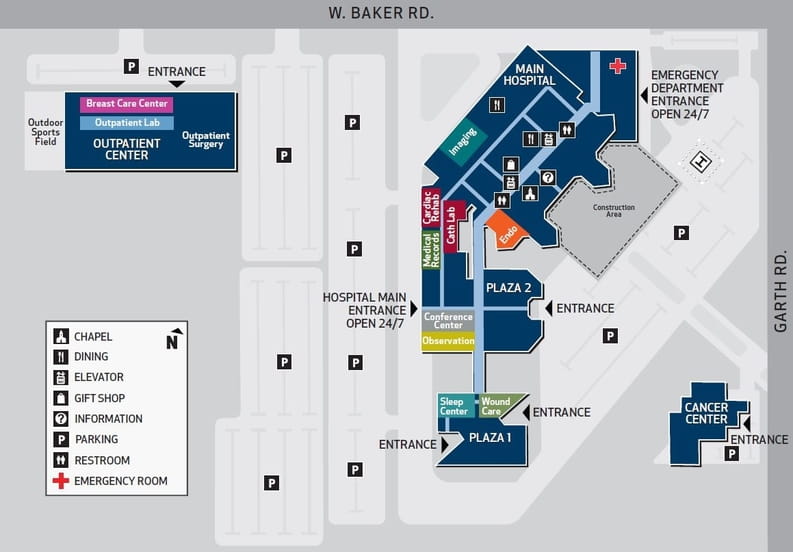 The following entrances are open for screening/entry:
Patients/Visitors
Entrances are located at:
Outpatient Center, 1677 W. Baker Road
Cancer Center, 4021 Garth Road
Plaza 1 Front and Rear Entrance, 4201 Garth Road
Plaza 2 Conference Center Entrance, 4301 Garth Road (main back parking lot entrance)
Plaza 2 Entrance, 4301 Garth Road (front parking lot entrance)
Emergency Department, 4401 Garth Road
Visitor Policy
(Effective 9/1/2021)
Under state law, patients may have 1 healthy visitor (18 years or older) at a time, except in certain circumstances where it could be a community health risk. This includes our emergency departments.

For everyone's safety and to prevent the spread of COVID-19, we strongly discourage visitors. We encourage only vaccinated visitors enter the hospital or physician offices. All visitors are required to wear a mask for the entirety of their visit and are subject to Houston Methodist's screening policy.
Emergency department
No visitors are allowed in the emergency department waiting room. Visitors will be notified once the emergency patient is in a treatment room and it is deemed safe for the patient to have a visitor.
Hospitalized patients, procedures, treatments, doctor appointments and vaccine clinics
Generally, each patient is allowed 1 healthy visitor in the facility at a time. For example:
Hospitalized patients are allowed

1 healthy overnight visitor

(18 years or older).
Labor and delivery patients are allowed

1 healthy visitor at a time

(18 years or older).

One healthy visitor

(18 years or older) may stay overnight.
For the Neonatal ICU,

both parents

will be allowed to visit.
On the day of surgery,

1 healthy visitor at a time

is allowed to stay in the waiting room during surgery, then accompany the patient back to the unit.
COVID-19 or other infectious hospitalized patients
Visitors are not allowed if the patient's attending physician deems it unsafe. Otherwise, 1 healthy visitor (18 years or older) will be allowed and will be required to wear the necessary safety equipment at all times. Please read our Visitor Safety information here.
Exceptions
Special consideration will be made for disabled patients who may need more than 1 visitor to provide support and
knowledge about their care.
Visitor policies will vary for long-term acute care hospitals (LTACHs).
If you feel an exception is needed, please speak to management.
Any physician may make an exception to this rule for compassionate reasons, based on the patient's medical condition.
Patient's clergy may visit without being "counted" against the patient's visitor limit.
Visitor hours may be determined by each unit.
Everyone must wear a mask at all times while in Houston Methodist facilities. Hospitals and private businesses can require masks according to state law.
Patient & Visitor Resources
From preregistering for your visit to information about health insurance plans we accept, you'll find the patient resources you need to make your visit with us as convenient and stress-free as possible.
We welcome visitors 24 hours a day in most areas of the hospital, and provide numerous patient & visitor resources (parking information, visiting hours, dining options, etc.) to make visiting easy. We also provide you with these helpful tools:
Services We Offer
Learn more about the programs and care we offer, including these featured services:
See a complete list of all our programs and services.
Houston Methodist Baytown Emergency Department
Houston Methodist Baytown Hospital continues its commitment to providing unparalleled medical care and services to Baytown area residents with its new state-of-the-art emergency department.
Magnet Recognition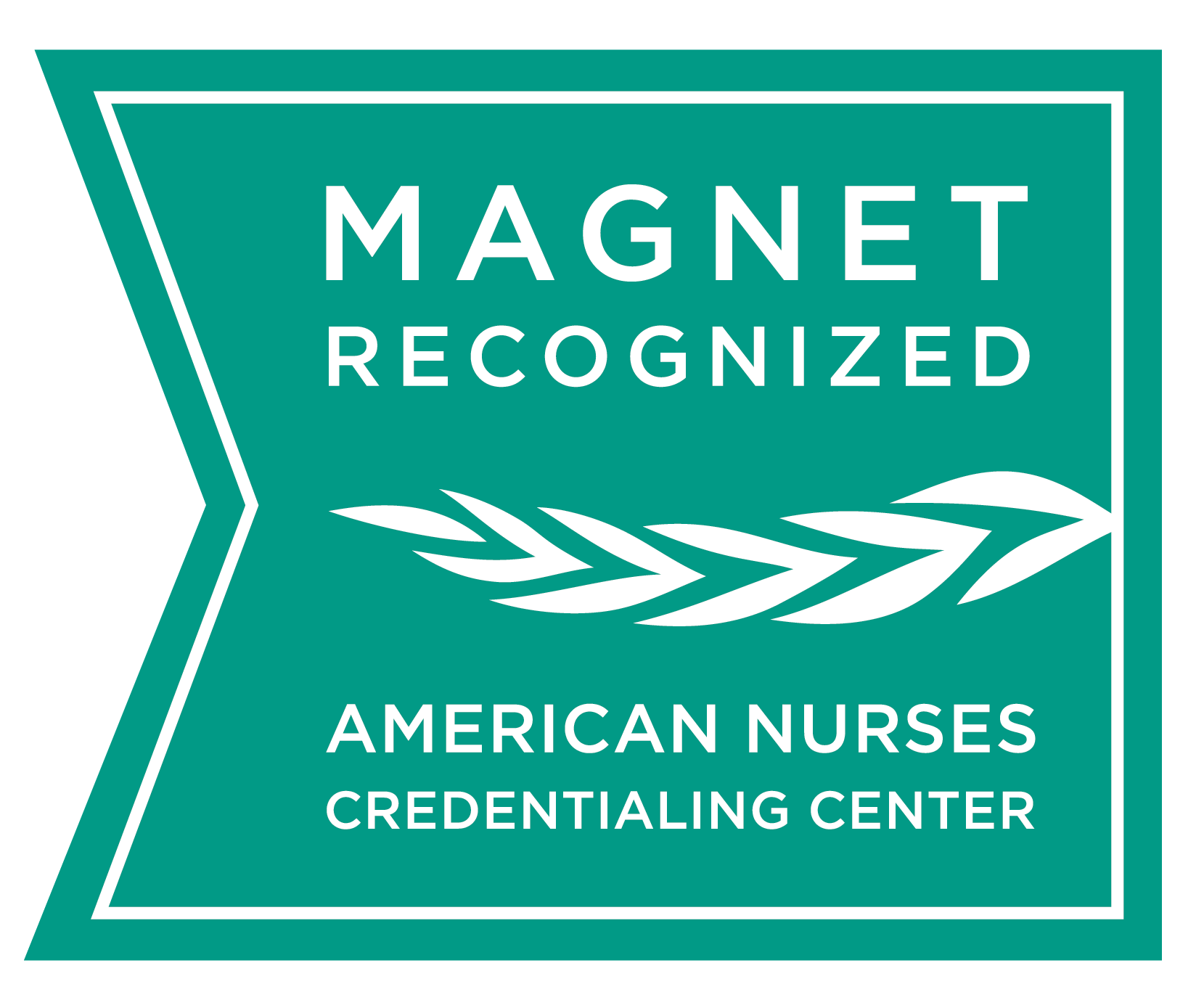 Houston Methodist Baytown is an honoree of the American Nurses Credentialing Center's (ANCC) Magnet Recognition Program® that recognizes health care organizations for quality patient care, nursing excellence and innovations in professional nursing practice. Consumers rely on Magnet designation as the ultimate credential for high quality nursing.