Professional Contributions of Nursing at Baytown Hospital
Houston Methodist Baytown Hospital nurses use the Magnet® Model as a framework for nursing excellence. Through Transformational Leadership, Structural Empowerment, Exemplary Professional Practice, and New Knowledge, Innovation and Improvements, excellent empirical outcomes are achieved. Houston Methodist Baytown nursing supports the Houston Methodist vision for unparalleled safety, quality, service and innovation.
Nursing mission: Houston Methodist nursing provides an environment in which excellent nursing practice, interprofessional collaboration, leadership, education and research ensure that patients, families and the community experience compassionate, value-based care through unparalleled safety, quality, service and innovation.
Nursing vision: We lead the world of nursing in an innovative and collaborative environment of excellence in patient care, education and research.
Philosophy of nursing: We believe the cornerstone of the Houston Methodist Professional Practice Model is a triad of:
Leadership: Building value-driven partnerships with patients, families and the interprofessional team that yield high-quality care.
Art: Caring for patients and families in a holistic way to meet clinical, psychological, educational and spiritual needs.
Science: Improving outcomes through evidence-based practices, research, innovation and professional development.
Transformational Leadership
Nurse leaders and nurses at the bedside are transformational leaders who keep nursing goals aligned with the vision and mission of the hospital. They participate in leadership development and mentorship programs, and demonstrate advocacy and support on behalf of staff and patients.


Structural Empowerment of Nursing
Shared Governance — A Model for Nursing Leadership
Nurses at Houston Methodist Baytown are empowered to share experience and knowledge by participating in collective decision-making with interprofessional colleagues. Shared Governance is a decision-making model that offers clinicians the means to influence professional practice and the quality of patient care, as well as to build leadership skills. Shared Governance supports the strategic goals of nursing, thus providing better care to our patients and families.
The Shared Governance model allows nurses to independently exercise judgment in the clinical setting, which has been described by nurses as one of the most significant factors affecting job satisfaction and retention.
Houston Methodist Baytown Shared Governance Model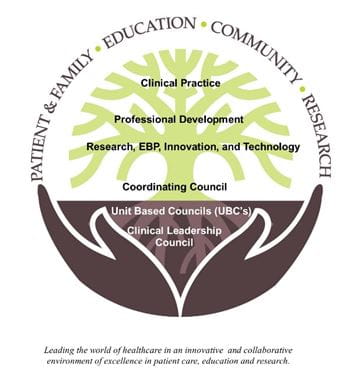 Recognition for Contributions to Professional Nursing
Nurses at Houston Methodist Baytown are routinely recognized for professional accomplishments throughout the year by receiving the following awards:

Daisy Award

Good Samaritan Foundation Nurse Excellence Award

Houston Chronicle Salute to Nurses

Texas Nurses Association District 9 Nurse Excellence Award

Annual Nursing Excellence Award

ICARE Award

Houston Methodist Baytown recognizes nurses for dissemination of research and evidence-based practice by providing resources to:

Attend conferences to present our findings to national and international health care professionals

Publish articles in professional journals

Nurses are recognized to volunteer locally, nationally or internationally by providing paid time off (ICARE in Action) and additional resources (supplies/educational material/donation).

Nurses are recognized by the organization for professional development and are encouraged to be life-long learners by providing:

Tuition assistance of $4000 a year

Success Pays™, Take 2 OR and CPAN certification programs

Graduate Nurse Residency Program

Clinical Scholar Program for evidence-based practice and research

Shared Governance Leadership Series for Shared Governance front-line leaders
Exemplary Professional Practice
Houston Methodist Professional Practice Model
Houston Methodist's I CARE values of integrity, compassion, accountability, respect and excellence provide the overarching values that guide service and practice. The Houston Methodist Professional Practice Model describes the patient care delivery system and the practice of professional nursing.
The patient care delivery system keeps the patient and family at the center, with the staff nurse leader in communication and collaboration with the interprofessional team to affect outcomes of safety, quality, knowledge, efficiency and satisfaction. The graphic depiction below shows our Professional Practice Model, which is built upon evidence-based practice, research and innovation.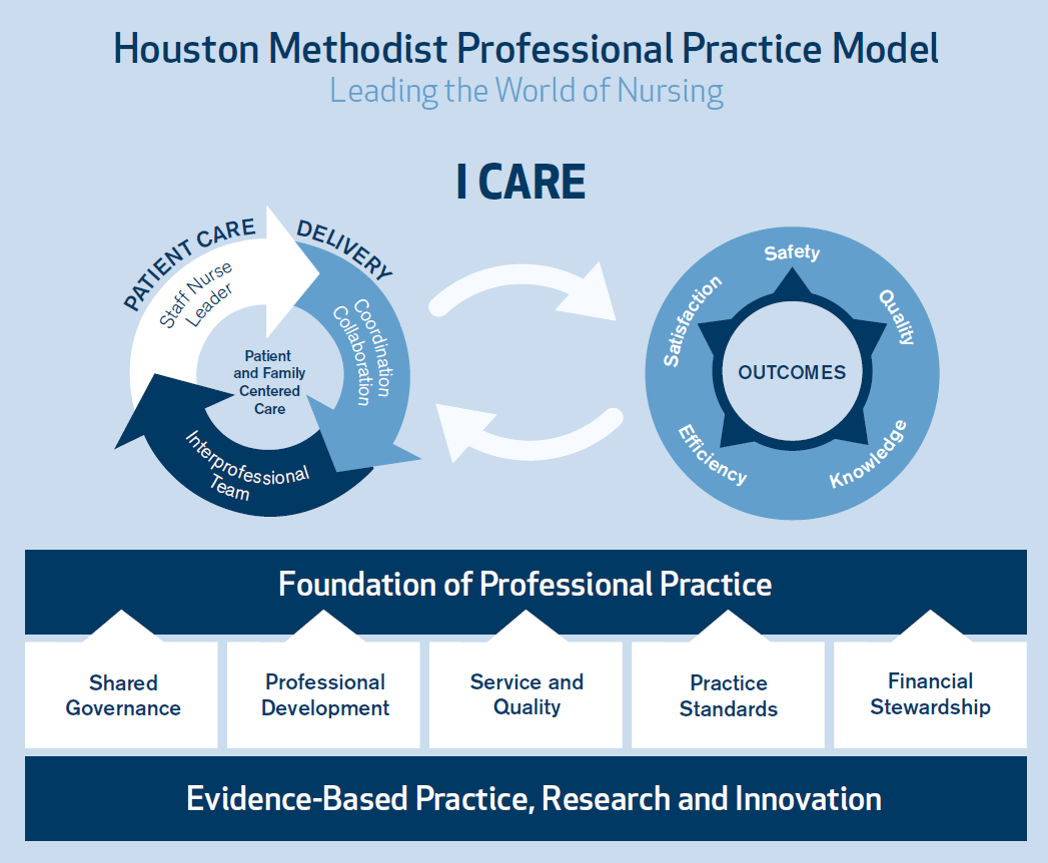 New Knowledge, Innovations and Improvements
At Houston Methodist Baytown, nurses provide unparalleled patient care through the use of evidence-based practice. Nurses participate in Houston Methodist education programs to learn how to lead evidence-based practice projects and conduct nursing research. Nursing-led research generates new knowledge and innovations to optimize patient outcomes. Nurses share best practices through publications and presentations at regional, national and international conferences.
Houston Methodist Baytown Nursing Publications
"A Culture of Nursing Excellence: A Community Hospital's Journey from Pathway to Excellence® to Magnet® Recognition." Journal of Nursing Education and Practice, 2018 Vol. 8, No. 5
"Get the 'SKINNI' on reducing Pressure Ulcers." Wound Care Advisor, May/June 2015, 4 (3), pp. 21-23
Scholarly Contributions of Nursing — Poster and Podium Presentations
March 2019: "Continued Examination of the Effect of Resilience on Length of Hospital Stay and Re-admissions for Persons Undergoing Coronary Artery Bypass Graft (CABG) Surgery: A Pilot Study (Interprofessional Research Study)." 2019 Nursing Science at Bedside Conference, Houston, Texas
November 2018: "Implementation of Red Box Safe Zone in Adult Medical-Surgical Unit." 4th Annual Houston Regional Shared Governance Conference: Improving Outcomes Through Interprofessional Collaboration, Houston, Texas
November 2018: "TAG-UR-IT: Implementation of Bedside Shift Report in Adult Critical Care Unit." 4th Annual Houston Regional Shared Governance Conference: Improving Outcomes Through Interprofessional Collaboration Houston, Texas
October 2018: "The Effect of Resilience on Length of Hospital Stay and Readmission for Persons Undergoing Coronary Artery Bypass Graft (CABG) Surgery (Interprofessional Research Study)." 15th Annual Multidisciplinary Cardiovascular and Thoracic Critical Care Conference Washington, DC.
October 2018: "Building Capacity for Nursing Research — Prevention and Staging of Pressure Ulcers: Clinical Nurses' Knowledge in the Community Hospital Setting." American Nurses Credentialing Center's (ANCC) Research Symposium, Denver, Colorado