Our Approach to Treatment
Houston Methodist recruits the most highly trained specialists in the nation, including one of the country's few eye cancer doctors, Amy Schefler, MD, who diagnoses and treats eye tumors and retinal disease. We also conduct clinical research on nearly every type of eye cancer.
Our team, including radiation oncologists, oncologists, radiation physicists and eye pathologists, is passionate about our work and provides lifelong care to patients, many of whom travel internationally for treatment. We ensure every patient gets the best care possible and review the smallest details of every patient's treatment plan.
Our commitment to excellence minimizes damage to healthy eye parts while maximizing treatment.
Leading Eye Cancer Treatment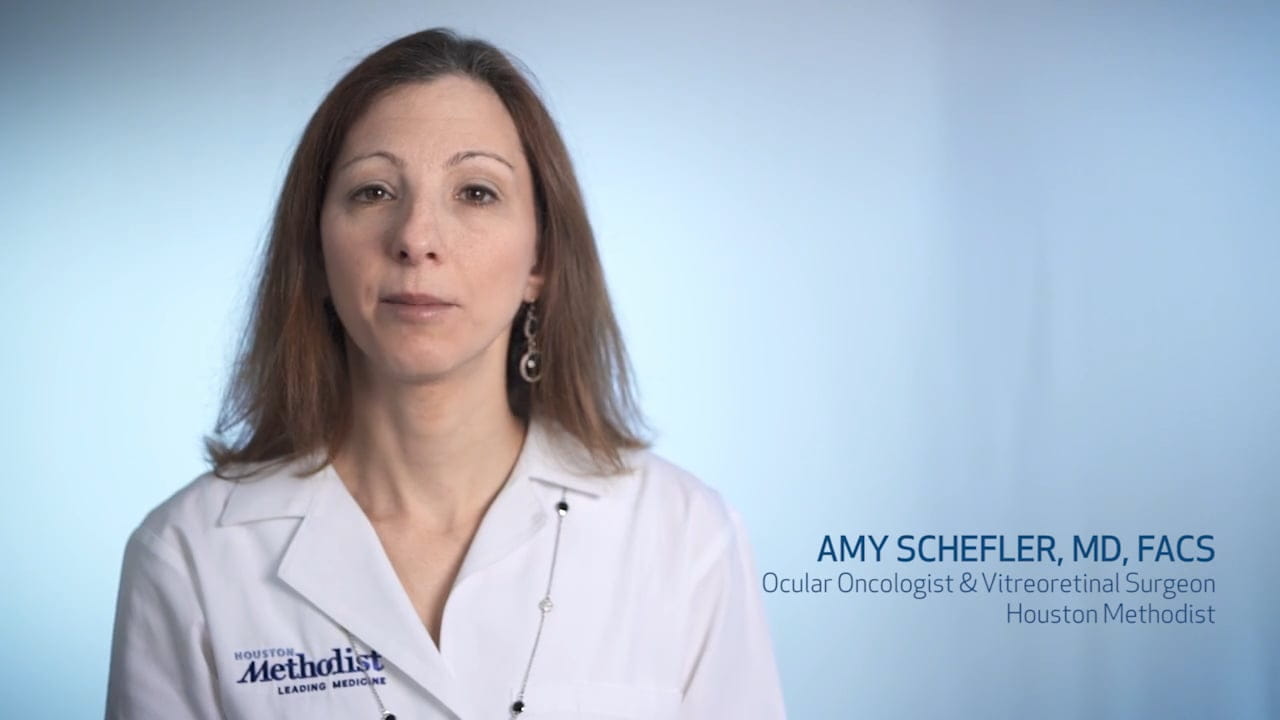 Our ocular specialists can treat the most severe form of eye cancer, using customized ocular discs. As one of only a few hospitals performing this advanced procedure, we successfully target and destroy eye tumors while preserving a patient's vision — with virtually no chance of recurrence.

Eye Cancer Types
Eye cancer can occur in various layers of the eye. It can be benign or malignant, and originate in the eye or travel to the eye from another cancer site. Intraocular (inside the eye) eye cancer types include:
Melanocytic tumors – tumors arising from melanocytes, pigmented cells. Melanocytes are in the iris, choroid and ciliary body, which make up the uveal tract. The iris, which defines eye color, is the thin, circular structure in the eye that controls the pupil's diameter and size, as well as the amount of light that reaches the retina. The ciliary body connects the iris to the choroid and produces aqueous fluid in the eye. The choroid is the blood-vessel layer of the eye that contains connective tissues. It is between the retina and sclera.

Iris nevus – a benign growth of the iris that potentially can become cancer
Ciliary body nevus – a benign growth that potentially can become cancer
Choroidal nevus – a benign growth that potentially can become cancer
Uveal melanoma (iris, ciliary body or choroid) – cancer of the eye, which most commonly is discovered during eye examinations. Melanomas are tumors of pigmented cells, and uveal melanomas are tumors thought to develop from nevi (freckles or moles) within the eye's pigmented layers

Metastatic disease – cancer cells break from where they first formed, travel through the blood or lymph system and end up in the eye. Almost any cancer can travel to the eye tissues
Lymphoid tumors – cancer of blood-forming tissues, which can arise in the eye or travel to the eye

and be benign or malignant

Vascular tumors – benign tumors that develop within or involve the retinal or choroidal blood vessels, including:

Choroidal hemangiomas

Retinal capillary hemangiomas/hemangioblastomas

Cavernous hemangioma
Tumors of the retina and ciliary epithelium:

Retinoblastoma
RPE adenomas and adenocarcinomas
Retinal astrocytomas/solitary retinal astrocytic proliferations
Medulloepithelioma
Leiomyoma/

Leiomyosarcoma
Uveal Melanoma
Definition
Uveal melanoma is cancer of the eye, which most commonly is discovered during eye examinations. Melanomas are tumors of pigmented cells, and uveal melanomas are tumors thought to develop from nevi (freckles or moles) within the eye's pigmented layers
Risk Factors
Being Caucasian
Having light-colored eyes – blue or green
Aging – age 60 and older
Having a genetic link
Pre-existing benign nevi (freckles or moles)
Symptoms
Floaters
Decreased vision
Diagnostics
Ocular and orbital ultrasound
Ophthalmic photos:
Ophthalmic fluorescein angiography (FA) – a special camera is used to record blood flow in the retina. Dye is injected into a vein in the arm/hand
Optical coherence topography (OCT) – a magnified view of the retina, the functional center of the retina
Biopsy – performed if the tumor cannot be seen or if it looks atypical. At surgery, biopsies often are performed for diagnosis confirmation and genetic testing
Imaging to test for metastatic disease:

PET scan
CT scan
MRI
Ultrasound
Patients have the unique opportunity to participate in clinical trials that involve medications as well as gene and cell therapy often unavailable outside of research settings. Learn more >

Houston Methodist Hospital
6560 Fannin Street
Suite 750
Houston, TX 77030
713.524.3434