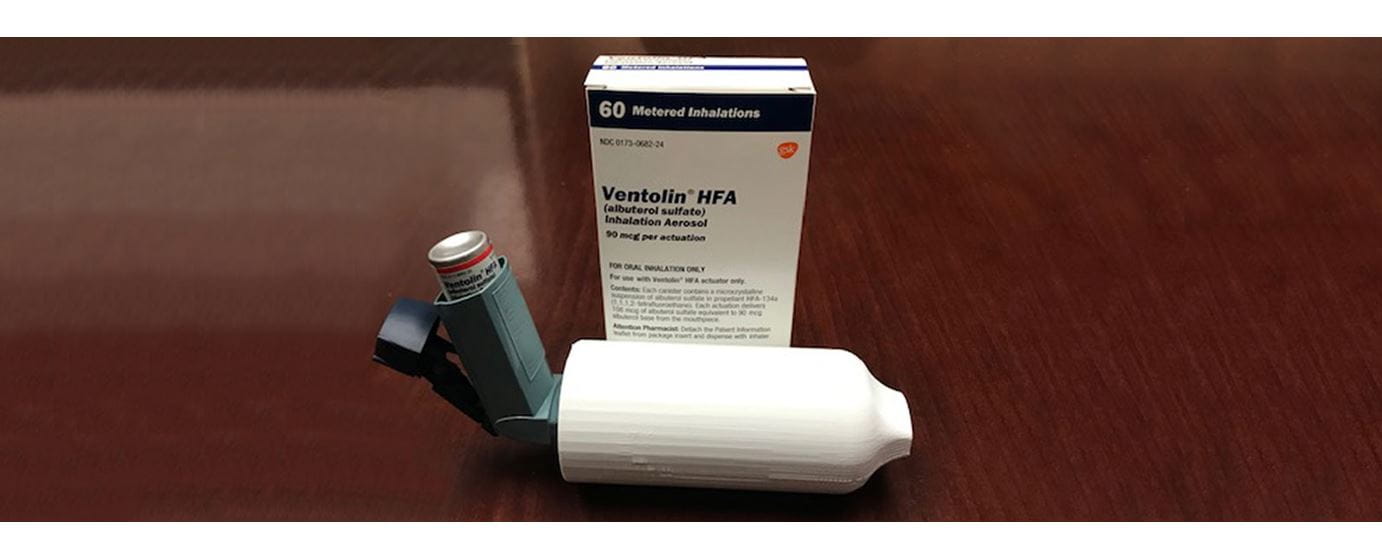 EnMed Collaboration Addresses Shortage of Inhaler Device to Help COVID-19 Patients
Wednesday, April 8, 2020- Many patients diagnosed with coronavirus disease 2019 (COVID-19) require bronchodilator drugs to help ease breathing and increase airflow to the lungs. Bronchodilators are administered through an inhaler or nebulizer, but nebulizers convert liquid medicine into a mist, and using these on patients with COVID-19 in the hospital could help spread the virus. Without the option of nebulizers, inhalers are preferred for treatment, but some COVID-19 patients are not familiar with using inhalers. Inhalers also are in short supply due to increased demand by COVID-19 patients.
A spacer, which is essentially a diffuser that can be attached to an inhaler, can be used to help ensure efficient delivery of bronchodilators to the patient's lungs. Unfortunately, there is also a critical shortage of the spacer devices due to the COVID-19 pandemic. To help tackle the supply shortage, Houston Methodist leveraged their Engineering Medicine (EnMed) collaboration with Texas A&M University to develop a 3D printed spacer. The engineering part of the team produced three different spacer options, including one that uses a common plastic bottle. Based on quick feedback from Houston Methodist clinicians on the frontlines in the hospital, the 3D printable option was chosen.
"This device helps to assure that the patient is receiving the intended dose of medication, which is a best practice in the hospital setting," said Daniel Metzen, PharmD, system director of Pharmacy Services at Houston Methodist. "At the current rate, we will run out of spacers before we run out of albuterol inhalers."
The spacer device is generally cylindrical in shape with a tapered slit at one end to serve as a mouthpiece and the other end attached directly to the inhaler. The bronchodilator disperses into the chamber and is contained so the patient can then inhale through the mouthpiece of the chamber. Patients who are already in respiratory distress may have difficulty operating an inhaler, so the spacer may be of great assistance.
Roderic I. Pettigrew, PhD, MD, CEO of Engineering Health (EnHealth), executive dean for Engineering Medicine at Texas A&M and adjunct professor of nanomedicine, Houston Methodist Center for Cardiovascular Regeneration, and Michael R. Moreno, PhD, assistant professor in the J. Mike Walker '66 Department of Mechanical Engineering at Texas A&M University and director of innovation for EnMed, collaborated with Metzen, Alex Varkey, PharmD, MS, FAPhA, director of Pharmacy Services at Houston Methodist Hospital, and Dirk Sostman, MD, chief academic officer, Houston Methodist, on the 3D printed spacer.
Houston Methodist has already received 50 of the devices from Texas A&M, with an additional 150 ordered. Shannon Ingram, a graduate research assistant, in Moreno's Biomechanical Environments Laboratories, created the 3D print files for the device, which are available for free download on the EnMed website.
EnMed, the nation's first and only program designed to offer both an MD and a master's in engineering in four years, is a collaborative endeavor between Texas A&M's College of Engineering, College of Medicine and Houston Methodist.