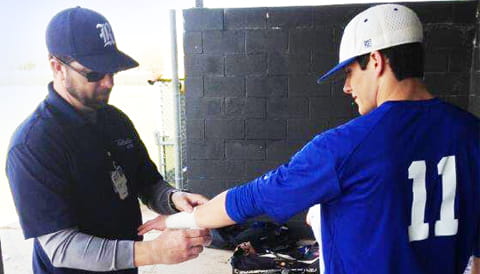 You may have seen our athletic trainers from Houston Methodist at local schools, where they dedicate countless hours working the sidelines and providing athletic training-room coverage for youth and professional teams. Our highly trained, experienced athletic trainers collaborate with physicians and specialize in the prevention, emergency care, evaluation, treatment and rehabilitation of injuries and sports-related illnesses.
Houston Methodist has more than 95 full-time licensed athletic trainers across the system, serving more than 500 public and private schools, colleges, universities as well as youth and adult sports leagues across southeast Texas.
As the official health care provider for the Houston Texans, Houston Astros, Houston Livestock Show and Rodeo
®
, Rice University Athletics, Houston Ballet, Houston Symphony and Houston Grand Opera, we provide the highest quality care to student athletes, weekend warriors and elite professionals.
Community Outreach
Our athletic training team offers the same level of excellent athletic training and patient care to community teams as we provide to professional athletes. We take Houston Methodist's world-class services into communities where this level of sports medicine care is often unavailable. The mission of our orthopedic and sports medicine specialists and athletic trainers includes helping local athletes of all levels and ages maintain peak performance through injury prevention education, treatment and rehabilitation. We deliver specialized care to individuals as well as youth leagues, clubs, secondary and college teams, and adult leagues.
As active members of our community, Houston Methodist's orthopedic specialists, physical therapists and athletic trainers dedicate countless hours each year to provide sideline and athletic training-room coverage for hundreds of youth, high school and college teams, as well as adult leagues in the Greater Houston area. We also provide outreach for athletic training and ongoing continuing education events.
Athletic Training Services
Houston Methodist's highly skilled athletic trainers work with teams at all levels. Backed by Houston Methodist's extensive resources, state-of-the-art facilities and cutting-edge technology, we offer unparalleled athletic training services for your team, organization, tournament or athletic event:
Educational information is available on several sports medicine topics (hydration, nutrition, concussions, upcoming community events ) for coaches, parents and athletes.
Our athletic trainer hotline is staffed 24/7, including weekends and evenings, to answer questions you might have.
Priority scheduling at our sports medicine physicians' offices for an evaluation.
Injury evaluations are provided during weekly clinics onsite at your organization's main field to triage your athletes. Our athletic trainers will provide full evaluations and recommendations for treatment.
On-Site Special Event Coverage is available to community-based participants and includes on-site licensed athletic trainers, medical supplies for prevention and treatment of injuries, emergency medical supplies, hydration options as well as severe weather services.
Let our dedicated staff give you and your team a competitive edge while keeping you in top condition.