Houston Methodist is home to a core group of highly accomplished pathologists with proven expertise in nephropathology and transplantation pathology. Collectively the team has more than 70 years of experience. In addition to their outstanding clinical service records, our physicians work in an academic medical center, sharing their knowledge through research and training of the next generation of physicians.
Comprehensive biopsy evaluation
The kidney pathology team at Houston Methodist provides the highest caliber of diagnostic evaluations of patient biopsies, including:
meticulous sectioning and sampling of biopsies
an array of special histochemical stains for renal biopsy evaluation
immunofluorescent studies with a complete panel: immunoglobulins, complement components, and light chains
comprehensive immunohistochemical evaluation, including testing for type IV collagen, α1, α2, and α5 light chains
detailed electron microscope examination
comprehensive assessment of transplant biopsies: phenotyping of inflammatory cells, markers for antibody-mediated rejection, BK virus nethropathy, and CMV nephritis.
Timely results reporting
Houston Methodist's advanced histology laboratory is staffed around the clock. This enables us to discuss a preliminary diagnosis with the nephrologist within 24 hours of receiving the biopsy. We also offer expedited, same-day processing and diagnosis upon request, and Saturday service is available year round.
Clear and direct communication
We communicate directly with referring and attending physicians once preliminary results are available. Biopsy reports are faxed to the referring pathology department and physician, and secure online access to representative images of the biopsies is available for your convenience. Additionally, our pathologists are available 24/7 for consultation and questions.
Convenient service options
To facilitate efficient service, we provide a biopsy kit with instructions for tissue collection, and pre-paid, self-addressed supplies for overnight shipping to our lab. We also have a full administrative team that offers support for billing, communication, and reporting.
For general information or questions:
Ms. Rosie Benitez
Office: 713.441.1447
Medical Kidney Biopsy faculty:
Roberto Barrios, MD
Office: 713.441.6958
rbarrios@houstonmethodist.org
Lillian W. Gaber, MD
Office: 713.441.1394
lgaber@houstonmethodist.org
Luan D. Truong, MD
Office: 713.441.6481
ltruong@houstonmethodist.org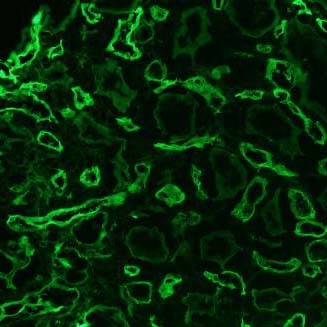 C4d staining (immunofluorescence)