Summer undergraduate research internship
Translational research for Undergraduates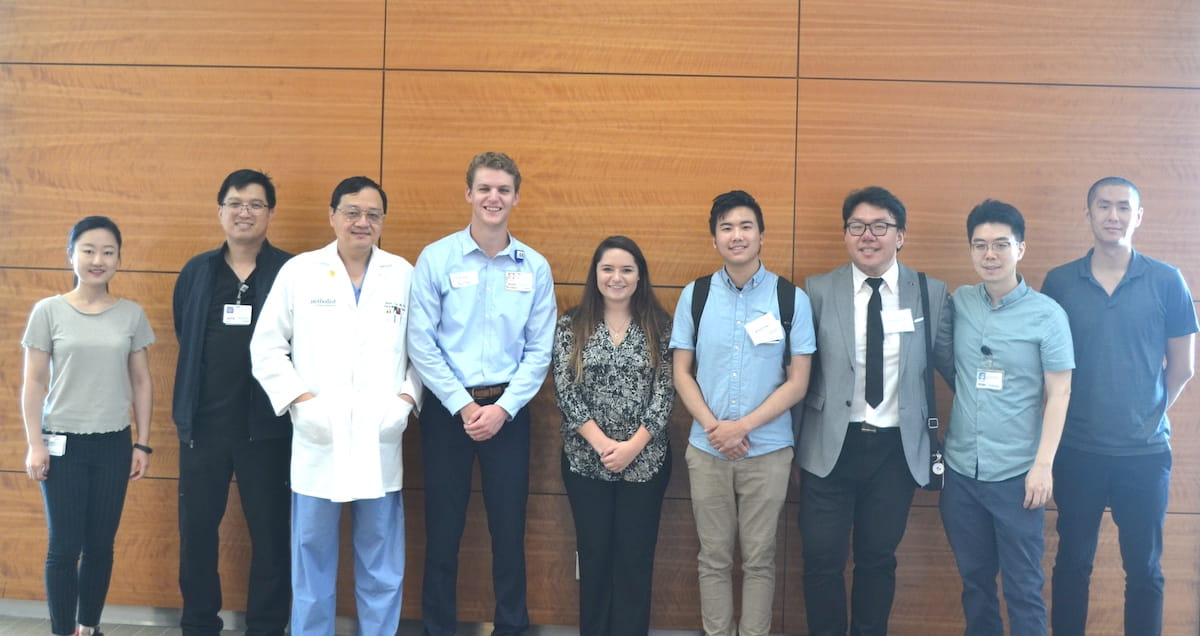 The Summer Undergraduate Research Internship is the main summer program in the Institute for Academic Medicine . The summer student program provides numerous opportunities for professional and career development. Students have access to faculty mentors, including
James Xia, MD, PhD
(pictured, third from left). Social and networking events include a welcome reception, sporting event, and a poster symposium where students present their work. In specific cases, students are offered the opportunity to continue working with their mentors after the internship, and in some cases see their projects in co-authored publications. Read on for testimonials from past interns below.
TESTIMONIALS FROM PAST INTERNS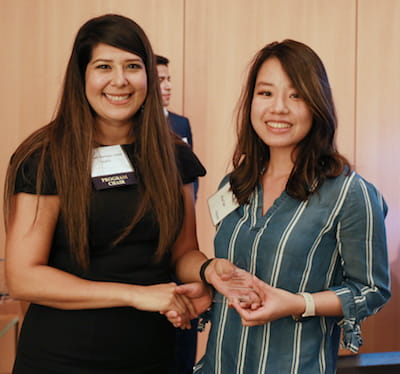 Khue Tran (right), 2018 & 2019 Summer Intern
"I spent two summers (2018 and 2019) working with Rose Khavari, MD, and Christof Karmonik, PhD on neurogenic bladders. My projects involved analyzing the grey and white matter from the fMRI and DTI scans of multiple sclerosis patients who have trouble emptying their bladders, to further our current understandings on the supraspinal control over the lower urinary tract. One thing I enjoyed the most about the program is that in addition to learning more about different fMRI analysis techniques, I was able to observe Dr. Khavari and other doctors in the Urology department in their clinics as well as many of their surgeries, and gain a deeper insight of what it takes to be a physician. I was fortunate enough to receive a first-author publication, and continue my research with Dr. Khavari during my gap years before applying to medical school. I'm extremely thankful for the opportunity to work toward making an impact on patients' lives, and the incredible mentorship I received, which has inspired and prepared me well as I continue to pursue my career plan."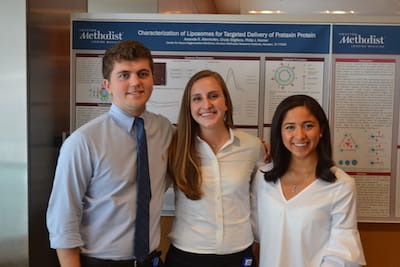 Justin Vincent (left), 2017 Summer Intern
"I am so happy that I was able to do the internship program two summers in a row during college. It led to an opportunity to work in the lab of Tetsuo Ashizawa, MD the following summer before starting medical school. I learned so much about biomedical research techniques and thought processes that motivated me to pursue research as a physician. My career plan is to enter academic medicine, so the foundation I got through the internship made me incredibly prepared and motivated to explore those interests further. I recommend the internship to anyone interested in biomedical research. I am grateful to have been a part of it!."
Application Requirements
The deadline for the 2021 Summer Undergraduate Research Internship has passed, and we are no longer considering applications at this time. The application for the 2022 Summer Undergraduate Research Internship will be available sometime in early December 2021. Please check back then for details.