Summer Undergraduate Research Internship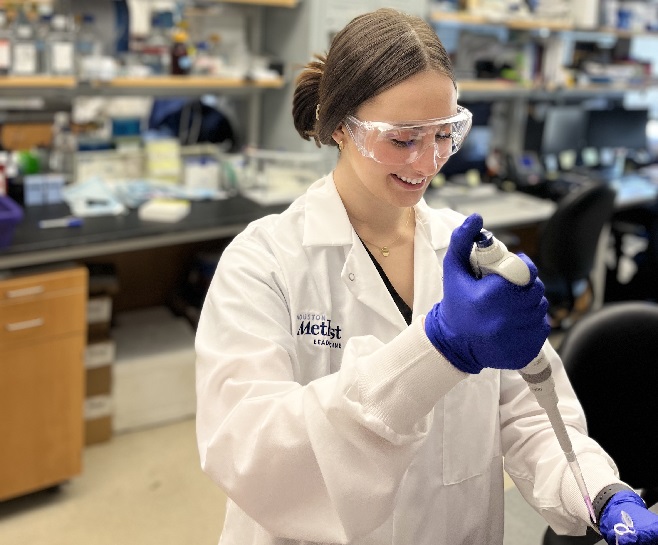 Interns receive hands-on training in translational research labs
The Summer Undergraduate Research Internship (SURI) is the main summer program in the Houston Methodist Academic Institute. This 10-week, paid internship program provides undergraduate students with a wealth of opportunities aimed at enriching their professional development and offering exposure to careers in the field of translational research. Interns are paired with esteemed faculty mentors from Houston Methodist, who offer guidance in mastering proper laboratory techniques and research processes. Each intern is assigned their own area of study or focus within an ongoing project. Through engagement in activities including a welcome reception, sports events, and an array of guest speaker sessions, every intern advances in their professional journey while broadening their network of scientific peers. The summer culminates in a scientific poster symposium where interns showcase their summer research project to Houston Methodist's leading scientists, students and staff. Some interns, in collaboration with their mentors, even have the chance to publish their work, and many are discovering career pathways at Houston Methodist.
Below you'll find
testimonials
from former SURI interns.
Internship Guidelines & Requirements
Houston Methodist will begin accepting applications for the 2024 Summer Internship Programs starting on December 1, 2023, and ending on February 2, 2024. The programs will begin on May 28, 2024, and end on August 2, 2024. The internship is held at the main Houston Methodist Hospital campus in the Texas Medical Center. All programs require a full-time commitment for the 10-week duration (May 28–August 2, 2024). Daily attendance is required of each student for a full 8-hr workday, approximately 8:30 a.m.–5:00 p.m., except for the July 4th holiday. Please review our comprehensive FAQ for more information.
Eligibility:
You must be currently enrolled in an undergraduate degree program to participate
Only US citizens, Legal Permanent Residents and Foreign Nationals who already hold a legal visa status (F-1, J-1, EADs) are eligible to apply to any of the internship programs
Application Requirements:
Completed MERLIN application
Two required essay questions, and one optional
Two letters of recommendation
Transcript (Official or Unofficial)
Resume


Additional Help:
Thank you for your interest in the Houston Methodist Summer Research Internship Program! We look forward to receiving your application.
TESTIMONIALS FROM FORMER INTERNS: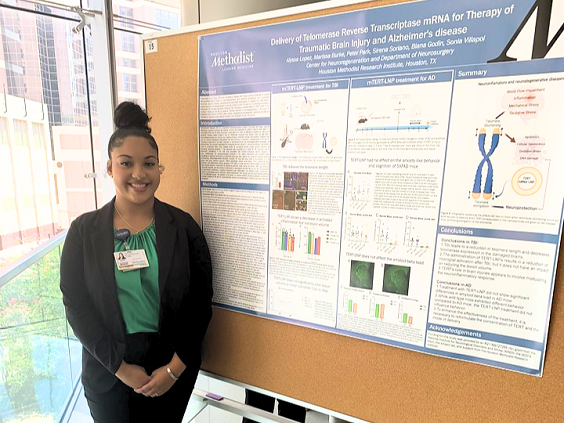 Alyssa Lopez presents her poster at the 2023 summer symposium
"This opportunity has been nothing short of transformative for me. From the moment I joined the program, I was welcomed into a community of dedicated professionals who were committed to fostering my growth and learning. Throughout the internship, I was exposed to a wide range of lectures and seminars that challenged me to step out of my comfort zone and apply my theoretical knowledge in a real-world setting. The guidance and mentorship from my lab and the OGSTA team I received were invaluable. They not only provided me with the necessary resources and support, but also encouraged me to explore innovative solutions and think critically about the problems at hand.

One aspect that truly stood out during my time with SURI was the emphasis on professional development. I had the privilege of working alongside some of the brightest minds in the field, learning from my peers, and contributing meaningfully to projects that aligned with my passions. I am also truly grateful for having the opportunity to shadow an orthopedic surgeon and be the moderator for the medical student panel at the conclusion of my internship.

Furthermore, the SURI program went above and beyond to ensure a holistic experience for its interns. During my time there, fellow interns and I were able to tour the Texas A&M EnMed medical school facility. It was an eye-opening experience for me as I began to embark on my own journey to medical school. While this chapter has closed in my life, this experience was pivotal to my growth as a student and future applicant. Again, I am thankful for the people who I have met during this program, and I am happy that I was able to be challenged in various ways to unlock different characteristics of myself that I did not know I had within me."
Alyssa Lopez (2023 Intern)
North Carolina Agricultural & Technical State University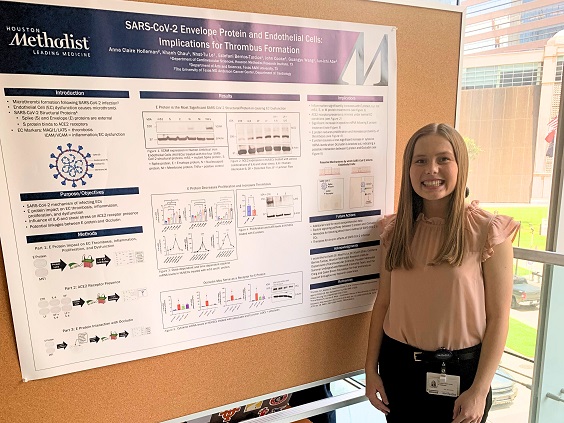 anne claire holleman presents her poster at the 2023 symposuim
"From the very first day of the program I felt so welcomed and supported, and the guidance I received throughout this journey has been invaluable. I remember being so unsure of what this internship would entail when I first stepped into Houston Methodist, but my nerves were quickly calmed and I soon felt like a integral part of the incredible work being done at this institution. It has been the privilege of a lifetime to work and learn in the lab of Dr. Nhat-Tu Le this summer. I truly hope to one day work somewhere with such endearing camaraderie amongst team members.
I am leaving this internship with a wealth of knowledge, cherished memories, and meaningful connections that I will carry with me into my medical career. I am certainly more excited than ever for what my future will hold."
Anna Claire Holleman (2023 Intern)
Texas A&M University