Summer Internship Programs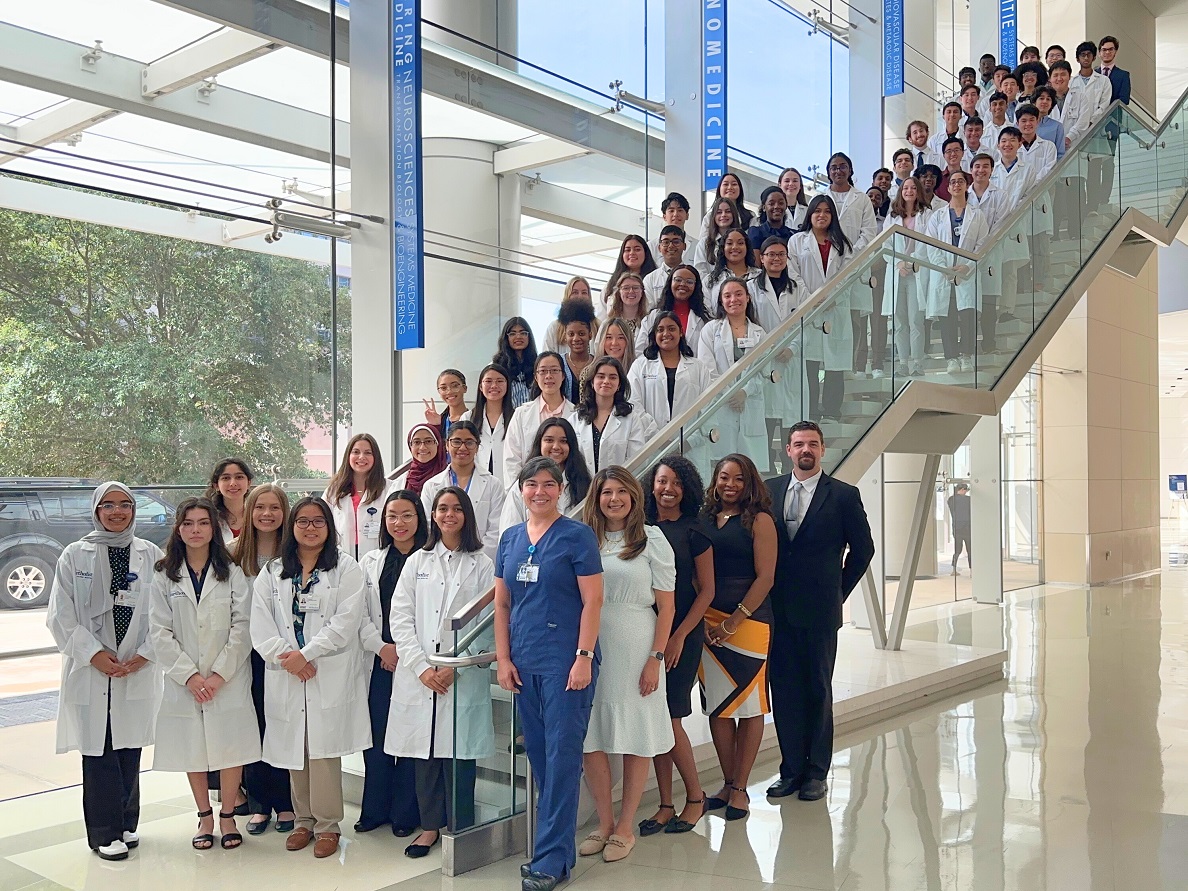 2024 Program Dates:
May 28, 2024 – Aug. 2, 2024
Application Dates
Dec. 1, 2023 – Feb. 2, 2024
The Houston Methodist Academic Institute offers an unparalleled 10-week paid summer internship program designed to offer chosen interns with an extraordinary opportunity to collaborate with renowned research experts. Both high school and undergraduate interns are partnered with Houston Methodist leading faculty in translational research. Interns will be responsible for working on their own scientific research project. At the conclusion of the internship, interns will present their findings and compete in a poster presentation competition. Throughout the internship, students will attend weekly seminars focused on career growth and professional advancement. Additionally, interns will have the opportunity to engage in didactic lectures delivered by leading scientists and physician researchers from Houston Methodist.

Interns receive assistance and mentorship from leaders in their designated labs. They also acquire valuable professional exposure through a range of networking opportunities, leaving each student with a unique internship experience. Additionally, interns engage in diverse social activities that contribute to a comprehensive and enriching summer encounter. Some interns, in collaboration with their mentors, even have the chance to publish their work, and many are discovering career pathways at Houston Methodist. We encourage all prospective applicants to thoroughly review the requirements before applying.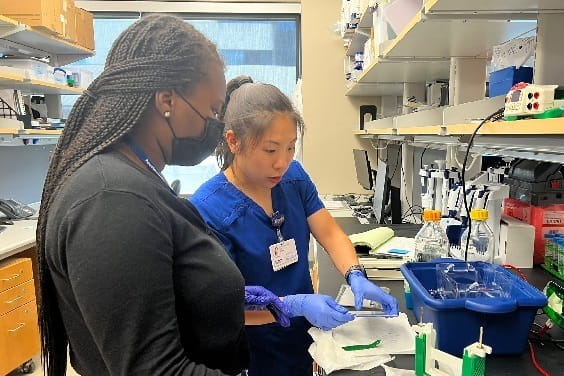 The Summer Undergraduate Research Internship is designed to enhance interns' comprehension and hands-on exposure in translational research. This program offers selected interns the opportunity to collaborate with some of Houston Methodist's leading faculty.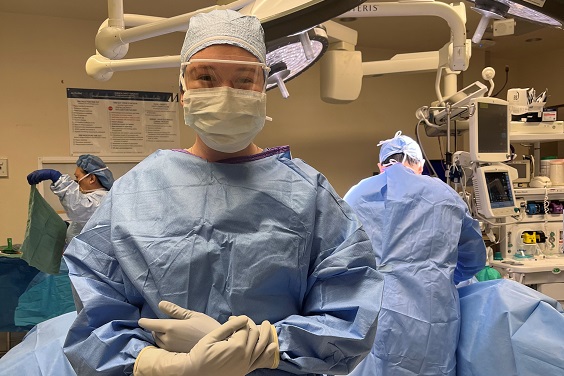 Developed under the guidance of Wade Rosenberg, MD, this program is tailored to undergraduate students seeking a comprehensive physician shadowing experience. Rosenberg Fellows participate alongside experts in fields such as neurosurgery, cardiovascular surgery, and more.
The Kadoorie Cardiovascular Internship program offers meaningful clinical exposure to second or third-year undergraduates who are ready to position themselves as strong candidates for medical school, proficient healthcare providers, and prospective leaders in the field of medicine.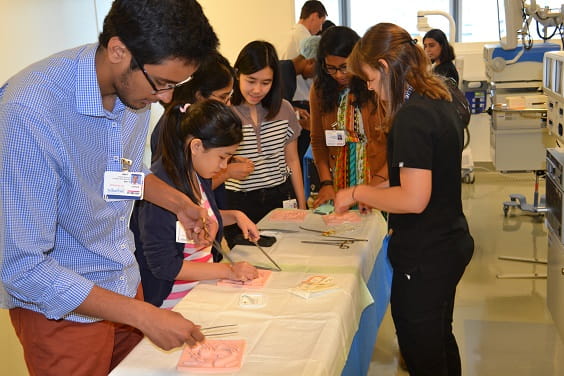 This internship program introduces translational research to high school juniors and seniors. Working alongside interns in the undergraduate research program, students will acquire valuable insights into the research process and develop an understanding of academic career paths after high school.
Frequently Asked Questions
How long is the internship?
All internship programs will begin on May 28, 2024, and end on August 2, 2024. A full-time commitment for all 10 weeks is required. Student workdays are 8 hours, approximately 8:30am-5:00pm, except for the July 4th holiday.
What are the application requirements?
Application Requirements:
Applications must be completed in full by 5:00pm (CT), February 2, 2024.
Undergraduate students may apply to

only one

of the following programs:

Summer Undergraduate Research Internship
Fields Rosenberg Surgical Fellowship
Kadoorie Cardiovascular Internship

High school juniors and seniors may apply to the Summer High School Research Internship only.
The link to the MERLIN application portal will be visible on the program webpages starting Dec. 1, 2023.
The following items must be completed in the MERLIN application portal:

Demographic information of student
Short essay questions (see below)
Upload of current resume
Upload of current transcript (official or unofficial)
Upload of two letters of recommendation

Note: Documents should be less than 4 MB each and in Adobe PDF format only. Remove hyphens, colons and other special characters ( " - , : ; ) from all file names before uploading.

Application Essay Questions:



Essay questions for

Undergraduate Research

and

High School Research Internship

(250-word limit):

Explain why you would be a great candidate for the summer research program and how it would benefit your career goals.
Please describe any previous research or laboratory experience you may have.
(OPTIONAL) Please briefly explain any challenges you have experienced in your academic career and how you overcame them.





Essay questions for

Fields Rosenberg Fellowship

and

Kadoorie Cardiovascular Internship

(250-word limit):

Describe your career goals in medicine.
How could you benefit from a hands-on surgical shadowing experience?
Please describe any clinical or hospital volunteer experience you may have.
Is there a minimum age to participate in the high school internship?
All high school participants must be at least 16 by the start of the program (May 28, 2024). The Summer Undergraduate Research Internship reserves a limited number of slots for high school students. Applicants must be completing their junior or senior year to be eligible for the High School Research Internship Program.
Where does the internship take place?
The internship is held at the main Houston Methodist Hospital campus in the Texas Medical Center, located at 6565 Fannin St. Houston, TX 77030.
What field or specialty will I be observing and working in?
The application will ask you to list your top three specialty preferences. While our selection committee will work hard to match accepted students with their preferences, placement in the various research fields is based on availability and lab capacity limitations. The Fields Rosenberg Fellowship and Kadoorie Cardiovascular Internship will follow a clinical rotation schedule determined by the program coordinators.
Can I apply if I'm not a US citizen?
Currently, only US citizens, Legal Permanent Residents and Foreign Nationals who already hold a legal visa status (F-1, J-1, EADs) are eligible to apply to any of the internship programs.
Is this a paid internship? Are there any costs to participate?
Stipends are awarded to all participants. The amounts will vary between $2,500-$6,000 depending on the program and will be specified in the acceptance email. There are no fees for participating in the program, however, Rosenberg and Kadoorie program participants are required to purchase a set of scrubs for clinical rotations.
Does the program offer housing or transportation assistance?
Participants will be responsible for securing their own housing arrangements. However, after admittance into the program, participants will be provided information on housing options available to them. For commuting, interns may choose to receive either a Smithlands parking pass or a paid QCard for using the Houston Metro service.
Can I still apply to the programs if I will not be able to start on May 28th?
No. Full participation is required for the internships starting on May 28th.
Can I apply if I was a previous intern in one of the programs?
Yes, but only if you are now applying to a different program. Students cannot participate in the same program more than once.
If I'm graduating from college this year, am I still eligible to participate in the programs?
Yes. Currently enrolled college seniors may apply to the summer programs that immediately follow their graduation.
What if my items are not submitted by the Feb 2nd deadline?
Incomplete applications will not be reviewed, and you will not be considered for the summer programs. No exceptions.
How do I submit my letters of recommendation and what should they say?
Applicants should submit the letters of recommendation themselves in the MERLIN application portal. The reviewer should be able to speak about your academic and/or extracurricular activities and how those characteristics make you a favorable candidate for this internship. Letters must be submitted in PDF format with the application by the February 2nd deadline, so we recommend requesting them as early as possible to allow your reviewers time to complete them.
How will I know when my application is complete or if I'm accepted?
You will receive a confirmation email once we have verified your MERLIN application is completed, and your resume, transcript, and two letters of recommendations have been uploaded. Acceptance decisions will be emailed by the end of March 2024.
Are candidates reviewed and accepted while applications are still open?
No. The program does not review or accept candidates until after the application deadline on February 2, 2024.
What can I do to make myself a competitive applicant?
The selection committee looks for academically accomplished applicants in STEM courses, involvement in science/health related extracurricular activities, volunteer service, and good communication skills. Letters of recommendation should be from someone that knows the candidate on a personal level and can speak to their academic strengths and interest in pursuing a research or medical career. All these criteria are carefully weighed by the reviewer to select a competitive, well-rounded candidate.
OTHER OPPORTUNITIES AT HOUSTON METHODIST


Houston Methodist welcomes volunteers who want to offer their time, talent, and dedication. Volunteers provide a valuable service to our hospital operations. There are a variety of volunteer roles to fit individual time commitments, schedules, abilities and interests. Volunteers may work directly with patients or choose to work behind-the-scenes, providing administrative or customer support. Click Here to learn more about volunteering opportunities at each Houston Methodist location.
The Caring Teen Volunteer Program is a volunteer opportunity for high school students, ages 15-18, to serve at Houston Methodist during the summer or fall. A full description of the Caring Teen Volunteer Program, as well as information on applying, can be found at their site. Please note that the Caring Teens Volunteer Program is for non-research volunteers only.