Summer Undergraduate Research Internship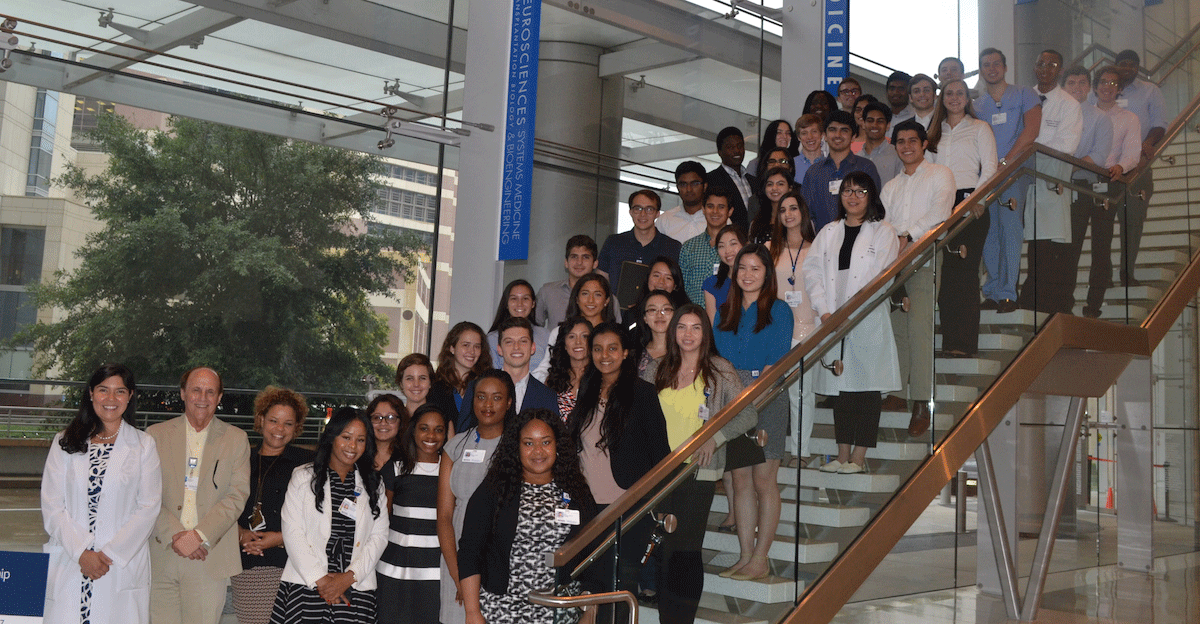 June 4-August 10, 2018

The best way to lure the brightest young minds to a career in biomedical research is to give them the opportunity to work in the laboratories of some of the nation's top scientists. Houston Methodist offers a 10-week summer student program for college undergraduates and medical students. The program matches students with faculty mentors in laboratories and focuses on a single research project. During this time, students attend required weekly didactic lectures given by the mentors and invited speakers.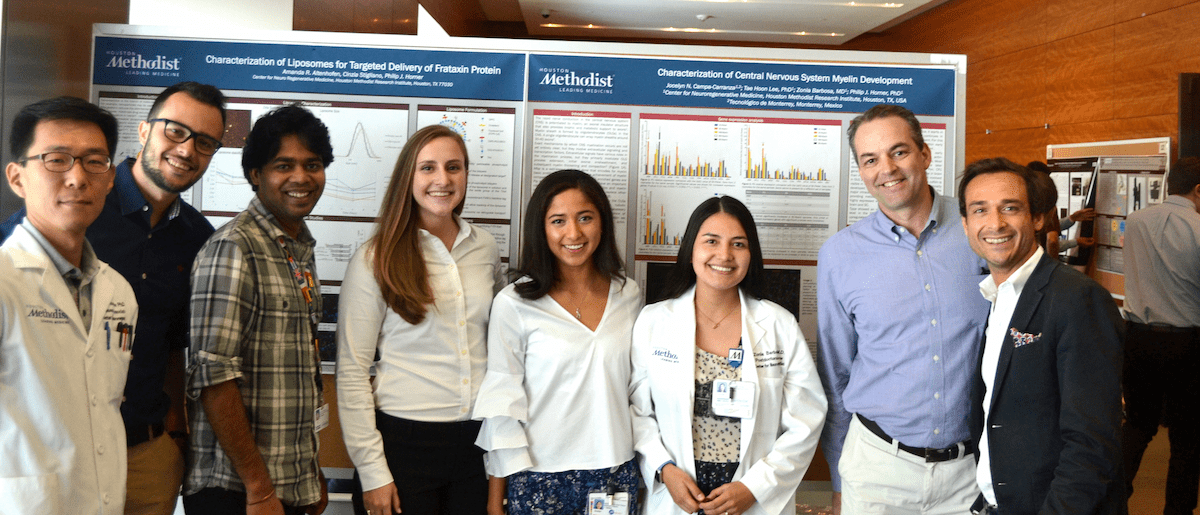 The program also provides numerous opportunities for professional and career development, mentorship under faculty members, such as
Philip Horner, PhD
(pictured, second-to-right), and
Ennio Tasciotti, PhD
(pictured, right), and social and networking opportunities, including a welcome reception, a sporting event and a retreat at the end of the program during which students present their work. Some students even continue to work with their mentors at the conclusion of the internship, and in some cases get to see their projects conclude in co-authored publications. You can view some of our testimonials below.
TESTIMONIALS FROM PAST INTERNS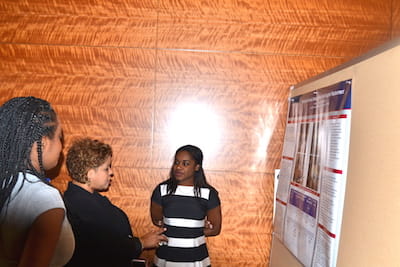 Kierra Crawford (right), 2017 Summer Intern
"My experience in the 2017 summer research internship program went above and beyond the expectations of what I originally anticipated. What I thought would be a summer filled with hours of lab work and minimal patient interaction turned out to be the complete opposite. It turned out to be a beautiful surprise. I was given the opportunity to work with one of the top cardiologist in the medical center at Houston Methodist Hospital, where under his tutelage, he gave the clinical experience of a lifetime, which cemented the career path I wish to pursue. Not only, did I experience doctor to patient interactions, I also was privileged to stand less than six feet away from the cardiologist as they performed open heart surgeries and minimal invasive surgeries, such as mitral valve surgical replacement. The project I assisted in involved analyzing hemolytic anemia following mitral valve surgical replacement. Instead of simply reading and writing about the theories behind the research, being able to actually observe its practical uses in surgery made me appreciate my experience that much more. I couldn't think of a better way that I could have efficiently spent my summer. Thank you to the team that helped to make this all possible."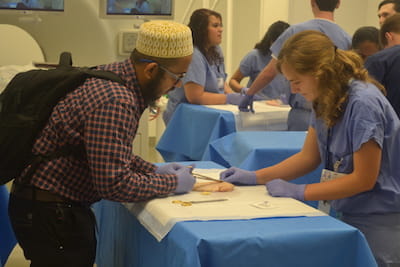 Abdul Datarwala (left), 2016 Summer Intern
"I spent my summer of 2016 exploring potential cures for cancer. I was fortunate to get an Internship with Houston Methodist. The Summer Undergraduate Research internship was a formative part of my career development, granting me unique research experience. My work involved DNA and protein extraction from human cells. The best part of my experience or I would say the best feeling was the satisfaction I got when everyday walking through the hospital seeing patients everywhere and going towards my lab, knowing that once I got to lab, we would be working every day finding cures for those patients, and patients just like them. I also got fortunate enough to receive a coauthor publication, which was a dream come true for me. The internship was n amazing experience and I feel that it has prepared me well for my professional career. I will take full learning experience of the internship with me in applying for and assessing future opportunities."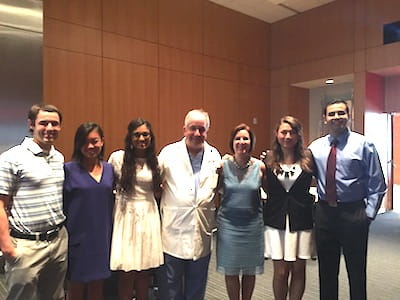 Amber Chen-Goodspeed (second from right), 2015 Summer Intern
"During the Summer of 2015, I was selected to join the Fields Rosenberg Summer Surgical Internship Program at the Houston Methodist Hospital. Being surrounding by surgeons, nurses, residents, and medical students who were always willing to teach and seeing patients throughout the pre- and post-operative process showed me the inherently human quality of medicine and made me view medicine as one of the few fields where the impact one has on a person's life can be captured on scans as well as in smiles. As part of the program, each intern was challenged to create a surgical-related independent research project. For some, this included interviews with patients in the clinic, reading research studies, and analyzing data. For me, the research took the form of a twenty-two-page biography on one of the first surgeons in the Houston Medical Center, Dr. Paul Jordan. Dr. Rosenberg worked with me to create a project that was catered to my major, the history of medicine and taught me a new style of research and presentation that I have continued to use in my undergraduate coursework. Overall, my time at Houston Methodist and the people I met while in the program continue to inspire me to become a person who can lead, teach, discover, and change lives."
Application Requirements
Please note that the 2018 Summer Undergraduate Internship is an unpaid internship. However, merit and need-based scholarship awards of $2,000 for the ten-week internship are available, but limited (you may only be awarded one). To apply for the scholarships, please complete the documents and upload them as supplemental documentation to your internship application.


Be enrolled in a post-secondary institution in the United States or be between the first and second year of medical school by June 4, 2018 (we also accept graduated seniors).
Not taking any coursework towards a graduate degree in the sciences before June 4, 2018.
Have a strong desire for translational research.
Have a competitive course load in the sciences.
If accepted, commit to the full 10-week internship as well as complete all supplemental paperwork.
Application Instructions
The 2018 Summer Undergraduate Research Internship application deadline has passed. Please check back in the fall for updates on the 2019 internship.
Application Timeline
The tentative timeline for the 2018 Summer Undergraduate Research Internship is as follows (dates subject to change):


Early November: Instructions are released online.
December 1, 2017: The application will be available.
January 30, 2018: Application deadline. All application materials must be turned in by this date.
Early March 2018: Applicants are notified of acceptance and have approximately two weeks to respond.
Mid March 2018: Incoming applicants are notified of their internship mentors.
April 1, 2018: Supplemental pre-background check materials due to Human Resources
May 4, 2018: The earliest possible date for background checks and testing.
May 23, 2018: The deadline for background checks and testing to begin the internship on June 4.
June 4, 2018-August 10, 2018: The duration of the internship.
Early July 2018: Scholarship recipients receive payment.
August 10, 2018: Retreat
Application Questions
We are here to answer any of your questions. For any questions please contact below:


Thank you for your interest in our internship, and best of luck to you.
---
OTHER INTERNSHIP OPPORTUNITIES

Debakey Institute for Cardiovascular Education & Training
The Houston Methodist DeBakey Institute for Cardiovascular Education & Training is no longer accepting applications for summer positions. Please check back early next year for updates.

Caring Teens Volunteer Program for High School Students
The Caring Teens Volunteer Program is now accepting applicants for the summer. The application deadline is Friday, March 2, 2018.
---