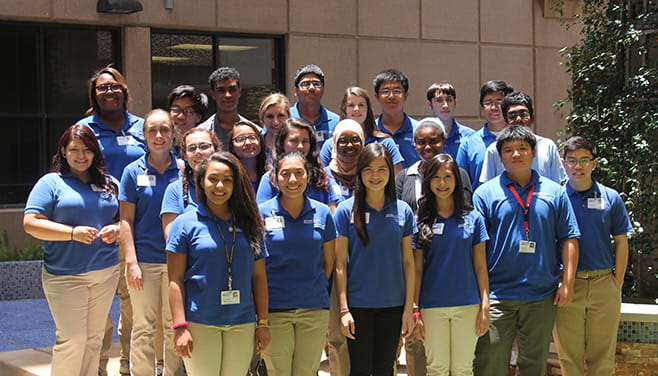 Applications for the 2018-2019 Caring Teen Year-Round Program are currently being accepted. Applications are due on November 30th, with applicants being admitted on a rolling basis until we reach capacity.
Application

Frequently Asked Questions

The Houston Methodist Hospital Caring Teen volunteer program provides community youth with opportunities for personal growth and development. Volunteers provide supplemental services in the hospital while gaining personal satisfaction, development, maturity, and the understanding of various health careers in preparation for their future. Caring Teens serve others while making new friends, networking with medical professionals at a world-class hospital, developing self-esteem, and creating meaningful memories. Our patients' lives are deepened through the energy and compassion of our Caring Teen volunteers.
Caring Teens may serve in many ways:

Administrative tasks

Patient Support

Hospitality

Special projects
Application Requirements for New Applicants:

Must be between 15 and 18 years of age

Must complete the 2018-2019 Year-Round Caring Teen application

Must successfully complete volunteer onboarding (provided by the Houston Methodist Hospital upon acceptance):
Background check

Heath Screening

New Volunteer Orientation and Training

Safety Exam
Application Requirements for Returning Caring Teen Volunteers:
Returning Volunteers must complete the 2018-2019 Year-Round Caring Teen application,

if not an 'Active' volunteer

Returning volunteers must have completed previous program requirements with satisfactory evaluations


Must successfully complete volunteer onboarding as outlined above
2018-2019 Year-Round Program Requirements:
The 2018-2019 Caring Teen Program will run from November 1st to April 26th. If accepted as a Caring Teen Volunteer, you are making a commitment to volunteer weekly or bi-weekly and to complete a minimum of 60 volunteer hours before April 26th. Volunteer assignments will be the same day/same time each week or every other week and you are required to participate for the entire session. Failure to meet this commitment will prevent participation in future Caring Teen Volunteer programs and your volunteer hours will not be verified.
Volunteers who complete all program requirements with a satisfactory evaluation will receive an hours report and program completion certificate. Those volunteers who complete 100 or more volunteer hours, with a satisfactory evaluation, will be eligible to receive a letter of recommendation.
Application Timeline:

Application: ONLY COMPLETE applications will be accepted. Applicants who submit complete applications will be notified by email stating the Volunteer Services department has received their completed application within a week of receiving of its submission. Applicants with incomplete applications will not be notified.


Application Deadline: November 30, 2018, at 5:00pm


Preliminary Acceptance

: Applicants will be notified via email regarding preliminary acceptance or rejection into the program.

Pre-screening

: Accepted applicants will be contacted to schedule a pre-screen phone call. On this call your coordinator will discuss volunteer opportunities and schedule an informational orientation. The informational orientation is a second screening for acceptance into the program. Consider this an opportunity to showcase your interest in the program, communication skills, maturity, and other personal traits.

Health screen

:

Accepted applicants will be required to complete a health screen. Health screen information is as follows:

Appointments for health screen must be scheduled through the Volunteer Office. Once accepted, you will be contacted to schedule.


The health screen appointment consists of a tuberculosis (TB) screening and drug screening. Please keep in mind that you may need to return two-three days later to have your TB skin test read -- no appointment is needed for the reading. After beginning your volunteer assignment, a second TB test will be required, and must be completed within 14 days of your start date.

Health screen appointments are available on Mondays, Tuesdays, Wednesdays, and Fridays in between the hours of 8:00am and 3:00pm. Limited after-hour appointments will be available, specific dates will be communicated once determined.


Orientation

: All volunteers must attend New Caring Teen Volunteer Orientation. Once accepted, you will be contacted to schedule orientation.

Uniforms will be available for purchase at this time ($25).

Orientation must be

completed within 30 days of your health screen appointment.

Assignment opportunities

: Volunteer assignments vary between administrative, patient support and hospitality.

While we appreciate your interest in specific areas, capacity is limited and we must respond to the needs of the hospital. We will make every attempt to place teen volunteers in at least one of their areas of interest, but due to availability and consideration of hospital needs cannot always accomplish this.

The Caring Teen Coordinator will discuss

opportunities during the pre-screen phone call. Please note: weekend assignments are limited due to many offices and clinics being closed.
VS701 Under 18 Volunteer Policy