Caring Teen Volunteer Program
Thank you for your interest in the Caring Teen Volunteer Program!
The Houston Methodist Hospital Caring Teen volunteer program provides community youth with opportunities for personal growth and development. Volunteers provide supplemental services in the hospital while gaining personal satisfaction, development, maturity, and the understanding of various health careers in preparation for their futures. Caring Teens serve others while making new friends, networking with medical professionals at a world-class hospital, developing self-esteem, and creating meaningful memories. Our patients' lives are deepened through the energy and compassion of our Caring Teen volunteers.
2021 Summer Program: At this moment, only Caring Teens who were previously accepted to the 2020 summer session will be eligible to participate in this year's 2021 Caring Teen summer program.
An invitation to participate will be sent to eligible Caring Teens by 8 p.m. on Friday, March 19.
Session 1: Monday, June7 - Friday, July 9
Session 2: Monday, July 12 - Friday, August 13
Session 1 & 2: Monday, June7 - Friday, August 13
See below for more details regarding the program opportunities and application process.
Frequently Asked Questions
Is there a minimum time commitment?
Yes. Caring Teen volunteers that are enrolled for one session are required to complete a minimum of 50 hours during the duration of the program. Caring Teen volunteers that are enrolled for both sessions are required to complete a minimum of 80 hours.
Will I need to miss school for the onboarding requirements?
You may need to miss school. The health screen appointments for the TB skin test and drug test are available during business hours: Monday, Tuesday, Wednesday, and Friday 8 a.m. - 3 p.m. Please note you need to return 2-3 days later for a TB skin test reading. Limited after-hours appointments will be available.

Will students be able to receive a school excuse letter?
Yes, it is the student's responsibility to request a letter at the time of the appointment.
Is a second TB skin test required?
Yes, unless the student has received a blood test. The second TB skin test will need to be completed within 14 days after the volunteers start date.
How will I know if I need a TB blood test?
A TB blood test will be required for those with history of positive TB and/or if you were born in a country that required a BCG vaccine.
Schedule and Assignment Logistics
What shifts are available?
There are volunteer assignments offered during business hours, Monday - Friday 6:30 a.m. - 8 p.m. We also have limited assignments available on the weekends and during the
evening. The typical shift times are: 8 a.m. - 12 noon, 12 noon - 4 p.m. or 4 - 8 p.m., with some room for flexibility.
Can I change my assignment?
Volunteers are encouraged to keep their original assignment due to the number of Caring Teens and the limited assignments in the hospital. Caring Teens may be reassigned as appropriate. Contact Volunteer Coordinator, Rosa Huerta Torres (rihuertatorres@houstonmethodist.org), to discuss options and process for re-assignment.
What if I have a last minute absence for my volunteer shift?
It is your responsibility to notify your mentor or supervisor in your assigned area if you are going to be late or cannot make your scheduled shift. You are not required to report to duty on days employees are not required to work (i.e. holidays).
Yes. The Caring Teen volunteer shirt must be worn at all times, along with khaki, blue, black or brown pants and CLEAN, closed-toe shoes. Volunteers who arrive for their shift out of uniform (i.e. shorts, short skirts, denim, flip flops, sandals, capri pants, athletic wear or open-toed shoes), will NOT be able to volunteer. Volunteers must also wear a volunteer ID badge at all times.
---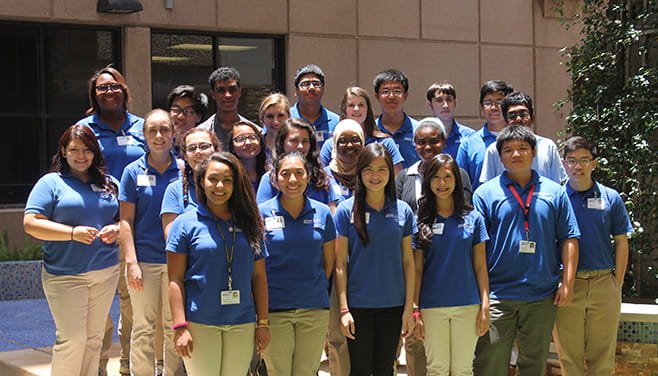 Application Process:
1. Application Submission: At this moment, only Caring Teens who were previously accepted to participate in the 2020 summer session will be eligible to participate; teens will be personally contacted via email by March 19, 2021 with detailed instructions on how to apply.

2. Pre-Screen Phone Call: Accepted applicants will be contacted to schedule a pre-screen phone call. On this call your coordinator will schedule your health screen and volunteer orientation. The volunteer orientation is a second screening for acceptance into the program. Consider this an opportunity to showcase your interest in the program, communication skills, maturity, and other personal traits.

3. Health screen: Accepted applicants will be required to complete a health screen. Important notes regarding the health screen:

Appointments for the health screen will be scheduled during your Pre-Screen Phone Call. Appointments are available on Mondays, Tuesdays, Wednesdays, and Fridays between 8 a.m. and 3 p.m. Limited after-hour appointments will be available, specific dates will be communicated once determined.
Volunteers are required to complete: (a) Tuberculosis (TB) screening and (b) drug screening. Please keep in mind that you may need to return two-three days later to have your TB skin test read - no appointment is needed for the reading.
4. Orientation: All volunteers must attend New Caring Teen Volunteer Orientation. Your orientation date will be scheduled during your Pre-Screen Phone Call. Uniforms will be available for purchase at this time ($25+tax). Orientation must be completed within 30 days of your health screen appointment.
5. Start Email:
Once all items have been completed, volunteers will receive an official start email with their assignment & schedule.

Assignment opportunities:
Volunteer assignments are available within administrative services and customer support. While we appreciate your interest in specific areas, capacity is limited, and we must respond to the needs of the hospital. We will make every attempt to place teen volunteers in at least one of their areas of interest, but due to availability and consideration of hospital needs we cannot always accomplish this. Please note weekend assignments are limited due to office hours.
2019 Summer Caring Teen Handbook