With a long history of service excellence, the Houston Methodist Hospital Auxiliary and the Houston Methodist Hospital Service Corps provide unique volunteer opportunities – from assisting patient visitors to raising funds to support the hospital.
Pictured below are members of the Service Corps.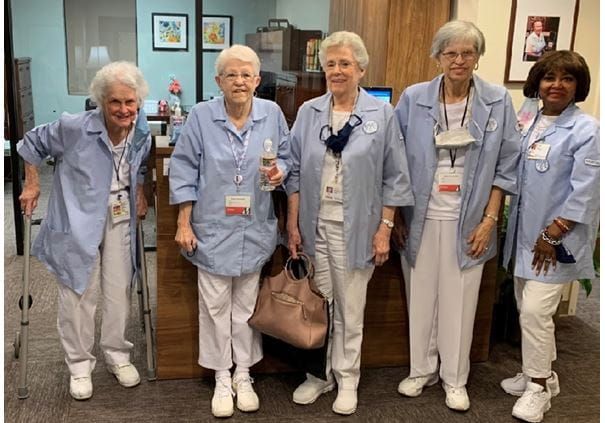 Service Corps Areas of Services
Founded in 1947, members of the Service Corps provide a valuable contribution to the hospital by supporting patients, their families, visitors, and employees in a variety of service areas:

• Patient and employee satisfaction rounds
• Book carts
• Information desks
• Family waiting rooms
• Library duties

The letters MHSC of the insignia worn on the uniforms signify for the members a deeper meaning: Ministering, Helping, Serving, Caring. The qualifications considered essential for members are a sincere desire to serve others, a cooperative spirit, adaptability, friendliness, a gracious manner and dependability.
To join the Service Corps, you must first apply to become a volunteer at Houston Methodist Hospital by
clicking here
. All individuals, including those who are current HMH volunteers that are interested in joining Service Corps, are asked to complete the following form
linked here.

Auxiliary Services
Founded in 1928, the mission of the Houston Methodist Hospital Auxiliary is to support Houston Methodist Hospital as a nonprofit entity through service, fundraising and community efforts.
The Auxiliary is led by an officer board who are elected every year. Members have many opportunities for fellowship and community through Auxiliary meetings, and other social events. The Auxiliary is a part of the Texas Association of Hospital Volunteers, and American Association of Hospital Volunteers.

Benefits of Auxiliary Membership
• Gift Shop discount
• Invitation to all Auxiliary special programs and meetings
• Opportunity for leadership opportunities, and leading Auxiliary projects
HMH Auxiliary Gift Shop
Visit the Auxiliary Gift Shop at Dunn Tower during the following hours below:
| | |
| --- | --- |
| Monday – Friday | 7:00 a.m. - 7:00 p.m. |
| Saturday | 10:00 a.m. - 6:00 p.m. |
| Sunday | 12:00 p.m. - 6:00 p.m. |