Summer Internship Program for High Schoolers
Translational Research for High School Students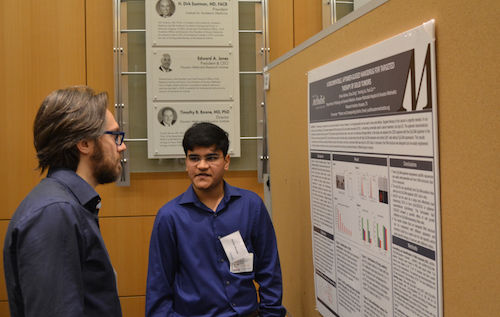 Omkar Borikar (Right), 2019 High School Research Intern
The Summer Internship Program for High Schoolers allows high school students to receive training in a translational research lab and gain skills as they work on a project. Additionally, the High School Research Internship has a career and professional development curriculum that provides tools on college selection, scholarship applications and scientific writing. Students have access to Houston Methodist's renowned faculty mentors who help guide them through proper lab techniques, as well as assigning each intern with their own study or focus area in an active research project. By participating in events such as a welcome reception, sporting events, and a variety of guest speaker presentations, each intern realizes the opportunity for both professional growth and the expansion of their scientific peer network. The summer culminates in a scientific poster symposium where students present the results of their research to some of Houston Methodist's leading scientists.
Internship Guidelines & Requirements
Houston Methodist will begin accepting applications for the 2023 Summer Internship Programs starting on December 2, 2022 and ending on January 27, 2023. The program will begin on May 30, 2023 and end on August 4, 2023. Please review the full Guidelines & FAQ sheet using the link below.
Must be 16 or older by the start of the program on May 30, 2023.
Enrolled High School or Undergraduate students, including graduating seniors, may apply to the Research Internship.
The Kadoorie and Fields Rosenberg programs do not accept High School students.
Must be a US citizen, Legal Permanent Resident or Foreign National who holds a legal visa status (F-1, J-1, EADs).
Students who previously attended any summer internship program will not be considered.
Program Details:
Full-time, day shift, Monday – Friday.
Daily attendance required except for company holidays.
Located at the Houston Methodist Hospital Texas Medical Center campus.
Housing is not offered. Accepted interns will be provided helpful information to find housing.
Application Requirements:
Resume and Transcript (Official or Unofficial).
Two professional letters of recommendation.
Two required short essay questions, and one optional.
Additional essays required if applying for scholarship (undergraduates only).
Complete applications and all required documents are due January 27, 2023.
View the full Guidelines & FAQ sheet
Additional Help:
Thank you for your interest in our internship, and we wish you all the best of luck.