High School Research Internship
Translational Research for High School Students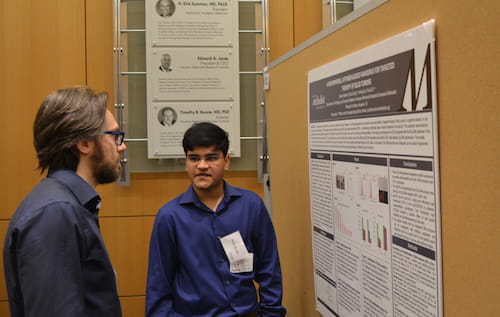 Omkar Borikar (Right), 2019 High School Research Intern
The
Summer Internship Program for High Schoolers
allows high school students to receive training in a translational research lab and gain skills as they work on a project. They are invited to present at the poster retreat alongside their undergraduate counterparts. Additionally, the High School Research Internship has a career and professional development curriculum that provides tools on college selection, scholarship applications and scientific writing. Many high school interns re-apply as undergraduates to diversify their training in other laboratories.
Application Requirements
The deadline for the 2021 High School Research Internship has passed, and we are no longer considering applications at this time. The application for the 2022 High School Research Internship will be available sometime in early December 2021. Please check back then for details.
---
OTHER INTERNSHIP OPPORTUNITIES
Caring Teens Volunteer Program for High School Students
The Caring Teens Volunteer program is a volunteer opportunity for high school students to serve at Houston Methodist during the summer. A full description for the Caring Teen Volunteer Program, as well as their application, can be found at their site. Please note that the Caring Teens Volunteer Program is for non-research volunteers only.