Kadoorie Cardiovascular Internship
Cardiovascular Internship at DeBakey Heart and Vascular center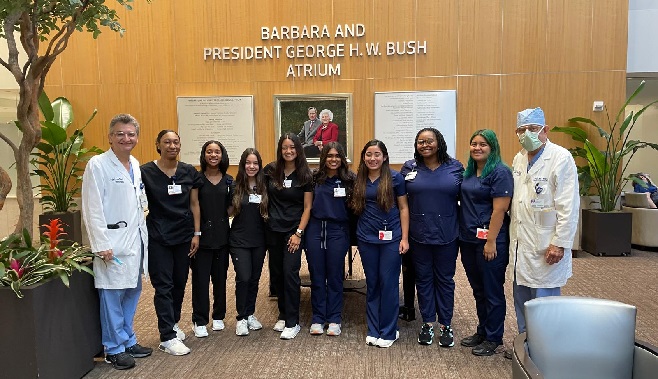 The 2022 Kadoorie Program Interns
The Kadoorie Cardiovascular Internship is a full-time 10 week program offered to second and third year undergraduate college students who are considering a career in medicine.
Selected students will rotate with different services and will become familiar with all aspects of the diagnosis and treatment of cardiovascular diseases, including heart and lung transplantation, coronary artery disease, thoracic diseases, and other diseases of the chest. Students will have access to multiple weekly conferences where they can gain multidisciplinary knowledge about diseases and latest treatments being developed.
Mentors will include faculty members from cardiology, cardiovascular/transplant, and thoracic surgery departments, as well as the Houston Methodist Research Institute. Students will have the opportunity to learn basic surgery skills such as knot tying, basic suturing, scrub in on surgery cases, participate in daily patient rounds, and gain 1-on-1 exposure to basic translational research. At the end of the program, students will be responsible for a short power point presentation on a topic they found of great interest.
Participating students should be prepared for daily activities to begin at 7 am and end at 5 pm. Weekends are not required, but students have the option to participate in emergency cases if they choose to.
Financial support will be provided to all participating interns.
---
Program Director
Gerald M. Lawrie, MD
Michael E. DeBakey Distinguished Chair in Cardiac Surgery
Department of Cardiovascular Surgery
Houston Methodist
PROGRAM COORDINATORS

Boris Bratovich, MHA, PA-C
Physician Assistant Residency Coordinator
Department of Cardiovascular Surgery
Houston Methodist

Nicole Davenport, MPAS, PA-C
Physician Assistant
Department of Cardiovascular Surgery
Houston Methodist
Application Instructions & Internship Timeline
The 2023 Summer Internship Program applications are now closed. Thank you to the many students who applied, and we hope to be a part of your journey to becoming future scientists and healthcare leaders. Notifications on application decisions will be emailed in March 2023. This summer's program dates are May 30, 2023 through August 4, 2023.
For questions regarding the internship programs, please email HMSURI@houstonmethodist.org
Thank you for your interest in our internship, and we wish you all the best of luck.