The Fields Rosenberg Summer Surgical Fellowship
Surgical Shadowing for Undergraduates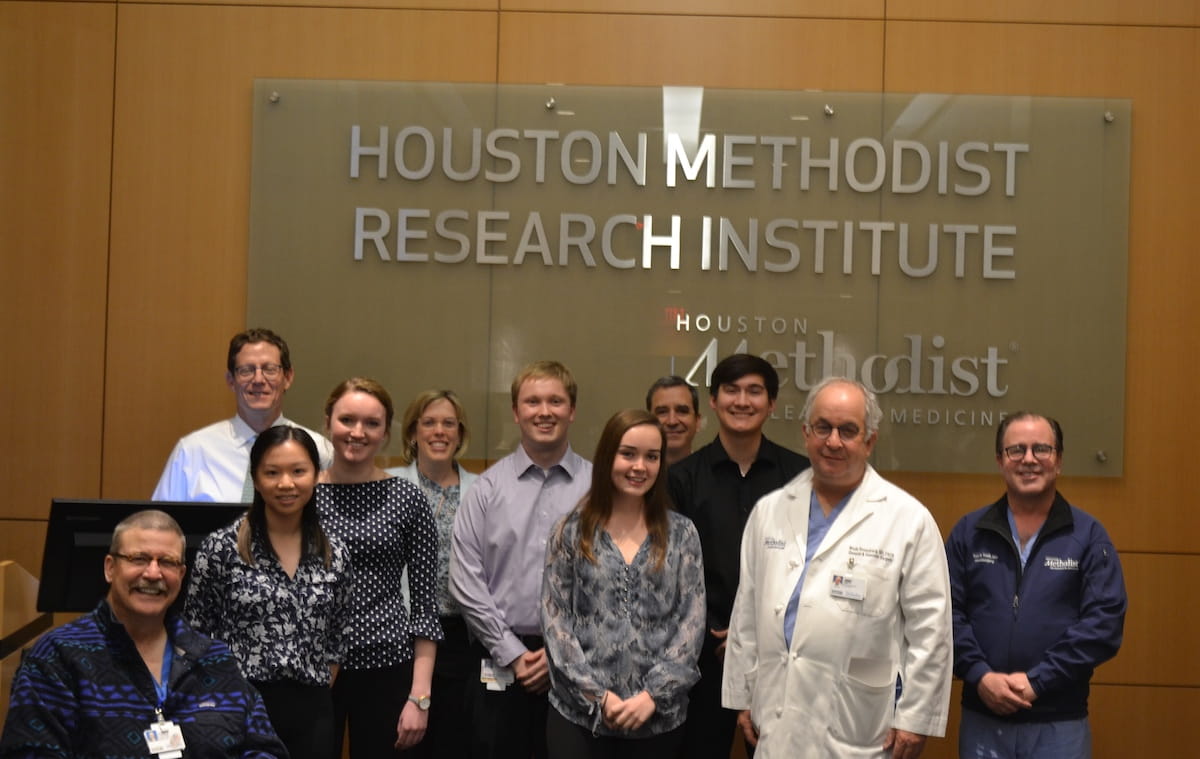 2019 Summer Surgical Cohort
The Fields Rosenberg Summer Surgical Fellowship is a physician shadowing program for undergraduate college students sponsored by Wade Rosenberg, MD (pictured, second from right) of the Department of Surgery. Accepted applicants look forward to 10 weeks of direct mentorship from a surgeon in General Surgery, Neurosurgery, Urology, Plastic Surgery, or Cardiovascular Surgery or another surgical department. Mentorship includes time in clinic, shadowing and attending grand rounds. At the end of the summer, fellows present the work they have done that summer. Fellows also attend summer didactic lectures and career and professional development seminars geared toward undergraduates. The Fields Rosenberg Summer Surgical Fellowship is a unique clinical training, boasting a near-100% acceptance rate for its alumni who later apply to medical school. Read testimonials from past fellows below.
Internship Guidelines & Requirements
Houston Methodist will begin accepting applications for the 2023 Summer Internship Programs starting on December 2, 2022 and ending on January 27, 2023. The program will begin on May 30, 2023 and end on August 4, 2023. Please review the full Guidelines & FAQ sheet using the link below.
Currently-enrolled undergraduate students, including graduating seniors, may apply to the fellowship.
The Fields Rosenberg program does not accept High School students.
Must be a US citizen, Legal Permanent Resident or Foreign National who holds a legal visa status (F-1, J-1, EADs).
Students who previously attended any summer internship program will not be considered.
Program Details:
Full-time, day shift, Monday – Friday.
Daily attendance required except for company holidays.
Located at the Houston Methodist Hospital Texas Medical Center campus.
Housing is not offered. Accepted interns will be provided helpful information to find housing.
Application Requirements:
Resume and Transcript (Official or Unofficial).
Two professional letters of recommendation.
Two required short essay questions, and one optional.
Complete applications and all required documents are due January 27, 2023.
View the full Guidelines & FAQ sheet
Additional Help:
Thank you for your interest in our internship, and we wish you all the best of luck.
TESTIMONIALS FROM PAST SUMMER SURGICAL FELLOWS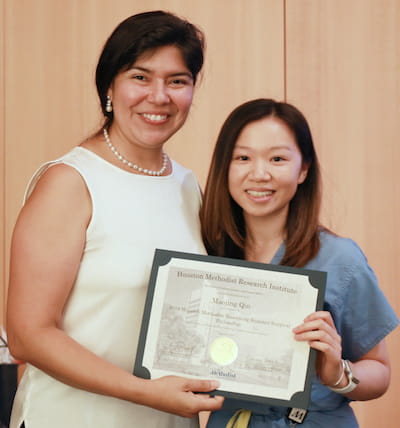 Maojing "Angela" Qin (right), 2019 Summer Fellow
"Looking back on my time as a Rosenberg Summer Surgical Fellow, I have crossed paths with various doctors, medical students, residents, and other medical professionals who make up the patient-care team at the Houston Methodist Hospital. They shared with me their wisdom, personal experiences, and character through their stories, providing me with instructions, and from their direct conversations with patients. From being a medical student to achieving the status of a surgeon, the journey is filled with obstacles that define each step of the journey and what it entails. Observing these narratives allows me to better understand the commitment and dedication it takes to progress in the field of medicine and how important every step of the journey is. Through the 10-weeks of direct-mentorship in the plastic surgery department under Gene Alford, MD, I observed qualities of compassion, tenacity, and expertise in his practice of medicine, qualities of which I hope to develop and grow my personal character from. With the mentorship opportunity of The Rosenberg Surgical Fellowship, I was able to engage in facilitating patient care, discovering attributes that truly constitute the role and responsibilities of a surgeon, and ultimately gain a sense of community which I hope to be a part of in the future. Ultimately, this fellowship strengthens my confidence in pursuing medical school as I have gained invaluable connections that I can refer to for advice and the fact that I now have a clearer image of the type of medical professional I hope to become."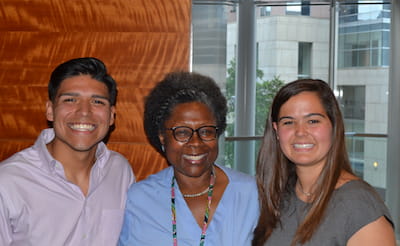 Elizabeth Popp (right), 2017 Summer Fellow
"The summer before my junior year of college, I had the unforgettable and amazing opportunity to intern at Houston Methodist Hospital's Department of Surgery under Dr. Wade Rosenberg. I was immediately integrated into Dr. Rosenberg's surgical team with the residents and spent my summer scrubbing in, observing surgeries and attending rounds to see patients postoperatively. Dr. Rosenberg and the residents took me under their wings and gave me countless opportunities, from learning how to place an IV to suturing incisions. A couple weeks into my internship, Dr. Rosenberg approached me about presenting on his behalf at the Multidisciplinary Digestive Disease Conference about a recent case of an insulinoma. Initially, I was nervous about the prospect of presenting to a room full of gastroenterologists and surgeons, but I embraced the challenge. It was an amazing opportunity that allowed me to learn and grow both personally and professionally. My 10 weeks as a summer surgical fellow, not only immersed me in patient care and expanded my knowledge of medicine, but truly confirmed my love of medicine and desire to be a surgeon one day. Ultimately, I hope to be a doctor as kind, compassionate and inspiring as Dr. Rosenberg and his residents."