Magnetic Stimulation Device Core Lab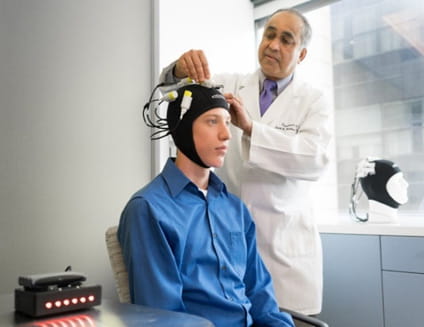 Director
Santosh A. Helekar, MD, PhD
Phone: 713-441-4389
Email: sahelekar@houstonmethodist.org

Core Manager
Blessy S. John, MS, ASQ CQE
Phone: 713-441-4804
Email: bsjohn@houstonmethodist.org

To schedule resources for this Core, please log in to iLab.
The Houston Methodist Magnetic Stimulation Device Core Lab develops and provides for research purposes unique prototypes of noninvasive portable wearable magnetic stimulators based on a new multifocal magnetic stimulation technology invented by Santosh Helekar, MD, PhD of Houston Methodist Research Institute in collaboration with Henning Voss, PhD of Weill-Cornell Medicine. This platform technology involves generation of oscillating magnetic fields (OMF) using strong permanent magnets rotated by battery-operated high speed electric motors. Presently, two human use OMF-based device prototypes have been developed at Houston Methodist Magnetic Stimulation Device Core Lab – Transcranial Rotating Permanent Magnet Stimulator (TRPMS) and Oncomagnetic Device (OMD). TRPMS is used for neuromodulation. The magnetic stimuli of TRPMS are like those delivered by existing FDA-approved repetitive transcranial magnetic stimulators (rTMS), but they are milder in strength, and they involve programmable intermittent oscillatory patterns rather than phasic stimulus pulses. Repeated stimulation with OMD, using stimulation patterns and configurations distinct from those of TRPMS, is being tested in ongoing studies as potential treatment for glioblastoma of the brain and other cancers. The stimulator components of both devices can be worn on the head either as a cap (TRPMS microstimulators) or as a helmet (OMD oncoscillators). OMD oncoscillators can also be worn on clothing for investigating research treatments for solid extracranial cancers. Physical parameters of both devices, such as strength, frequency and pattern of stimulation are customizable and can be programmed into their controlling microprocessor-based hardware. The hardware console can in turn be controlled with a personalized app developed in house for an electronic tablet or smartphone. It operates on a 9 – 12 V rechargeable battery, allowing the device to be portable during stimulation treatment. An advanced version of the hardware includes a remote device use monitoring system that provides real time feedback of device operation to the researchers and Houston Methodist Magnetic Stimulation Device Core Lab personnel by secure text messaging. The core lab has also developed OMF generating laboratory apparatuses for cell culture and animal experiments. All prototypes can be purchased through an iLab link by approved researchers. An investigational device exemption or non-significant risk determination is required for use of either device in specific research projects in human subjects on a case-by-case basis.
Human Use OMF Devices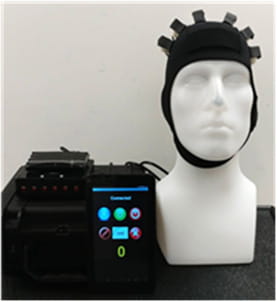 QualiaHat TRPMS Prototypes

Without Feedback (TRPMS)
With Feedback (TRPMSFB)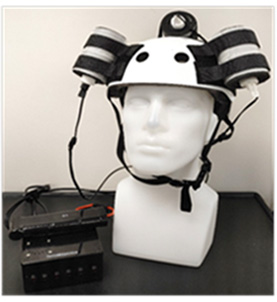 OMD Prototypes

Without Feedback (OMD)
With Feedback (OMDFB)
Services
Magnetic Stimulation Device Core Lab (MSDCL) also provides the following services through
iLab
:
Technical
Construct TRPMS and OMD prototypes with customized gear.
Design and construct OMF generating equipment for cell culture and animal studies.
Test, repair and maintain all OMF device prototypes and equipment.
Train researchers/research subjects in the proper use of these devices and equipment.
Professional
Offer consultation on the experimental design of studies involving OMF device prototypes.
Offer advice on the development of treatment protocols involving OMF stimulation.
Research Team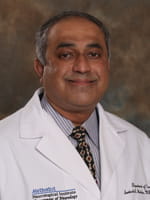 Santosh Helekar, MD, PhD
Director
Phone:713-441-4389
Email:
sahelekar@houstonmethodist.org
Santosh Helekar, MD, PhD, is a Houston Methodist Research Institute Scientist and an Associate Professor in the Department of Neurosurgery at Houston Methodist Academic Institute and Weill-Cornell Medical College. He is the coinventor of OMF platform technology. He designed the hardware and developed the software for TRPMS and OMD prototypes and led the team that developed them. He has a medical degree from the University of Bombay and a Ph.D. in Neuroscience from Baylor College of Medicine. His primary research focus presently is on preclinical studies with the OMD prototype in glioblastoma and other cancers, and development of oncomagnetic treatment in glioblastoma patients. He also collaborates with researchers who are using the TRPMS prototype for neuromodulation in stroke rehabilitation, developmental stuttering, focal dementia and bladder and motor control in multiple sclerosis.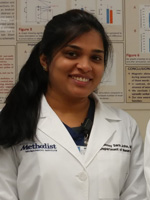 Blessy John, MS, ASQ CQE
Chief Biomedical Engineer and Core Manager
Phone:713-441-4804
Email:
bsjohn@houstonmethodist.org
Blessy John has a Master of Science degree in Medical Devices and Diagnostic Engineering from University of Southern California, Los Angeles. She is a certified ASQ Quality Engineer. Under Dr. Helekar's leadership, she designed and developed the first TRPMS prototype in 2012. Her work primarily focuses on design and development of TRPMS and OMD prototypes for human, animal and cell culture studies, and developing software for stimulation. Her expertise also extends to circuit design, design improvements, protocol development, regulatory documentation, testing and maintenance of TRPMS prototypes, inventory management, and offering guidance and training to researchers conducting neuromodulation studies.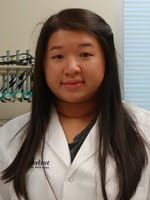 Lisa Nguyen, BS
Biomedical Engineer
Phone:713-441-4804
Email:
lnguyen5@houstonmethodist.org
Lisa Nguyen has a Bachelor of Science degree in Biomedical Engineering from University of Houston. Her expertise consists of developing, 3D modeling, testing, and maintaining the OMD prototype for human studies, and OMF-based laboratory equipment for cell culture and animal studies. Her work also includes providing experimental OMD treatment to glioblastoma patients and training researchers and research subjects on how to use the OMD and TRPMS prototypes.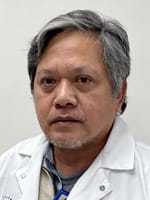 Alvin Saldon, BS
Electronics Engineer
Phone:713-441-4804
Email:
ACSaldon2@houstonmethodist.org
Alvin Saldon has a Bachelor of Science degree in Electronics and Communication Engineering from Cebu Institute of Technology, Philippines. His expertise extends from developing circuit boards to assembly and testing of TRPMS and OMD prototypes. He also designs and develops customized experimental setups for prototype testing and assembly.