Joint Pain Relief & Joint Replacement


Live Life Without Joint Pain.
The world-class joint experts at Houston Methodist Orthopedics & Sports Medicine are committed to helping you live a life without joint pain. We provide the most advanced care available to reduce your pain, improve your quality of life and help get you back to your everyday activities.
With treatment plans customized to you, our specialists offer a range of nonsurgical and surgical techniques, from physical therapy to complex joint replacement. Our treatments include:
Innovative pain control methods
Physical therapy to improve mobility and range of motion
The latest technology, including minimally invasive surgical techniques
Presurgical education for joint replacement
Joint replacement surgery
Joint Replacement Surgery
We are leaders in joint replacement and strive to:
Accelerate your rehabilitation
Get you back to work and activities sooner
Help you regain independence and functional movement
Our orthopedics program is among the nation's largest, and our doctors have decades of combined experience. Additionally, our team of specialists has been instrumental in the development of minimally invasive techniques and has contributed to the design of many of today's preferred implants.
Faster Recovery
We also have refined our rapid recovery program to help patients get back to their everyday lives faster. Following joint replacement surgery, our physical therapists work with you to begin your recovery almost immediately, which can speed healing. Most of our patients are up and walking the same day as their surgery, which helps them get home and back to work and other activities more quickly.
Our joint services include:
Advanced techniques to minimize postoperative discomfort
Partial knee replacement
Total hip and knee replacement
Complex joint-revision surgery
Hip- and knee-preservation surgery
Personalized Care
We work with you to provide a personalized and detailed care plan, so you know what to expect before, during and after surgery. Many patients say that following surgery, pain no longer controls their lives, and they are able to return to the everyday activities they've been missing. They often wish they had considered joint replacement much sooner.
Treatment Locations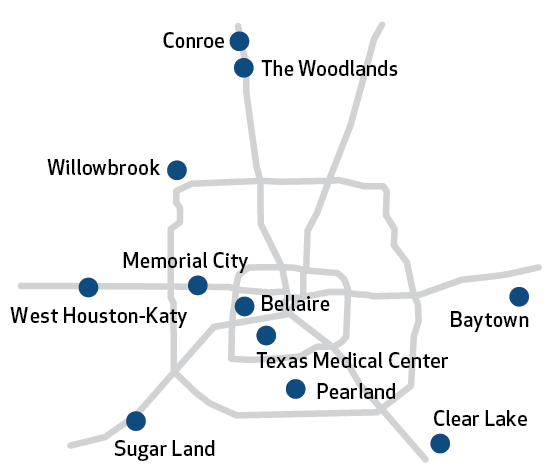 Find a Joint Specialist Near You
We offer joint care expertise at convenient locations throughout the Greater Houston area.
Texas Medical Center
6445 Main St. Suite 2500
Houston, TX 77030
713.441.9000

6550 Fannin St. Suite 2600
Houston, TX 77030
713.790.1818
Bellaire
5505 W. Loop South Fwy.
Houston, TX 77081
713.441.9000
Baytown
1677 W. Baker Rd. Ste. 1701
Baytown, TX 77521
281.427.7400
Clear Lake
14903 El Camino Real
Houston, TX 77062
713.363.9090
2020 Nasa Pkwy. Suite 230
Nassau Bay , TX 77058
713.363.9090
Conroe
4015 I-45 North Suite 110
Conroe, TX 77304
936.321.8000
Katy
Medical Office Building 1
18400 Katy Frwy. Suite 200
Houston , TX 77094
832.522.2663
League City
2220 E. League City Pkwy. Suite 200
League City, TX 77573
713.363.9090
Memorial City
9090 Katy Freeway, Suite 200
Houston , TX 77024
713.790.1818
Pearland
8520 W. Broadway St. Suite 100
Pearland, TX 77584
713.790.1818
Sugar Land
16811 Southwest Fwy., Suite 200
Sugar Land, TX 77479
281.201.0396
Willowbrook
13802 Centerfield Dr. Suite 300
Houston, TX 77070
281.737.0999
The Woodlands
17183 Interstate 45 South
Medical Office Building 1, Suite 210
The Woodlands, TX 77385
936.321.8000