Houston Methodist Quality & Patient Safety
Let Us Help You Find A Doctor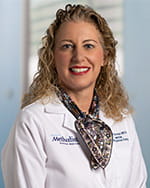 I am honored to work with thousands of physicians, clinicians and employees in our many hospitals and clinics who deliver the highest quality care in the safest environments possible, all the while providing an unparalleled experience. Your safety is important to me, to us. We put our heart and soul into our work, and we are committed to keeping you safe.
At Houston Methodist, we put the patient at the center of everything we do. We vigorously uphold a strong culture of safety, and our hospital system has been recognized repeatedly as an industry leader in quality, infection prevention, hospital safety and patient experience.
In addition to all our hospitals receiving an "A" grade from Leapfrog's Hospital Safety Grade — the only hospital system in the nation to do so — all seven of our acute care hospitals have been recognized as top performers in the 2023 Bernard A. Birnbaum, MD, Quality Leadership Ranking by Vizient. Our hospitals were recognized for demonstrating excellence in delivering high-quality care, with measures that included safety, mortality, effectiveness, efficiency, patient-centeredness and equity.
— Shlomit Schaal, MD, PhD, MHCM, Executive Vice President and Chief Physician Executive, Houston Methodist
Quality & Patient Safety: Our Highest Priority
For Houston Methodist, quality means ensuring a safe patient care environment where we provide clinical excellence with integrity and compassion. We have made it our mission to always put the patient at the center of everything we do — and this means that keeping patients safe at all our hospitals and facilities is our highest priority.

We achieve this by providing:
Highly trained doctors who practice evidence-based medicine
Using clinical practice guidelines and protocols whenever appropriate to provide the best possible care
A quality-focused, state-of-the art teaching environment
A first-rate patient experience that aims to exceed patient expectations
Ongoing research into the most effective patient care
Patients can take comfort in the fact that no matter which Houston Methodist hospital, emergency care facility, clinic or physician office they visit, they will find that same passionate commitment to providing unparalleled care in a safe environment.

Houston Methodist always strives to provide the highest quality of care by:
Improving performance of hospital-wide systems and clinical processes
Improving clinical outcomes
Preventing and reducing the risk of medical errors
How Our National Safety Scores Set Us Apart
Quality of Care Ratings
Patient Experience
Houston Methodist Hospital's selection for the 2023 Bernard A. Birnbaum, MD, Quality Leadership Award for excellence in delivering high-quality health care from Vizient, formerly known as UHC. Vizient is an alliance of 107 academic medical centers and 234 of their affiliated hospitals from which we gather data to compare ourselves with other members and gauge our progress in achieving patient satisfaction.
We also received a prestigious 5-star rating from the Center of Medicare and Medicaid Services' (CMS), which is based on how well a hospital performs across different areas of quality, such as treating heart attacks and pneumonia, readmission rates and safety of care.
Hospital Consumer Assessment of Healthcare Providers and Systems (HCAHPS) is a national, standardized survey of hospital patients. Based on survey results from previous patients, you can see how others rated their experience of care from a Houston Methodist hospital. We monitor
patient experience
survey results as one way to ensure patients and families have a positive experience.
Infection Prevention
Leapfrog Hospital Safety Grade
These measures include the rate of
central line bloodstream infections
, or CLABSIs, a preventable bloodstream infection and the percentage of observed hand washing or use of hand sanitizer before and after caring for a patient. Houston Methodist consistently scores in the top 10 percentile for CLABSIs, one of the top safety scores in the nation.
Patient safety is an important element of an effective, efficient health care system where quality prevails.
Leapfrog's Hospital Safety Grade
measures how hospitals and other health care organizations protect their patients from errors, injuries, accidents, and infections. All Houston Methodist hospitals received an "A" grade
—
the only hospital system in the nation to do so.