Physical & Occupational Therapy - Sugar Land

Houston Methodist Sugar Land Hospital offers superior outpatient rehabilitation therapy services at three convenient locations in Fort Bend County. Some of the area's finest, most skilled therapists staff the facility, providing the latest, most effective treatments custom-tailored to deliver maximum effectiveness and a quick return to full and pain-free function.
Therapy Services
A form of rehabilitation that uses a comfortable, low-impact and pain-free exercise environment to help patients regain strength, flexibility, endurance and mobility.
Benefits:
Buoyancy allows for easier body movements
Natural resistance of water increases muscle strength
Pressure of the water on the body increases the dynamics of blood pressure, which helps to strengthen the heart and challenge the lungs
Warm water helps relax tense and constricted muscles, soothes aching joints and allows a wider range of motion
Commonly treated conditions include:
Arthritis
Spine-related conditions
Chronic pain syndromes
Bursitis
Postsurgical pain
Joint scopes and replacements
Joint pain as a result of obesity
BIG & LOUD therapy is a type of therapy developed specifically for patients with Parkinson's disease and other movement disorders.
The BIG therapy system, which was developed using many of the same principles as LOUD, gives patients increased mobility, balance and range of movement with their bodies and limbs
The LOUD program includes an intensive month-long therapy course that improves vocal intensity, quality and variation through a series of repetitive exercises that stimulate the muscles of the larynx and improve breathing. At the same time, patients are taught to recognize when and how to speak louder to facilitate understanding
Both BIG and LOUD therapies require patients to attend four one-hour classes a week for one month, working directly with an individual therapist who provides one-on-one coaching and assistance
For more information on Houston Methodist Sugar Land Hospital's BIG and LOUD therapy, call Maureen Lall, Neuroscience & Spine Center nurse navigator at 281.274.7979.
Occupational/Hand Therapy
Certified occupational therapists treat and rehabilitate patients with hand, wrist, elbow or shoulder injuries and conditions. Our hand therapy team is committed to providing our patients with the most up-to-date evidence-based treatment techniques, along with advanced equipment for a fast recovery.
Commonly treated injuries and conditions:
Crushed fingers
Fractures
Carpal tunnel syndrome
Tennis elbow
Amputations and lacerations with nerve damage
Personalized physical therapy is required to treat impairments and promote mobility, function, quality of life and long-term success after an injury or surgery. We are Leading Medicine in the field of sports. Our highly skilled therapists are:
Board-certified orthopedic specialists
Board-certified sports specialists
Fellowship-trained manual therapists
Certified strength and conditioning specialists
Certified kinesio tape specialists
AntiGravity Treadmill
We are proud to showcase the only antigravity treadmill in Fort Bend County.
Features & Benefits:
Uses Differential Air Pressure (DAP) technology to lift the body, reducing weight on the lower extremities
Aids therapists in pinpointing where a patient's pain stops and where natural movement feels good again
Enables faster rehabilitation, safer conditioning, improved athletic performance and effective weight loss
Allows for a more efficient and effective rehabilitation process for the patient
Our certified speech-language pathologist provides assessment and treatment of speech, language, cognitive-communication, voice, and swallowing disorders for adult and geriatric populations. Detailed evaluations and customized treatment plans are developed utilizing a collaborative approach with the patient, patient's family and other therapy disciplines in order to maximize functional progress.

Our staff is passionate about providing a service that will continually benefit the patient after his or her therapy sessions have concluded. Our therapists educate their patients on exercises that they can perform at home and between sessions to help speed up and solidify the treatment process. Upon discharge, patients are given a home exercise program from their therapist which is a very beneficial tool to ensure a lasting recovery.
Therapy sessions are available at each of our facilities with:
Convenient appointment times
State-of-the-art equipment
Free parking
Comfortable waiting areas
Individual lockers
LOCATIONS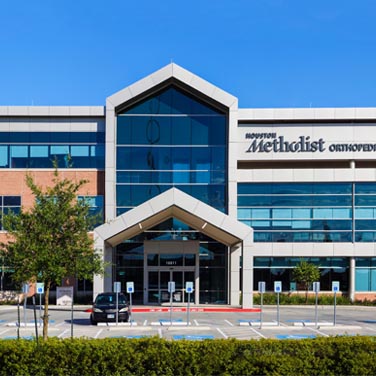 Houston Methodist Physical & Occupational Therapy at Sugar Land
16811 Southwest Fwy., Sugar Land, TX 77479

Hours:
• Monday - Thursday: 7 a.m. - 7 p.m.
• Friday: 7 a.m. - 6 p.m.

Types of Rehabilitation:
• Physical Therapy
• Occupation Therapy
• Aquatic Therapy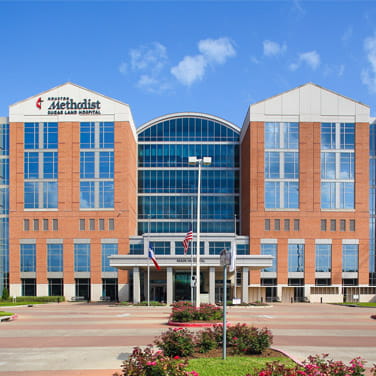 Houston Methodist Neuroscience & Spine Center
at Sugar Land
16605 Southwest Fwy., Suite 115 Sugar Land, TX 77479

Hours: Monday - Friday: 8 a.m. - 5 p.m.

Types of Rehabilitation:
• Physical Therapy
• Occupational Therapy
• Speech Therapy
• Big & Loud Therapy (For Parkinson's patients)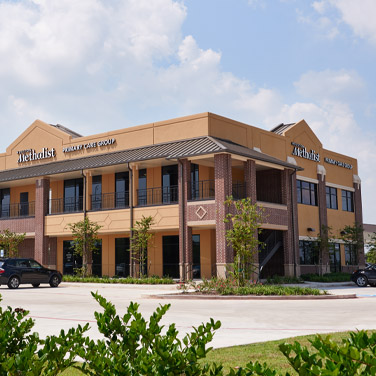 Houston Methodist Physical Therapy at Sienna
8330 Hwy. 6, Suite 200, Missouri City, TX 77459

Hours: Monday - Friday: 8 a.m. - 5 p.m.

Types of Rehabilitation:
• Physical Therapy