Your health and performance are our highest priority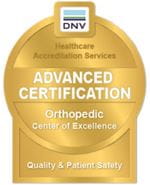 Houston Methodist Orthopedics & Sports Medicine is proud to provide comprehensive, world-class care to families that live in The Woodlands and surrounding communities. Our dedication to patient-centered care, combined with our commitment to conservative treatment and use of the latest, innovative technology, ensures the best possible outcome for our patients.
Our Orthopedics & Sports Medicine in The Woodlands has been recognized as an Orthopedic Center of Excellence, designated by DNV Healthcare. It is the only program in Montgomery County to receive the designation, which is obtained by achieving certification in at least three orthopedic programs. We have earned certification for our hip and knee, shoulder and spine programs.
We are committed to excellence and performing at the highest level from diagnosis and treatment to rehabilitation, education and outcomes.
---
OFFICIAL HEALTH CARE PROVIDER