Adult Congenital Heart Program

If you're an adult living with congenital heart disease, it's important to seek lifelong care from a specialist with expertise in treating adults.
Recognized for Expertise in Treating ACHD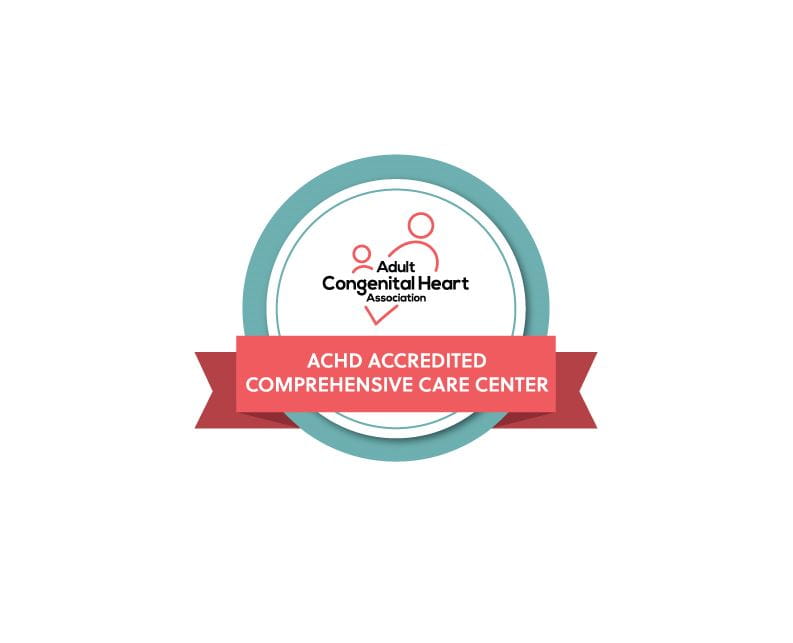 Our Adult Congenital Heart Program, part of the Houston Methodist DeBakey Heart & Vascular Center, combines unparalleled expertise with state-of-the-art resources to deliver excellent care.
With leading experts committed to providing comprehensive care to adults living with congenital heart disease, our program is accredited by the Adult Congenital Heart Associated (ACHA).
Personalized Care for Adults with Congenital Heart Disease
The goal of our program is to offer a variety of congenital heart disease treatment options that can improve your quality of life and help you continue doing what you love.
Our adult congenital heart specialists are available for wellness assessments, preventive care and second opinions. And, with enhanced safety measures in place, you can rest assured your safety is our priority. Our doctors are available to see patients virtually or in person, as needed.
Our multidisciplinary team of doctors includes specialized anesthesiologists, interventional cardiologists, cardiac imaging specialists, electrophysiologists and cardiac surgeons. Together, we work to determine the best course of treatment for your specific condition and unique lifestyle needs— in an environment designed specifically for adults.
Our services include:
Clinical surveillance
Advanced multimodality imaging
Transcathether evaluation and intervention
Monitoring pregnancy in mothers with congenital heart disease
Heart rhythm therapies
Congenital heart surgery
Heart and multi-organ transplantation
Social support and counseling
Types of Congenital Heart Disease We Treat
Our doctors have extensive experience treating adults with congenital heart disease, including those with the following conditions:
Coarctation of the aorta
Single ventricle defects and other types of complex congenital heart disease
Adults who have undergone Fontan, Ross or other cardiac surgeries
In addition to treating adult congenital heart disease, we understand that dealing with a chronic diagnosis can be challenging, and navigating the health care system can be overwhelming. Our dedicated social workers can help answer your questions, find specific resources and provide social support, counseling and referrals to other mental health providers in your community.
A New, Less Invasive Way to Replace Pulmonary Valves
Some of the most common congenital heart defects involve narrowed, leaking or missing pulmonary valves. Traditionally, placement of a new pulmonary valve required open-heart surgery, with many people needing several replacements throughout the course of their adult life.
Houston Methodist is one of the few adult hospitals in the country to offer the revolutionary catheter-based heart valve implantation systems designed specifically for the pulmonary valve. In this procedure, the cardiologist inserts a special balloon-tipped catheter through a small incision in the vein of the inner thigh and navigates it up to the heart. The transcatheter valve, an artificial valve sewn onto a wire frame (stent), is mounted on the balloon catheter. With inflation of the balloon, the stent is deployed. After deflation of the balloon, the transcatheter valve begins working immediately.