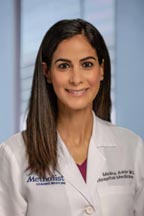 Melina Awar, MD, FACP, FHM
Program Director, Internal Medicine Residency
Houston Methodist Hospital is a world-class facility located in the Texas Medical Center, an environment that provides access to the exciting new developments in medicine. It is an exciting time to be involved in internal medicine. Our health care system is changing and whether you are interested in general internal medicine or pursuing a subspecialty fellowship, you will be called upon to demonstrate not only your medical skills, but your ability to practice cost-effective medicine in an environment of teamwork, quality and safety. Our curriculum emphasizes quality improvement, high-value care, evidence-based medicine and patient safety, while providing a solid clinical experience with some of the most experienced teachers in the country. Our goal is to produce leaders in medicine, whether in academia, research, private practice or medical administration.
A decades-long tradition of academics sets Houston Methodist apart from other institutions. Many nationally-known clinical teaching faculty team up to provide you the best clinical experience possible with abundant resources for education and an emphasis on your personal development as a physician. A strong academic affiliation with Weill Cornell Medicine provides an anchor for educational excellence. At the same time, a major affiliation with Texas A&M University provides our trainees an opportunity to be part of a dynamic, rich academic environment, interacting with second, third and fourth year medical students. For the past 50 years, Houston Methodist has served as a place where patients receive excellent care and residents receive outstanding medical training.
As part of its academic mission, Houston Methodist is also dedicated to research and has established the Houston Methodist Research Institute. This venue serves as the site for groundbreaking research and discoveries. Residents in our program may be provided up to two rotation months to complete a research project and manuscript with a mentor in their chosen area. Our residents have had their work recognized at many local, state, national and international meetings, helping them to secure slots at some of the most competitive fellowships in the country. Our outcomes on the American Board of Internal Medicine (ABIM) certifying examination are second to none among the Houston-area programs.
The components of an extraordinary education in internal medicine are thriving at Houston Methodist Hospital including the clinical experience, the quality of teaching, and the camaraderie of an excellent group of trainees, teachers and staff. Currently we have ACGME-accredited fellowship programs in cardiovascular disease, endocrinology, gastroenterology, hematology/oncology, nephrology and pulmonary critical care medicine. According to
U.S. News & World Report
ratings, Houston Methodist Hospital remains the #1 ranked hospital in Texas with 8 nationally ranked specialties. We invite you to see what is possible for your education at Houston Methodist Hospital.