Ophthalmic Pathology and Dermatopathology
OPHTHALMIC PATHOLOGY
The Ophthalmic Pathology Service at Houston Methodist Hospital is one of few laboratories in the country and worldwide that are dedicated to the diagnosis and laboratory testing of ocular specimens. Our senior ophthalmic pathologist is double trained in ophthalmology and pathology with several fellowships, including ophthalmic pathology, and has more than 20 years of practice in the field. We receive over 1,500 specimens a year that include enucleations, exenterations, biopsies, and cytologic specimens (fine needle aspirations of tumors, vitreous/aqueous humor specimens and ocular surface cytology). We evaluate specimens primarily from Houston and Texas, but also receive samples from around the US and internationally. Ocular oncology - diagnosis and molecular testing - and the diagnosis of infectious diseases using a combination of cytological, molecular and microbiological testing, is our particular expertise.
The following are some specific tests we have available:
Aqueous humor, vitreous, cornea and conjunctiva

Infectious (cultures, molecular multiplex PCR, cytology, electron microscopy)
Neoplastic (cytology, flow cytometry, molecular)

Choroidal and Retinal Biopsies

Infectious (cultures, molecular multiplex PCR, cytology)
Neoplastic (cytology, histopathology, flow cytometry, molecular)

Electron microscopy for dystrophies and metabolic diseases
Fine needle aspiration biopsies (tumors) and on-site adequacy evaluation (at Houston Methodist operating rooms)
Enucleation, Evisceration, and Exenteration Specimens

Fresh tumor retrieval for molecular testing (Houston area)
Histopathologic diagnosis
Molecular biomarker panels for tumors
Conjunctiva and skin biopsies

Immunofluorescence Studies (to exclude bullous diseases such as ocular cicatricial pemphigoid)
Lymphoma diagnostic and prognostic testing (flow cytometry, molecular)
Orbit, skin, eyelid, and conjunctival specimens

Intraoperative evaluation for margins and adequacy (frozen sections at Houston Methodist operating rooms)

Temporal artery biopsies
Pediatric ophthalmic pathology
Ophthalmic microbial cultures
Outside consultation for second opinion
For a complete description on how to submit any of these samples for evaluation, click here.
The order form can be downloaded from here.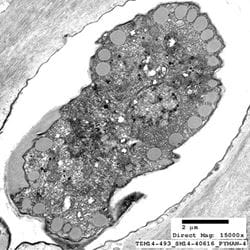 Acanthomeoba cyst evaluated by electron microscopy
DERMATOPATHOLOGY
The Dermatopathology Section at Houston Methodist Hospital provides comprehensive consultative services relating to the disorders of the skin, hair, and nails. We provide expert diagnoses by integrating a full range of immunological and molecular tests in our well-equipped laboratory.
We offer a comprehensive array of dermatopathology diagnostic services performed in-house:
routine histology
immunohistochemistry
immunofluorescence
molecular T- and B-cell clonality assays
mutational testing of melanocytic neoplasms
Dermatologic samples from patients outside of the Houston Methodist Hospital System may be sent directly to us for processing and interpretation. We also provide consultation services on biopsies and resection specimens obtained elsewhere.
Our expertise includes, but is not limited to, diagnosis of inflammatory and neoplastic skin diseases and diagnosis of difficult melanocytic lesions and cutaneous lymphoid tumors. Consults typically have a rapid 24-48 hour turnaround time (48 hours if additional stains are required).
In addition to providing clinical services, our pathologists participate in clinical and translational funded research. These efforts have culminated in the publication of several peer-reviewed papers, book chapters, and presentations at national and international meetings. Our faculty members have also taught courses and lectured at regional and national forums on topics pertaining to dermatopathology.
Contact information:
For dermatopathology-related surgical pathology reports:
Physicians and physician offices: please call Ms. Rosie Benitez
HMH Anatomic Pathology Physician and Patient Services
Office: 713.441.1447
Ms. Benitez can transfer you to the case pathologist.
For questions about sending consultations from outside the Houston Methodist system, please call:
Ms. Rachel Mata
AP Administrative Support
Office: 713.441.6415