The Gynecologic Pathology Section at Houston Methodist Hospital provides expert interpretation and analysis of a wide range of pathologic entities, representing the full spectrum of gynecologic pathology. Over 5,000 gynecologic specimens are reviewed at the Houston Methodist Department of Pathology and Genomic Medicine per year, ranging from the most benign to extremely complex. Cumulatively, the group has numerous years of experience with one member previously spending many years as faculty at MD Anderson Cancer Center. Our group has a great collaborative relationship with our gynecologic oncologists and actively participates in the weekly gynecologic pathology tumor board at Houston Methodist Hospital. These tumor boards provide multidisciplinary discussion of patient diagnosis, management and treatment, which helps guide optimal patient care.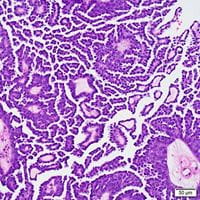 Diagnosing cancers of the female reproductive tract can be challenging, which is why Houston Methodist provides consultation services. Knowing the exact type and stage of a tumor is important in choosing the most effective therapy for patients. We provide consultation services for pathology cases sent to us from pathologists or clinicians, both inside and outside the Houston Methodist system.
(
pictured left: serous borderline tumor with micropapillary pattern
)
We provide second opinions on the full range of gynecologic cancers:
ovarian
uterine
cervical
vulvar
vaginal
fallopian tube
gestational trophoblastic neoplasms
some peritoneal cancers
The faculty conduct clinical research in the field of gynecologic pathology, including studies of uterine and ovarian cancer, among others. The group has published numerous papers and contributed to book chapters, routinely presents at national meetings, and teaches courses both internally and at external institutions.
Medical education is a key component to the services provided. The department offers an ACGME-accredited one year
Women's Health Pathology Fellowship
, focusing on breast and gynecologic pathology. This fellowship provides advanced and focused training in diagnostic breast and gynecologic pathology. Furthermore the gynecologic pathology section is actively involved in teaching residents, as well as surgical pathology and
cytopathology
fellows.
Our Gynecologic Pathology Section faculty:
Donna Coffey, MD
Office: 713-441-4471
DCoffey@HoustonMethodist.org
Michael Deavers, MD
Office: 713-441-6470
MDeavers@HoustonMethodist.org
Ekene Okoye, MD
Office: 713-441-8265
EIOkoye@HoustonMethodist.org
For questions regarding outside consultations:
Ms. Rachel Mata
AP Administrative Support
Phone: 713-441-6415
Fax: 713-793-1603
or
Ms. Carol Kempen
AP Administrative Support
Phone: 713-441-6420
Fax: 713-793-1608
For questions about pathology reports:
Physicians and physicians offices: please call Ms. Rosie Benitez
Office: 713-441-1447
Ms. Benitez can transfer you to the appropriate pathologist