Houston Methodist has always sought to blend outstanding medical treatment with remarkable personal care, and our Women's Health Services further this goal by bringing together numerous specialties.
Women at every stage of life can count on receiving undivided attention and personalized treatment in any program within Houston Methodist. These services cover general wellness as well as medical and surgical care of
gynecological issues
and
breast cancer
, and
management of diabetes
,
heart disease
and
mental health
.
Our physicians offer personalized, compassionate and high-quality care, as well as academic excellence in both teaching and research in several subspecialties:
Maternal fetal medicine offers expertise in preconception counseling, prenatal screening and diagnosis, genetic counseling and high-risk pregnancy consultation care.
Gynecologic oncology manages cancers of the reproductive organs.
Urogynecology provides complete, broad-spectrum treatment for pelvic floor disorders by integrating gynecology, urology, colorectal surgery and plastic surgery.
Reproductive Endocrinology and Infertility provides comprehensive care for women with complex hormonal disorders and for women who are having difficulty conceiving.
The program also includes general
wellness programs
dedicated to women. The wellness program is directed toward prevention and emphasizes nutrition, exercise and work-life management.
Our team of specialized experts is committed to advancing research through the latest clinical trials, including but not limited to, urinary tract issues, sexual organ disorders and pregnancy conditions.
Houston Methodist delivers advanced, comprehensive health care to every patient in an environment of respect, kindness and support.
Debunking Breast Cancer Myths
Women are constantly bombarded on what they can do to prevent breast cancer. We sat down with several medical experts to address a few common breast cancer myths. Learn more about these common myths.
Nationally ranked in gynecology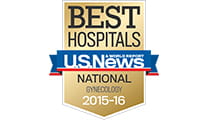 Houston Methodist Hospital is ranked among the country's top hospitals in 11 specialties in U.S. News & World Report's 2015 "Best Hospitals" issue, including gynecology. Read more.