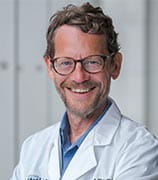 Martyn Sharpe, PhD
Head of Research, Kenneth R. Peak Brain and Pituitary Tumor Treatment Center
Dr. Martyn Sharpe has been part of the Houston Methodist Kenneth R. Peak Brain & Pituitary Tumor Treatment and Research team for more than a decade and in April 2017 was appointed to the John S. "Steve" Dunn, Jr. Distinguished Professorship in Brain Tumor Research. He is a classically trained biochemist and bioenergeticist with a strong background in chemistry and the reactions of both reactive oxygen and nitrogen species. As a chemistry-based biochemist and pharmacologist, he investigates the role of reactive oxygen and nitrogen species in pathophysiology. His interest in mitochondrial oxidative/nitrositive stress led him to design and synthesize a range of small, superoxide dismutase, catalase and glutathione peroxidase mimetics. In addition he has designed a number of novel therapies for brain cancer and devoted his career to the development of drugs and drug delivery systems to target glioblastoma. Along with Dr. David Baskin, he is applying for intellectual property rights and patents for new families of chemotherapeutic compounds, the culmination of bench to bedside work at Houston Methodist. Clinical trials on these new treatments are pending. Dr. Sharpe came to the United States from his native Britain in 2004, originally focused on a career in classical biochemistry/bioenergetics/mitochondrial functionality of the brain. He has authored 65 peer-reviewed articles and has been the referee for several prestigious medical journals and grants, and is often called on as an expert reviewer for grants involving oxidative stress. Martyn is deeply committed to neuro-oncology and is determined to develop a therapy to treat the 220,000 people, worldwide, who develop gliomas each year.
Targeted Brain Cancer Treatment Laboratory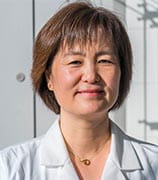 Assistant Professor, Department of Neurosurgery, Kenneth R. Peak Brain and Pituitary Tumor Treatment Center
Dr. Yun is an Assistant Professor in the Department of Neurosurgery at the Houston Methodist Research Institute and the Weill Cornell Medical College. She is an independent faculty member in the Peak Center and her research interest is focused on understanding underlying causes of therapy failure and tumor recurrence in brain cancers. Dr. Yun is an American Cancer Society research scholar and formerly a faculty member at the Jackson Laboratory in Bar Harbor Maine. While there, her laboratory started studying the function of tumor suppressor genes/oncogenes and stem cell signaling pathways important for brain cancer stem cell self-renewal and differentiation. She uses mouse models of brain cancer to gain novel insights into fundamental biology of cancer stem cells and uses patient-derived tumor cells and PDX models of GBM and medulloblastoma to validate the clinical relevance of her discoveries. Her laboratory has shown a critical role of the cell of origin in determining the molecular and cellular phenotypes of cancer stem cells, leading to identification of a novel mechanism of therapy resistance to a targeted therapy. Her laboratory also identified novel regulators of GBM stem cells and epigenetic mechanisms that confer therapy resistance to glioma cells. At the HMRI/Peak Center, a major focus of her laboratory is to develop new therapies to target brain cancer stem cells and block tumor recurrence.
Kumar Pichumani, PhD
Cancer Metabolic Analysis, Kenneth R. Peak Brain and Pituitary Tumor Treatment Center
Dr. Kumar Pichumani is a research scientist and research associate professor at the Neurosurgery Research Laboratory and Houston Methodist Research Institute. He is an NMR physicist and has worked in NMR spectroscopy since 1990. He developed new methods using first principles of NMR spin relaxation to increase both resolution and sensitivity so that complex bio macromolecules of larger molecular mass can be studied by NMR Spectroscopy. These research publications were cited by two Nobel Laureates in NMR spectroscopy. His most recent research involves investigating in-vivo cancer metabolism using non- radioactive 13C enriched nutrients as infusion substrates (glucose, acetate, fatty acids), studying the fate of these substrates via high-resolution 13C NMR spectroscopy of surgically resected tumor tissues extracts. In a recent article published in CELL, he demonstrated that acetate acts as an alternate energy source for cancer cells in human glioblastoma patients and mouse models. He studied in India, Sweden and the United States, gaining a diverse background spanning physics, mathematics, electronics, physical chemistry, NMR, cancer metabolism and biophysics.
Tumor Metabolics Laboratory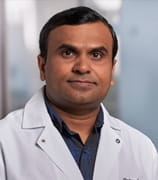 Omkar Ijare, PhD is a trained bioanalytical chemist and has over 15 years of experience as a biomedical researcher. For his Ph.D. studies, he worked on the synthesis and structural elucidation (using NMR, MS, X-ray, and IR spectroscopy) of bioactive molecules containing indole and benzothiophene moieties. Previously, he has worked at the National Research Council Canada (Winnipeg), and was involved in the development of NMR based in vitro diagnostics methods for various cancers. At the Kenneth R. Peak Brain & Pituitary Treatment Center, he is studying the metabolism of brain tumors (pituitary, gliomas, meningiomas) and brain metastases through the analysis of surgically resected tumor tissues and blood specimens. He has performed a comprehensive metabolomic analysis of various immunohistochemical (IHC) subtypes of pituitary adenomas, and identified two metabolites (N-acetylaspartate and myo-inositol) that may evolve as potential biomarkers to distinguish various IHC subtypes of pituitary adenomas. Also, in the blood, Omkar Ijare has identified betahydroxybutyrate (BHB) as a potential biomarker for the detection of prolactin-secreting pituitary tumors.

In addition, he has been studying the metabolism of brain tumors using cell lines (generated from surgically resected meningioma and glioblastoma tumors) and 13C-labeled substrates/tracers (e.g. 13C-glucose, 13C-glutamine, 13C-betahydroxybutyrate), to identify specific metabolic pathways which can be targeted to develop novel drugs for the treatment of brain tumors.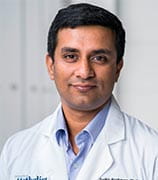 Sudhir Raghavan, PhD
Dr. Sudhir Raghavan is an Instructor in the Department of Neurosurgery and Institute of Academic Medicine and has been part of the Houston Methodist Kenneth R. Peak Brain & Pituitary Tumor Treatment and Research team since May 2017. Along with Dr. Sharpe, Dr. Raghavan has helped design a number of novel chemotherapeutic compounds for brain cancer and develop routes to synthesize these new therapies at high purity. He has an undergraduate degree in Pharmaceutical Sciences from India and a doctoral degree in Medicinal Chemistry from Duquesne University, Pittsburgh, PA. His doctoral and postdoctoral work extensively combined traditional synthetic organic and medicinal chemistry along with computational drug design
Dr. Raghavan's research interests include developing small molecule inhibitors of purine biosynthesis, multiple receptor tyrosine kinase inhibitors, antimitotics, antifolates for targeted delivery of molecules to cancer cells and enolase inhibitors for treating gliomas.
Synthetic Neurochemistry Laboratory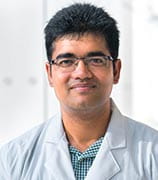 Bikesh Kumar Nirala, PhD
Postdoc Research Fellow 1, Kenneth R. Peak Brain and Pituitary Tumor Treatment Center
Dr. Nirala, obtained his Bachelor's degree in Industrial Microbiology and Masters in Industrial Biotechnology. Afterward, he fascinated towards Biomedical research and obtained his doctoral degree in Biomedical Engineering from IIT Delhi, India in 2015. During his doctorate he worked on diabetes, the main focus of his research was to understand the vascular changes taking place during diabetes. He investigated the interaction of metabolic stress simulated by advanced glycation end products of human serum albumin (AGE-HSA) and disturbed flow simulated by orbital shear stress (OSS) in modulating endothelial cell (EC) function pertaining to vascular health. He is also interested towards natural medicine and he demonstrated the molecular mechanism behind the anti-diabetic activity of S-allyl cysteine sulphoxide (SACSO) or alliin, the main sulfur-containing bioactive constituent of garlic. After his doctorate, he moved to Germany and worked as a postdoctoral fellow with Prof. Michael Sturzl at the University Clinic, Friedrich Alexander University, Erlangen, Germany. During his postdoc tenure, he investigated the role of guanylate binding proteins (GBPs) in age-associated diseases, particularly diabetes, cardiovascular diseases, and cancer. Nirala's research areas of interest include vascular biology, aging associated diseases, diabetes, cancer, signal transduction, and protein glycation. He joined the Houston Methodist Research Institute in June 2017 as a postdoc research fellow and working with Kyuson Yun, Ph.D., group. The main focus of his current research is to find out a robust molecular marker and develop new drugs for the Glioblastoma, one of the deadliest brain cancer. He is technically skilled with several biological techniques including animal cell culture techniques (Primary cells and cell lines including endothelial cells, suspension cells, cancer cells and Stem cell), molecular biology techniques, biochemical techniques, immunological techniques, exposing cells to different biomechanical forces, glycation biology and microscopic techniques.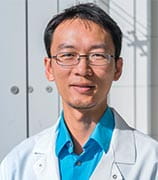 Yaohui Chen, Ph.D.
Research Associate, Kenneth R. Peak Brain and Pituitary Tumor Treatment Center
Dr. Yaohui Chen is a research associate who received a doctorate from Fudan University and completed a postdoctoral fellowship at the University of Texas M.D. Anderson Cancer Center. Chen's research areas of interest include metabolism, cancer, signal transduction, epigenetics and protein translational modifications. At Houston Methodist, Chen will be working with Dr. Kyuson Yun to focus on signal transduction pathways in cancer stem cells and how the Hippo Pathway regulates immune system in medullablastoma.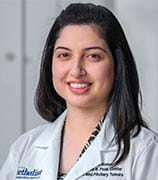 Tanvi Kumar, MS
Research Assistant II, Kenneth R. Peak Brain & Pituitary Tumor Treatment Center
Tanvi Kumar graduated with a master's degree in Biotechnology from the University of Queensland, Australia. Her research focus in grad school was drug pharmacokinetic profiling at a preclinical drug development and testing center where she gained hands on experience in the animal research setting. She joined Houston Methodist Research Institute in 2012 in the diabetes and metabolism animal core group, where she continued to work on animal models and drug treatment studies. In 2013 she joined Kenneth R. Peak Brain & Pituitary Tumor Treatment Center as a Research Assistant II to be a part of an exciting translational research work aimed towards fighting cancer and improving treatment outcomes. Her work with Dr. Baskin & Dr. Sharpe is focused on developing brain tumor and metastasis animal models and use of these models to test various drugs and treatment alternatives to find the most effective method of treating brain tumor. Her laboratory duties include animal model development, tumor injections and transplants, drug administration, tumor growth monitoring and analysis and general welfare of experimental animals as well as other basic science research work.