Houston Methodist West Hospital
Despite the COVID-19 crisis, our doctors continue to safely see patients virtually and in person, as needed.
Learn More
We offer a full range of care across Katy and West Houston
See Locations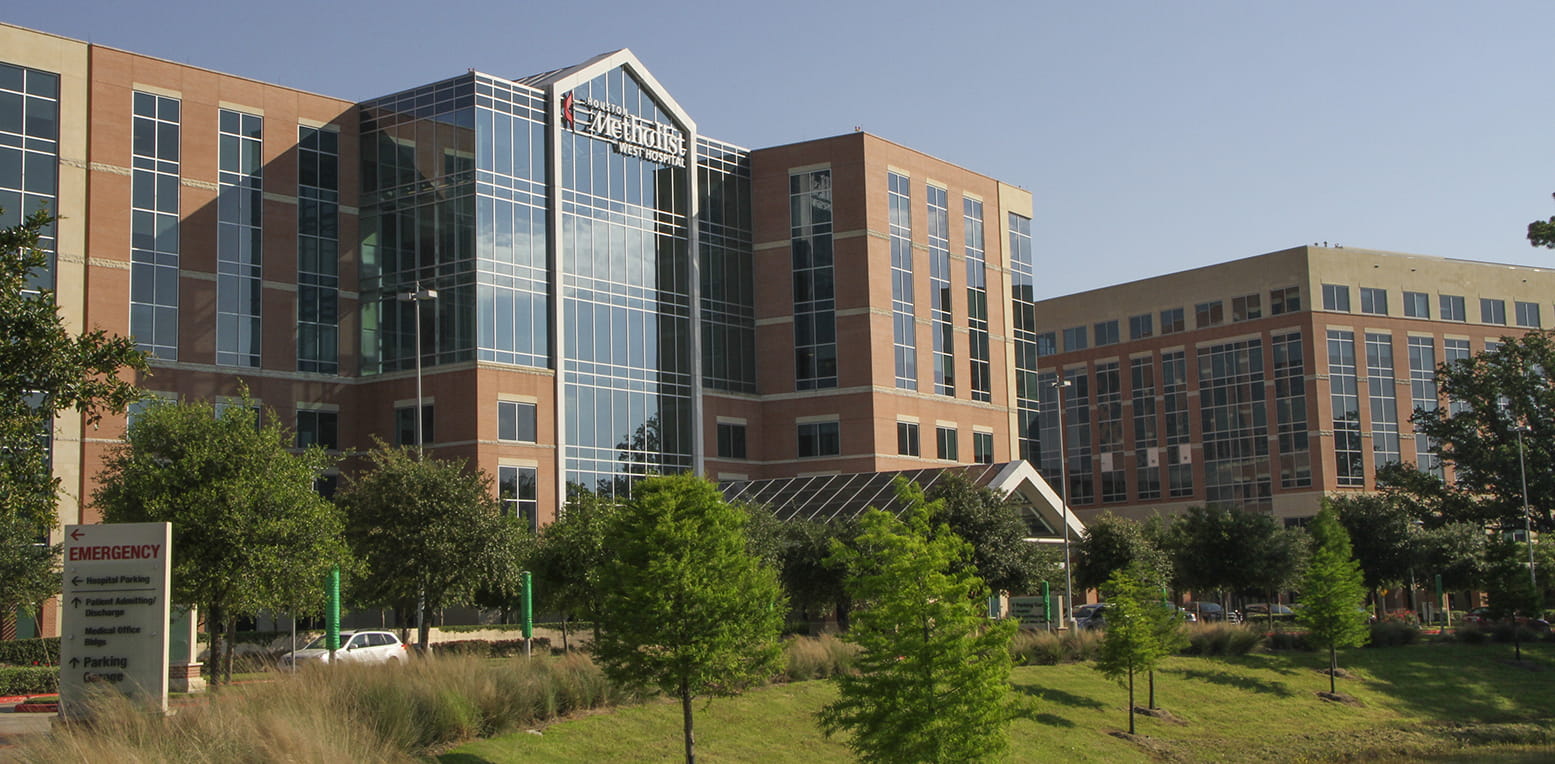 Convenient Locations — Close to Home
Houston Methodist West Hospital is growing to meet the needs of our community. Here, you'll find a beautiful, growing hospital campus that offers nearly 200 beds and access to innovative medical and surgical care.
In addition to the hospital campus, which includes medical office buildings, we offer a full range of care across Katy and West Houston, including:
Primary and specialty physician offices, imaging and labs
Easy to access emergency care and transfer to Houston Methodist West Hospital, should you need it
A team of experts using the newest technologies
Personalized care tailored to your unique needs
And, with enhanced safety measures in place, you can rest assured your safety is our priority. Learn more about us.
Learn more about Professional Contributions of Nursing at Houston Methodist West Hospital >
Patient & Visitor Resources
From registering for your visit to insurance information, you'll find the resources you need to make your visit with us as stress-free as possible.
We welcome visitors 24 hours a day in most areas of the hospital, and provide numerous patient & visitor resources (parking information, visiting hours, dining options, etc.) to make visiting easy. We also provide you with these helpful tools:
Services We Offer
Learn more about the programs and services we offer, including these featured services:
Magnet Recognition
Houston Methodist West Hospital is an honoree of the American Nurses Credentialing Center's (ANCC) Magnet Recognition Program®, which recognizes health care organizations for quality patient care, nursing excellence and innovations in professional nursing practice. Consumers rely on Magnet designation as the ultimate credential for high quality nursing.

Locations in West Houston and Katy
COVID-19 Entrance & Visitor Information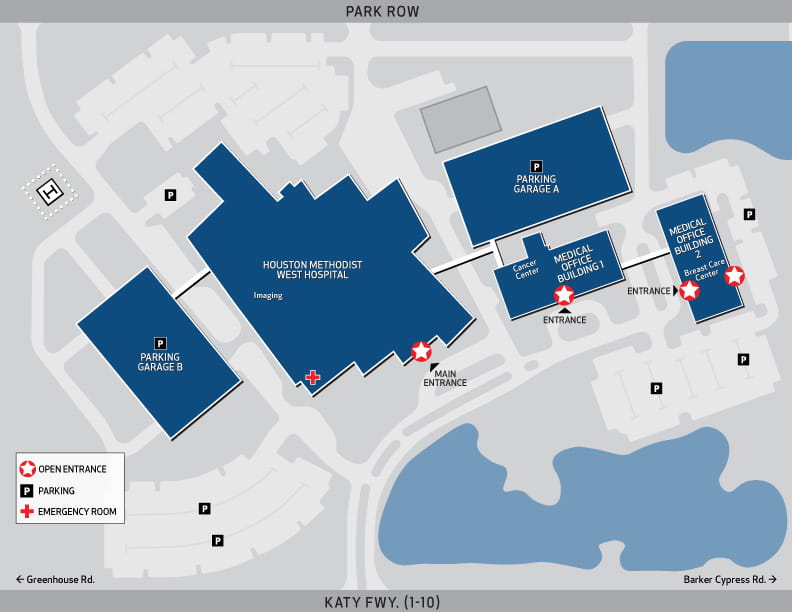 The following entrances are open for screening/entry: 
Hospital: Ground-floor, main lobby entrance, 8 a.m.- 6 p.m.
Medical Office Building 1: South ground-floor entrance, 6 a.m.- 6 p.m.
Medical Office Building 2: East and West ground-floor entrances, 6 a.m.- 6 p.m.
Visitor Policy
(Effective 7/26/2021)
As out community continues to be vaccinated and build its immunity, we have adjusted our visitor policy. Visitation requirements may change at management's discretion.
Non-COVID hospitalized patients, procedures, treatments and doctor appointments
Visitation is limited to 1 healthy visitor per day in medical surgical units, procedural areas and for doctor appointments. Hospitalized patients will be allowed 1 overnight visitor (18 years or older).

Intensive care unit (ICU) visitation is limited to 1 healthy visitor per day. We encourage you to use electronic communication, such as a smartphone or video chat whenever possible. For overnight visitors (18 years or older), patients should refer to their unit's policy.

Labor and delivery patients are allowed 2 healthy visitors. One healthy visitor (18 years or older) may stay overnight. For the Neonatal ICU, both parents will be allowed to visit.

On the day of surgery (either incoming for surgery or already hospitalized), 1 healthy visitor is allowed to stay in the waiting room during surgery, then accompany the patient back to the unit.
COVID vaccination
Patients may bring 1 healthy visitor when they are receiving a COVID-19 vaccine.
Emergency department
No visitors are allowed in the emergency department waiting rooms. One healthy visitor may be allowed once a patient is in an exam room. An exception will be made in compassionate cases. Patients who have tested positive or are under evaluation for COVID-19 will not be permitted visitors.
COVID hospitalized patients
No visitors are allowed, even with proof of vaccination. Exceptions will be made on a case-by-case basis.
Applicability and exceptions
All visitors must comply with all

PPE

requirements, and agree to participate in entry-point screening.
Special consideration will be made for disabled patients who may need more than 1 visitor to provide support and knowledge about their care. Decisions regarding visitors of disabled individuals will be made collaboratively with nursing leadership.
Visitor policies will vary for long-term acute care hospitals (LTACHs).
If you feel an exception is needed, please speak to management.
Patients' clergy may visit without being "counted" against the patients' visitor limit. As with all visitors, visiting clergy must check in with screeners, wear a mask, submit to a temperature check, and state whom they plan to visit.

Everyone must wear a mask at all times while in Houston Methodist facilities.