Houston Methodist Neurological Institute
The inaugural creation of the Houston Methodist Neurological Institute at Houston Methodist Hospital in 2005 was the result of a commitment and mission to pioneer the translation of advances in basic science into meaningful therapies for neurological conditions while providing an environment that fosters the education and training of post-doctoral fellows, residents and students to develop into preeminent physicians and scientists of tomorrow.
The Neurological Institute is part of the Houston Methodist Research Institute which is a cornerstone of Houston Methodist Hospital's strategic vision for its future as a top-ranked academic medical center. It supports a collaborative atmosphere for senior and young investigators in various fields. The Institute's founding chairs, Robert Grossman, MD, and Stanley H. Appel, MD, director, and chair of neurology, represent a broad spectrum of expertise and have led their departments at Houston Methodist for more than 25 years. They lead a core group of more than 50 neurologists, neurosurgeons and dozens of neuro-specialist staff, all collaborating to make the Neurological Institute the nation's model for neurological diagnosis, treatment, clinical trials, and research.
Houston Methodist Hospital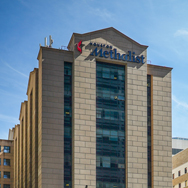 Houston Methodist Hospital
, the flagship hospital of Houston Methodist, is located in the Texas Medical Center. For more than 90 years, Houston Methodist Hospital has served the Houston community and the world with the highest quality patient care in a spiritual environment. Affiliated with the Texas Conference of the United Methodist Church, Houston Methodist continues its longstanding commitment to improving the community's health and well-being.
Recognizing our dedication to excellence, U.S. News & World Report has once again named Houston Methodist Hospital to its prestigious Honor Roll. We are nationally ranked in 11 specialties, the most in the state, and have been national leaders throughout the COVID-19 pandemic in research, offering innovative treatments and surpassing CDC safety standards. We are proud to be the No. 1 hospital in Texas and one of the top 20 hospitals in the nation.
Learn more about our U.S. News & World Report national rankings >
Residents will rotate on all adult inpatient/consult and outpatient services at Houston Methodist, including the vascular neurology, neuromuscular, headache/speech disorders, epilepsy, movement disorders, and general neurology services. All outpatient adult neurology clinics take place on the 8th floor of the Scurlock Tower, including specialty clinics, the Muscular Dystrophy Association (MDA) clinics, and resident continuity clinic.
Children's Memorial Hermann Hospital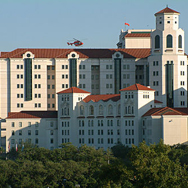 The Neuroscience Center of the Children's Memorial Hermann Hospital provides multidisciplinary care for a number of neurological disorders in children. The center combines the expertise of pediatric neurologists, neurosurgeons, neuro-radiologists, neuro-psychologists, and neuro-oncologists to ensure coordinated care and education.
Memorial Hermann Hospital is located adjacent to The University of Texas Medical School at Houston and is one-half mile from the Houston Methodist Hospital. It is a private, not-for-profit 655-bed hospital. Children's Memorial Hermann Hospital has 248 beds located on several floors of the Hermann Pavilion within Children's Memorial Hermann Hospital. The inpatient units are located on the 9th and 10th floors and have 66 general care beds and 6 observation beds. The Pediatric Intensive Care Unit is located on the 9th floor and will have 20 beds. The Neonatal ICU is housed on the 7th floor and will have 130 beds. There is a 24 bed IMU available for floor or ICU beds. In addition, there is a 12 bed epilepsy monitoring unit for adult and pediatric epilepsy and sleep disorder cases on the third floor in the Jones Pavilion of the Hospital.
Each PGY3 neurology resident will rotate for two weeks a month over 3 non-sequential months on the inpatient consult neurology service. The other two weeks a month the neurology residents will rotate on the outpatient service at various clinics.
San José Clinic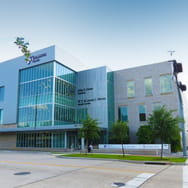 San José Clinic, the original safety-net clinic in Houston, has steadfastly grown into a leading provider of quality healthcare services for individuals and families in the Greater Houston area who struggle the most with accessing care. The Clinic began with the vision of Monsignor Walsh, a donation of $50 from the Charity Guild of Catholic Women and volunteers from the community, who all came together with the same hope of breaking down barriers to healthcare for the underserved. Ninety years later, we proudly uphold the legacy of our founders by continuing to provide healthcare for those who need a health home the most, including primary and specialty medical and dental care as well as vision, laboratory and pharmacy services.
More than 1.1 million, one in every three, persons in the Houston/Harris County area lack health insurance. The demand for low-cost care in this area is consistently greater than available community resources. Primary healthcare for the uninsured is grossly inadequate, and specialty care is almost non-existent. Because of the Clinic's extensive use of volunteer physicians, other community volunteers and teaching affiliations, patients are able to access quality healthcare in a single convenient setting.
PGY3 and PGY4 residents weekly under the supervision of program faculty as part of their longitudinal clinic experience . Residents have the opportunity to evaluate, diagnose, and treat patients who are underserved and with limited resources. The experience provides a great opportunity to develop clinical skills and develop autonomy for the trainee.
CLINICAL PROGRAMS
Eddy Scurlock Stroke Center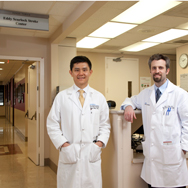 The
Eddy Scurlock Stroke Center
at Houston Methodist Neurological Institute is one of the nation's first DNV-certified comprehensive stroke centers in the United States. We have the proven resources, infrastructure, processes and highly trained staff to provide the very best in stroke care. The physicians and interdisciplinary team of professionals are available 24 hours a day, seven days a week to provide immediate stroke intervention and care.
MDA/ALSA ALS Clinic and Team Hope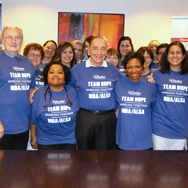 The
MDA/ALSA ALS Clinic
is the first multidisciplinary care center for patients with amyotrophic lateral sclerosis (ALS) in the United States. A multidisciplinary approach is used to assist patients with ALS to cope with their disease and apply the latest therapies and proactive symptom management in a positive and caring setting. ALS patients and their families attend the ALS Clinic, where they are seen by a team of 21 professionals from 11 specialties. Our center is actively involved in both clinical and basic science research.
Neuromuscular Clinic


The
Neuromuscular Clinic
was developed to address and minimize the challenging aspects of a wide range of neuromuscular disorders, help improve quality of life, and foster research to advance treatment and care. We use a multidisciplinary approach to assist patients with neuromuscular diseases to live with their condition and apply the latest therapies and proactive symptom management in a positive and caring setting.
Nantz National Alzheimer Center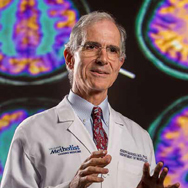 Nantz National Alzheimer Center
conducts cutting-edge research and provides state-of-the-art training for physicians and health professionals in the treatment of Alzheimer's disease and other dementia illnesses. It provides an environment for comprehensive for patients and their families, drawing upon the expertise of medical professionals in the Methodist Neurological Institute. The Institute is recognized in neurological/neurosurgical patient care and in geriatrics services by U.S. News & World Report as one of the best in the country.
Concussion Center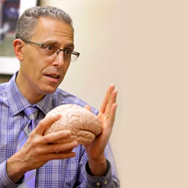 Houston Methodist Concussion Center
is the first center of its kind in Houston. The Center's comprehensive approach to concussion care includes providing diagnosis and treatment for concussion, administration, and interpretation of immediate post-concussion assessment and cognitive testing baseline and post-injury test results, education on concussion for communities, schools, universities, and parents of athletes and research on the long-term effects of sports-related concussions.
Movement Disorders Clinic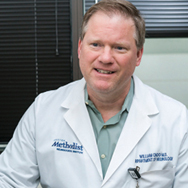 Movement Disorders Clinic
which is devoted to the care and research for patients with Parkinson's disease and other movement disorders. The clinic evaluates and treats patients with a wide variety of movement disorders including parkinsonism, progressive supranuclear palsy, multiple system atrophy, tremor (including essential tremor), dystonia, Tourette's syndrome, and other tic disorders, Huntington's disease, myoclonus, and spasticity.
Trainees have hands-on exposure to the evaluation and management of intrathecal baclofen pumps, botulinum toxin therapy, and the management of surgically treated movement disorder patients.
Comprehensive Epilepsy Program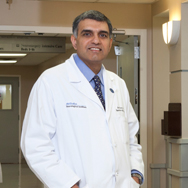 The
Comprehensive Epilepsy Program
serves as the single point of entry for patients with epilepsy and seizure disorders referred to Houston Methodist. Our program comprises doctors from various specialties, including neurology and neurophysiology, neurosurgery, neuropsychology, psychiatry, neuroradiology, nuclear medicine, neuropathology, and rehabilitation medicine. The program also serves as the focal point of clinical, educational and research efforts in epilepsy. Our Neurophysiology Lab is accredited by
ABRET
.
CLINICAL DIAGNOSTIC LABORATORIES
Cerebral Blood Flow Lab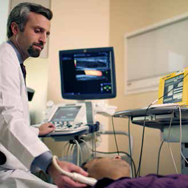 The Collaborative Cerebral Blood Flow Clinical Lab serves patients with a variety of neurological disorders, including stroke and transient ischemic attack (TIA). Physicians use transcranial Doppler (TCD) ultrasound to produce blood flow imaging of the brain.
EMG and Motor Control Lab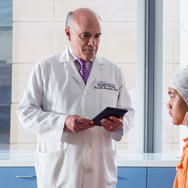 EMG/NCV and Motor Control Laboratory, staffed by four neurologists, welcomes patients with weakness and numbness. Our focus includes myopathy, neuropathy, cervical and lumbar radiculopathy, carpal tunnel syndrome, nerve entrapment syndromes, motor neuron disease, muscular dystrophy, and other disturbances of neuromuscular compromise.
Muscle and Nerve Histopathology Lab
Utilizing the latest and most advanced histology techniques, our laboratory processes and evaluates skeletal muscle and peripheral nerve to aid in diagnosing a number of conditions.