Weight Management at Baytown Hospital
Weight Management
Residents of Baytown and the surrounding communities wanting to lose weight and keep it off may turn to the Weight Management team at Houston Methodist Baytown Hospital for comprehensive, personalized treatment of conditions such as obesity, high blood pressure, diabetes or lipid disorders.

The Weight Management Center is made up of a team of dietitians, diabetes specialists, mental health professionals, an exercise physiologist and bariatric surgeons to help patients manage their weight through non-surgical and surgical methods.

We are dedicated to helping our patients lose weight, keep it off and live a healthier lifestyle. Our weight loss experts share research-based information on diet and fitness, in addition to providing medical nutrition counseling and medical weight management — a safe, medically monitored dietary program.
Weight Loss Surgery
When you've tried everything else, it may be time to consider weight loss surgery. Our experts offer multiple surgical options using the most advanced techniques for treating obesity and its related conditions, including:
Roux-en-Y gastric bypass (RYBG)
Sleeve gastrectomy
Weight loss surgery revisions
Supported by a team of physicians, nurses, registered dietitians, psychologists and exercise specialists, we provide comprehensive pre- and post-surgical care and support, including:
Nutrition plans (before and after surgery)
Counseling
Educational seminars
Support groups
CENTERS OF EXCELLENCE & QUALITY DESIGNATIONS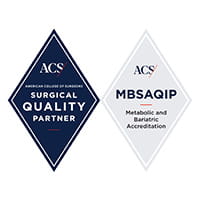 Houston Methodist Baytown Hospital is a Center of Excellence in Metabolic and Bariatric Surgery. The designation reflects our commitment to consistently deliver safe, effective, evidence-based care.
We have achieved national accreditation from the Metabolic and Bariatric Surgery Accreditation and Quality Improvement Program (MBSAQIP). The MBSAQIP is a joint program of the American College of Surgeons (ACS) and the American Society for Metabolic and Bariatric Surgery (ASMBS). The MBSAQIP recognizes weight loss surgery programs that meet national quality standards and provide safe, high-quality bariatric patient care.
Houston Methodist Baytown Hospital has also been recognized for providing high quality preoperative and postoperative care to improve patient outcomes and assist bariatric surgical patients with having long-term success in their weight loss journey.
Houston Methodist Baytown Hospital
281.420.8600
4401 Garth Road
Baytown, Texas 77521