May 2021
Please read our May edition of the Antimicrobial Stewardship Newsletter
available here
. It includes information about MRSA PCR testing, new Epic enhancements, and more!
September 2020
Covid-19 Response
In response to the pandemic, the Houston Methodist antimicrobial stewardship team has been engaged in caring for COVID-19 patients and participating in research to find novel therapies for the virus. Members have served as part of research teams for numerous investigational therapies for COVID-19, including remdesivir, favipiravir, tocilizumab, convalescent plasma, and others. Results from these trials are helping to enhance understanding of the treatment of COVID-19. These studies include publications describing Houston Methodist's initial experience with convalescent plasma and Remdesivir in COVID-19 patients, on which Antimicrobial Stewardship Program members served as authors:
Remdesivir for Severe COVID-19 versus a Cohort Receiving Standard of Care. Clinical Infectious Diseases. Link>
Treatment of COVID-19 Patients with Convalescent Plasma in Houston, Texas. MedRxiv. Link>
Treatment of Coronavirus Disease 2019 (COVID-19) Patients with Convalescent Plasma. American Journal of Pathology. Link>
In addition to involvement in clinical trials, the team continues to provide frontline care for patients with COVID-19 and other infectious disease states. This includes continuation of existing antimicrobial stewardship efforts and expansion to coverage of COVID-19 acute care units.
October 2019
The Houston Methodist Antimicrobial Stewardship Program team presented best practices and research findings at IDWeek 2019 in Washington D.C.:
Experience and Challenges with Vancomycin Monitoring by AUC
Presented by William L. Musick, PharmD, BCIDP
Oral Fosfomycin for Treatment of Urinary Tract Infections due to Extended-Spectrum Beta-Lactamase and Carbapenem-Resistant Enterobacteriaceae, Poster #2261 | View poster>
Presented by Katherine K. Perez, PharmD, BCIDP
Impact of an Electronic Antibiotic Timeout on the Utilization of Frequently Prescribed Antibiotics in Hospitalized Patients, Poster #1038 | View poster>
Presented by Katherine K. Perez, PharmD, BCIDP
Prevalence and Characteristics of Self-reported Antibiotic Allergies across a Multi-hospital Healthcare System | View poster>
Presented by Clare N. Gentry, MD, & Katherine K. Perez, PharmD, BCIDP
IDWeek 2019TM is the annual meeting of the Infectious Diseases Society of America (IDSA), the Society for Healthcare Epidemiology of America (SHEA), the HIV Medicine Association (HIVMA) and the Pediatric Infectious Diseases Society (PIDS). IDWeek features the latest science and bench-to-bedside approaches in prevention, diagnosis, treatment, and epidemiology of infectious diseases, including HIV, across the lifespan.
July 2019
VigiLanz recognizes Pharmacy and Infection Prevention with two 2019 Vigi Awards
Houston Methodist Hospital Receives the IDSA Antimicrobial Stewardship
Centers of Excellence Designation
The IDSA launched the program in 2017 to recognize institutions that have created antimicrobial stewardship programs (ASP) led by infectious diseases physicians and ID-trained pharmacists that are of the highest quality and have achieved standards established by the Centers for Disease Control and Prevention (CDC). The CoE designation means these institutions serve as the "gold" standard for executing novel antimicrobial stewardship principles and demonstrate commitment to decreasing antimicrobial resistance. The recognition is the first among Houston Methodist entities and one of only a few hospitals that have earned the designation in the state of Texas. Congratulations to the team for their hard work and dedication to improving patient care!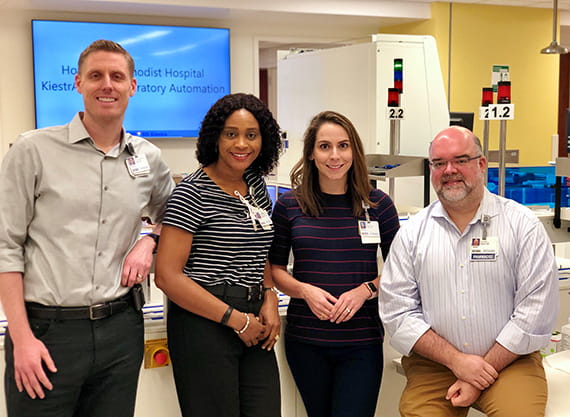 Congratulations to the Houston Methodist Hospital ASP Medical Director, Clare Gentry, MD (not pictured here) and to the HMH ID Pharmacy Team! Left to right: Chase Janak, PharmD; Judy Ikwuagwu, PharmD; Katherine Perez, PharmD; William Musick, PharmD
To learn more about the designation, read "Going for the Gold: A Description of the Centers of Excellence Designation by the Infectious Diseases Society of America."
Ravina Kullar, Jerod Nagel, Susan C Bleasdale, Sarah H Sutton, Snezana Naumovski, Andres Rodriguez, Cheryl Smith, James Leggett, Ellie J C Goldstein, "Going for the Gold: A Description of the Centers of Excellence Designation by the Infectious Diseases Society of America," Clinical Infectious Diseases, Volume 68, Issue 10, 15 May 2019, Pages 1777–1782.