Houston Methodist Antibiotic Awareness Week

Houston Methodist observes Antibiotic Awareness Week to raise awareness of the threat of antibiotic resistance and the importance of appropriate antibiotic prescribing and use. We join the CDC and other partners to combat the spread of antibiotic resistance and improve patient safety at Houston Methodist.
Mark your calendars for the Houston Methodist ASP's Antibiotic Awareness Week 2019 Celebration, November 18-22, 2019.
Confirmed Speakers: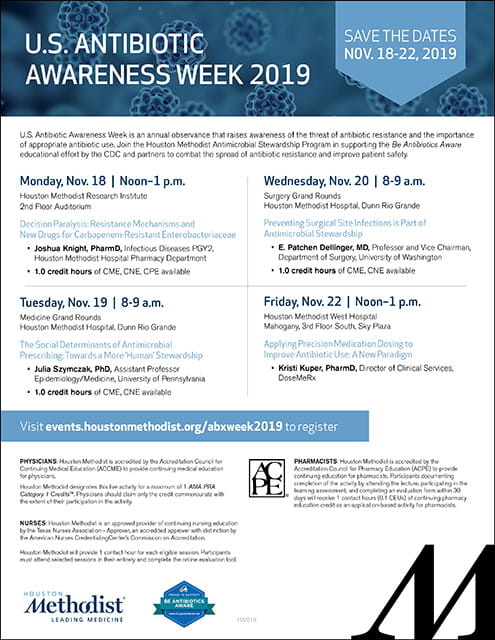 Archived Events
2019 U.S. Antibiotic Awareness Week
2018 U.S. Antibiotic Awareness Week

Nov 6th - Urinary Tract Infections The Past and the Present - Video
Nov 12th - Texas Response to Antimicrobial Resistance - Video
Nov 13th - Medicine Grand Rounds New Perspective on Community Acquired Pneumonia - Video
Nov 15th - The Cadillac & The Camry Quality Improvement Versus Research for Asymptom - Video

2017 U.S. Antibiotic Awareness Week