Infectious Disease Fellowship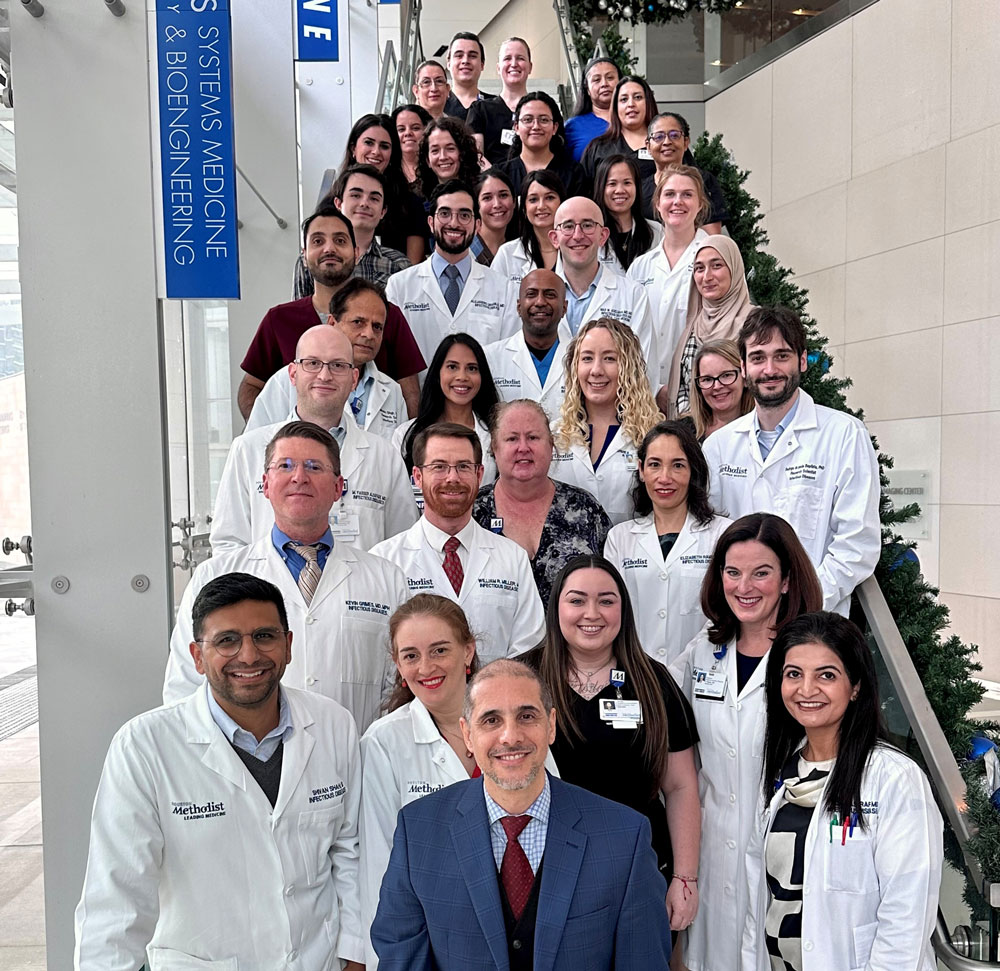 Welcome to the Houston Methodist Hospital (HMH) Infectious Disease Fellowship Program. The fellowship program is designed to train the next generation of Infectious Diseases clinicians and clinician-Scientists. We have developed an program for trainees that includes world-class clinical experiences, innovative didactics and diverse research experiences that will prepare you for a career in the Infectious Diseases field of your choice. The program will provide a supportive environment for you to train in the heart of the largest medical Center in the World (Texas Medical center) at an institution ranked
#1 in Texas
.
Why train at Houston Methodist Hospital ID fellowship program?
Clinical Excellence
Houston Methodist Hospital, located in the heart of the Texas Medical Center (TMC), is the flagship hospital of the Houston Methodist system, which contains 8 hospitals and an academic research institute. Excellence in patient care is a leading principle of the system resulting in Houston Methodist being consistently recognized in 11 specialty areas by U.S. News and World Report and ranked as the #1 hospital in Texas and #15 in the country
HMH is Located in the Texas Medical Center (the largest medical center in the world with over 9,200 beds dedicated for patient care). HMH is one of the largest general hospitals in the TMC with more than 940 beds, offering an incredibly diverse clinical experience in infectious diseases.
Rotation Partnerships: Our program has established rotation partnerships with prestigious institutions. Fellows have the opportunity to rotate at MD Anderson Cancer Center, the largest cancer hospital in the country, as well as at Legacy Clinic, a leading center for HIV care in Houston. These rotations enhance the fellows' exposure to diverse patient populations and specialized infectious diseases.
We recognize the importance of global perspectives in infectious diseases. Therefore, we offer opportunities for international electives in tropical and subtropical infectious diseases in South America and Asia.
HMH has been endorsed as Center of Excellence for Antibiotic Stewardship by the Infectious Diseases Society of America.
Houston is the most diverse city in the country providing outstanding patient diversity in terms of pathologies and reflecting the patient population that we serve.
Transplant Expertise
HMH is one of the top solid organ transplant centers in the country (#1 in multiorgan transplants, #2 in liver transplants and #7 transplant program in the nation for the year 2022), leveraging a large population of immunocompromised patients. HMH just celebrated performing 10,000 transplants.
Rotations at MD Anderson Cancer Center, the largest cancer hospital in the country with a high volume of hematopoietic stem cell transplants.
ID Subspecialty fellowship tracks
We offer optional ID subspecialty fellowship tracks to further specialize in training:
3rd Year Oncology and Transplant ID track
3rd Year Clinical Investigator and research track
Plans to introduce Critical Care-Infectious Diseases track in the future.
Comprehensive educational experience
We prioritize the educational growth of our fellows and provide dedicated educational courses and workshops without clinical service obligations. The fellowship has several multi-day immersive and interactive educational experiences:

Infectious Disease boot camp course- a one-week intensive course on the fundamentals of ID at the start of fellowship.
Evidence based medicine course.
Ultraportable POCUS (Point of care Ultrasound) course
ID board review course
Health care epidemiology and infection prevention course
Antimicrobial Stewardship course
Gulf Coast Consortium antimicrobial resistance seminars and conference (held in January every year)
Educational conferences weekly, biweekly, or monthly (Journal club, core curriculum, case conference, ID Grand rounds, Houston City Wide conference).
In addition to the general ID service the fellows gain valuable experience through specialized services:

Immunocompromised and transplant ID service at HMH and MD Anderson Cancer Center
Ambulatory block rotation through viral Hepatitis clinic, transplant ID clinic, Tropical medicine clinic, Wound care clinic, Sexually Transmitted Infections clinic.
"Junior attending" block at the end of 2nd year to simulate life as an attending, and training on practice management.
General ID continuity Clinic at Houston Methodist Hospital.
State-of-the-art clinical microbiology and molecular diagnostics laboratory.

Virtual micro rounds on clinical consult service
4-week rotation in microbiology and molecular diagnostics
Research Opportunities
Houston Methodist and the TMC is the home of a robust community of researchers focusing on antimicrobial resistance and immunocompromised patients with a strong NIH grant portfolio encompassing molecular, translational, and clinical aspects.
Clinical and research partnerships with several institutions in the Texas Medical Center. Houston Methodist is part of the Gulf Coast Consortium that includes MD Anderson Cancer Center, UTHealth, Baylor College of Medicine, UTMB, University of Houston, Rice University, Texas A&M and UTMB.
The Texas Medical Center is the home of a one of the first T32 training programs in antimicrobial resistance open to all clinical fellows training in the TMC.
Mentored research training with research opportunities, training grants and scholarships with > $20 million in direct costs of NIH funding for the division. Grants focus on a variety of topics including molecular mechanisms of resistance, microbiome science in immunocompromised and critically ill patients, VRE bacteremia, resistance to novel agents in Gram-negative organisms, genomics and bioinformatic sin infectious diseases, nanotechnology for infectious diseases.
Clinical and research educators and mentors with a national and international reputation and a sustained program for K awards. Houston Methodist also has different mechanisms to support outstanding young trainees who want to become academic investigator through the Clinical Scholars Awards program.
The Academy of Physician Scientists, an initiative of Texas A&M, Houston Methodist, and the TMC, is one of only ten medical schools in the nation to receive a highly prestigious Burroughs Wellcome Fund (BWF) Physician-Scientist Institutional Award to catalyze highly innovative programs for training physicians for successful academic careers as physician-scientists and available to all fellows.