Preparing for Your Upcoming In-Person Appointment
Virtual Urgent Care Available 24/7
Whether you are experiencing COVID-19 or non-emergency related symptoms, you can see a Virtual Urgent Care provider anytime. Our board-certified providers will be able to determine if any testing is needed and advise you on where you should go.
Get Care Now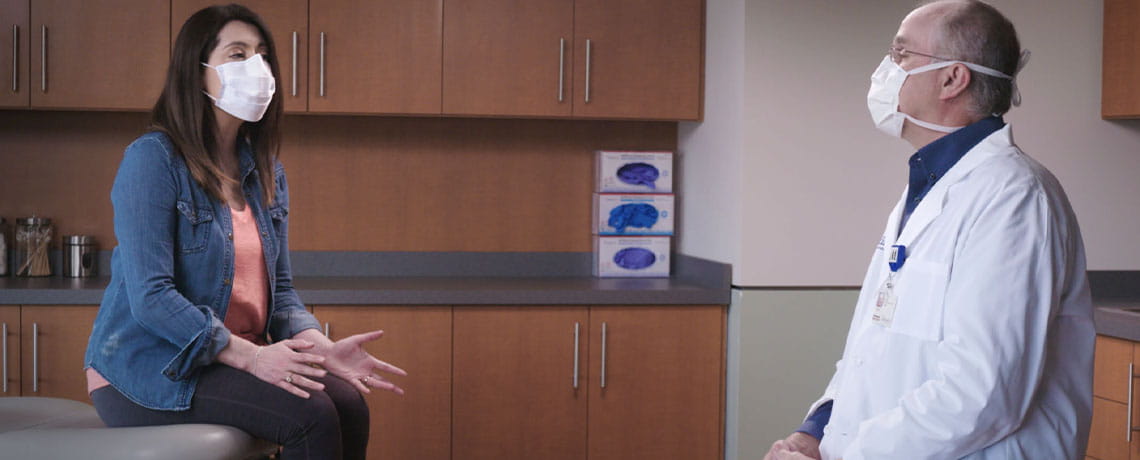 What Houston Methodist Is Doing to Keep You Safe
Your safety and health are our top priority. We realize you may have questions about your upcoming appointment, so we want to reassure you that we are following every safety precaution at all of our facilities. We are:
Screening all patients when scheduling appointments for symptoms and exposure risk.
Minimizing the number of patients we are seeing per day in our clinics by expanding virtual services and staggering in-person appointments.
Using Centers for Disease Control-recommended testing for our employees.
Screening all patients upon arrival with temperature checks and an exposure questionnaire.
Wearing personal protective equipment while providing patient care.
Redesigning waiting rooms and check-in lines to ensure social distancing.
Implementing additional sanitation processes to disinfect all equipment and surfaces.
What You Can Do to Keep Safe
You play an important role in your own safety, so please partner with us to keep you safe before, during and after your upcoming in-person appointment. We ask you to please:
Contact your doctor's office before your appointment if you are experiencing certain ARI (acute respiratory illness) symptoms.
Download the MyChart app and

complete the eCheck-in process

prior to your visit to help expedite your check-in process.

Review our Visitor Policy and make arrangements to attend your appointment by yourself, unless you are disabled or have a personal caregiver. To minimize risk, we are currently restricting all visitors, but you may use video apps during your appointment to include your visitor.
Wear a mask. We strongly encourage you to bring your own mask; however, if you forget your mask or don't have time to make one (see below), we can provide one if needed.
Bring pertinent items needed for your appointment:

List of medications
ID
Insurance card
Form of payment
Forms or documents needing to be signed or completed by your provider
Medical records or images needed for your visit

Arrive 15 minutes before your appointment to undergo screening precautions.
Hospital Entrance Information
If your doctor's office is located on one of our hospital campuses, please visit the following campus web pages for the most up-to-date information on hospital entrances: