Houston Methodist Hospital has been awarded the designation of Antimicrobial Stewardship Centers of Excellence (CoE) by the Infectious Diseases Society of America (IDSA). The CoE program recognizes institutions that have created stewardship programs led by infectious diseases physicians and ID-trained pharmacists that are of the highest quality and have achieved standards aligned with evidence-based national guidelines such as the IDSA-SHEA guidelines and the Centers for Disease Control and Prevention's Core Elements. Houston Methodist Hospital (HMH) is one of 64 programs nationwide to have received the designation since the program's launch in 2017.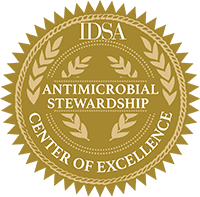 "Antimicrobial resistance is one of the greatest threats facing healthcare on a global, national and individual level. In fact, antibiotic-resistant infections are the third leading cause of death in this country. IDSA is fighting antimicrobial resistance on every front, including research, education, training, and through our policy efforts. IDSA is proud to partner with HMH and others that have received the Centers of Excellence designation in turning the tide against antimicrobial resistance," said IDSA President Cynthia Sears, MD, FIDSA.
The core criteria for the CoE program place emphasis on an institution's ability to implement stewardship protocols to optimize the treatment of infections and reduce adverse events associated with antibiotic use by leveraging electronic health record systems and providing ongoing education to help clinicians improve the quality of patient care and promote patient safety. A panel of esteemed IDSA member leaders evaluate CoE applications against core criteria to make recommendations for the designation. The panel is comprised of five ID-trained physicians and three ID-trained pharmacists with many years of expert stewardship experience.
HMH's Antimicrobial Stewardship Program has incorporated several policy measures to improve antibiotic use based on evidence and clinical outcomes. Collaborations between Pharmacy, the Department of Pathology & Genomic Medicine, Infectious Diseases Division, and the Infection Control Program have led to significant improvements in patient care. The HMH Antimicrobial Stewardship Program has focused on optimizing the time to appropriate therapy by leveraging rapid laboratory diagnostics and information technology. Katherine Perez, PharmD, the lead antibiotic stewardship pharmacist noted that, "The interdisciplinary collaboration is key to our success. I feel privileged to work with such a dynamic group of clinicians to promote antimicrobial prescribing best practices across our hospital system."
One hallmark initiative leveraged the electronic medical record to promote timely anti-infective medication use reviews for potent, broad spectrum anti-infective agents. The initiative, implemented with the support of the expert infectious diseases physicians, pharmacy and information technology team members will have eliminated an estimated 16,000 antibiotic days for patients this year without compromising effectiveness of care.
Dr. Clare Gentry, Director of the Antibiotic Stewardship Program, commented that she was very proud of the recognition. "Aiming to be a Center of Excellence and meeting the high standards set by IDSA aligns with our goals and was a natural outcome from our efforts to improve antibiotic medication use."
Learn more about the IDSA Antimicrobial Stewardship Centers of Excellence program.
The Infectious Diseases Society of America (IDSA) represents physicians, scientists and other health care professionals who specialize in infectious diseases. IDSA's purpose is to improve the health of individuals, communities, and society by promoting excellence in patient care, education, research, public health, and prevention relating to infectious diseases.