"We're all in this together." "It takes a village." "United we stand." There are many ways to describe community in these times of COVID-19. One thing is certain: Houston Methodist relies upon – and deeply appreciates – everyone who has contributed to our collective success during these unprecedented times.

Whether making a financial gift to the Infectious Diseases Research Fund, contributing to our COVID-19 Front Line Heroes Appreciation Program, buying lunches for Emergency Room staff, or just supporting care providers with #HoustonWeCan messages on social media – we thank you all. We are proud to share some of your stories below.
Fort Worth's Huong Tu Foundation Helps Keep Frontline Employees Safe by Donating Personal Protective Equipment and Supplies to Houston Methodist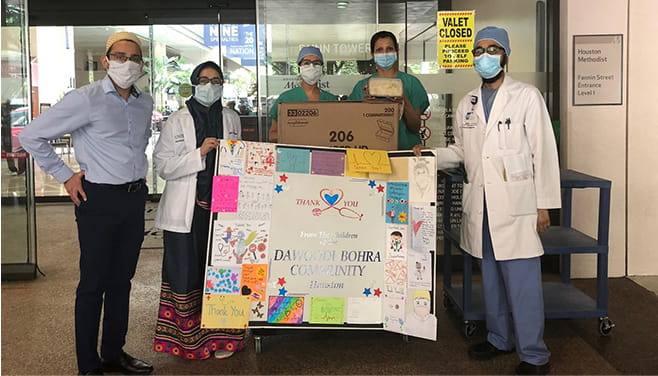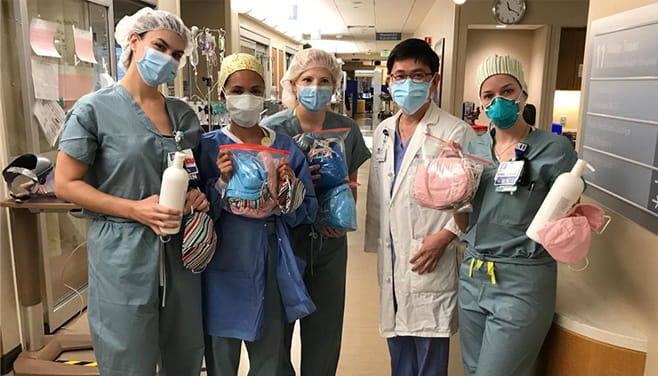 In addition to their own duties taking care of patients with COVID-19, Houston Methodist Drs. Thuyen Nguyen and Anh Nguyen reached out to Fort Worth's Huong Tu Foundation. They requested a donation of personal protective equipment (PPE) and supplies to help keep other hospital frontline employees safe. The foundation responded with a generous donation of 400 KN95 masks, 700 fabric masks, 1,000 disposable face masks, 1,000 gloves and 30 bottles of hand sanitizer. Both physicians helped distribute the supplies among their co-workers in Houston Methodist COVID-19 and intensive care units.

"Our mission is helping others, and we understand how hospital administrators are struggling to find and buy enough equipment on their own during this COVID-19 pandemic," says Huong Tu Foundation vice president Andy Tran. "So we've been sewing cloth masks and collecting PPE gear so we could donate them to as many hospitals as we can."

Mr. Tran says foundation members were happy to donate PPE and supplies to Houston Methodist after Drs. Nguyen reach out to them, noting that Harris County had been the county with the highest number of patients affected by COVID-19 in the state of Texas. In addition to their gift to Houston Methodist, members have also made donations to 13 hospitals in the Dallas-Fort Worth area.

According to Mr. Tran, members of the Huong Tu Foundation have been working together on making and collecting PPE and supplies since they had identified hospitals' shortage of these materials as the project they most urgently needed to work on. The foundation's 50 members plus their friends and family are associated with the Fort Worth's Huong Dao Temple, a Vietnamese Theravada Buddhist temple.

Foundation members have been busy identifying sources for mask fabric locally, online and in other countries including Viet Nam, finding commercial sewing machines to borrow, sewing the masks and collecting other PPE supplies. Mr. Tran says: "We are all very close to each other, and we are really happy and blessed to work together like a family to help the community — especially the doctors and nurses and other hospital employees who are working on the front lines."

Texas A&M Professor and Local Restaurants Join Forces with Two Houston Methodist Physicians to Deliver Over 3,250 Meals to Front Line Hospital Employees
It was a simple idea that snowballed into much, much more. Dr. Jeff Savell, a Texas A&M University Department of Animal Science professor, donated $250 to the owners of Houston's Roegels Barbecue restaurant so they could prepare meals for hospital employees. He wanted to help a small, locally owned restaurant stay afloat and honor the efforts and sacrifices of front line heroes battling COVID-19.
Dr. Savell invited Houston Methodist physicians Dr. Patrick Reardon and his wife, Dr. Debra Harvey, to meet at the restaurant with owners Russell and Misty Roegels and Texas A&M colleagues Dr. Davey Griffin and Ray Riley. The physicians pitched in to help cover costs to feed front line workers at Houston Methodist's Medical Intensive Care Unit and Emergency Department, and they helped plan delivery of the meals.
When some restaurant customers overheard discussions about the effort, they asked if they could chip in and contribute to the worthy cause. Word quickly spread and, before long, enough money was brought in to feed Texas-style BBQ to all of the nurses, technicians, doctors and support staffs in both units for an entire day.
But the effort didn't end there. Donations kept pouring in and, within days, Dr. Reardon created a Facebook page and set up a donation site to spread the word about the fund. Other small, community-based restaurants were brought on board. Dr. Reardon began coordinating meal deliveries to front line warriors at the new Highly Infectious Disease Unit and some Houston Methodist community hospitals, and to unseen-but-critical members of the Houston Methodist Supply Chain team. He also arranged meals for front line heroes at other hospitals in the Texas Medical Center, throughout the Houston area and in College Station.
When all was said and done, over 500 people throughout Houston and the state of Texas donated over $54,000 to feed hospital employees. Dr. Reardon says it came as no surprise to him that the seeds of this project were planted, nurtured and brought to fruition by individuals associated with Houston Methodist and Texas A&M University.
"The mission of 'service to others' is ingrained as a core value within the cultures of these two institutions," he says. "This incredible effort supported not only the front line health care workers who make sacrifices every day just by doing their jobs, but also local small restaurant owners who are struggling in these difficult economic times. The generosity and basic human kindness of people during this pandemic has been inspiring, and it is a good example for all of us to follow."
China General Chamber of Commerce Helps Protect Front Line Employees by Donating Surgical Masks to Houston Methodist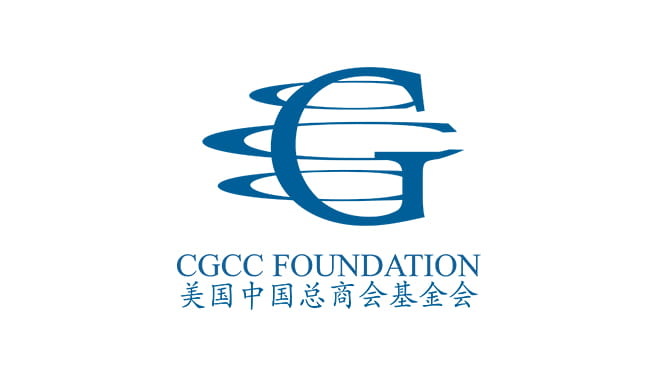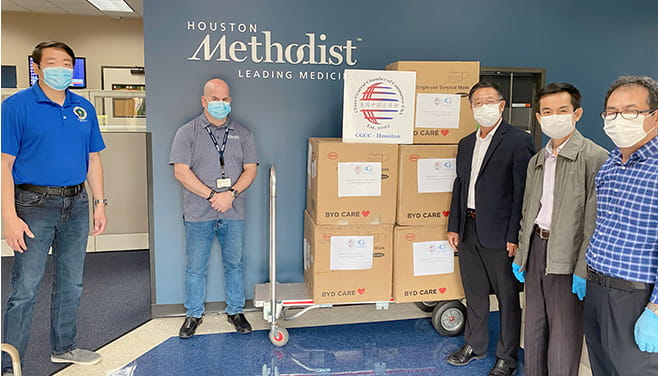 The China General Chamber of Commerce (CGCC) – USA is helping Houston Methodist's front line heroes stay safe while fighting COVID-19 by donating 10,000 surgical masks. The use of surgical masks and other forms of personal protective equipment (PPE) significantly lowers the risk of medical personnel contracting COVID-19 while carrying out their patient-care responsibilities.
"Our mission is to connect people, build trust and expand cooperation," says Lingyi Liu, executive director of CGCC – Houston. "This has never been more critical as the number of COVID-19 cases continue to climb throughout the United States. We at the CGCC – USA and the CGCC Foundation remain committed to help flattening the curve and supporting local communities throughout the U.S."
According to Ms. Liu, Houston Methodist's Global Health Care Services and CGCC – Houston have been partners since 2018, and the two organizations have co-hosted some events together. Through the chamber, Global Health Care Services has helped to coordinate Houston Methodist medical and health care services for some Chinese citizens living in the Houston area.
The chamber was involved early on in the pandemic, working with medical supply companies on buying and shipping PPE to the Chinese city of Wuhan during the initial outbreak of the coronavirus. As COVID-19 spread to the United States, CGCC – Houston joined with other regional chamber offices to purchase needed medical supplies and begin donating them to hospitals in need throughout the United States.
Ms. Liu says our longtime partnership inspired her to consider Houston Methodist as the first recipient of the CGCC Foundation's PPE donations in Houston. "Knowing our medical community here in Houston is short on masks," she says, "we just wanted to express our gratitude to all of the health care workers who are heroically working on the front lines of this pandemic."
When Lake Charles, Louisiana real estate developer William "Dub" Henning, Jr. read about Houston Methodist's experimental blood plasma transfusions to treat critically ill COVID-19 patients, he knew it was the perfect opportunity to pitch in across state lines and help our region to combat the virus.

"We wanted to reach out from Louisiana and Lake Charles and do our part to fight the coronavirus," Henning says. "Knowing that Houston Methodist was the first to perform blood plasma transfusions on COVID-19 patients using immunity from other people, we could see that you were on the cutting edge of getting something special done there in Houston. We just wanted to help out."

Houston Methodist became the first hospital in the country to use an advanced FDA-approved protocol to transfuse donated plasma from recovered COVID-19 patients to critically ill patients. By transfusing antibodies from patients who have survived the virus into patients still fighting the virus, we are breaking new ground translating the power of these vital antibodies into a healing, possibly life-saving therapy.

Dub Henning and his wife, Susan, were pleased that their generous gift was matched dollar-for-dollar thanks to a Challenge Initiative that was in place for the first $1 million in gifts received by the Infectious Diseases Research Fund. As developers of the Oak Crossing business community in Lake Charles, the Hennings gave their gift through their family's Oak Crossing Foundation, which they established to support and raise money for a variety of different charitable organizations and causes.

Houston Methodist established its Infectious Diseases Research Fund to help support research and clinical trials designed to combat infectious diseases such as COVID-19. In addition to supporting the COVID-19 Blood-Transfusion Therapy study, the fund supports the development of other new vaccines and treatments along with the production of innovative personal protective equipment (PPE) and critical medical technologies. As with all of our translational research efforts, private philanthropy and gifts like this one from the Oak Crossing Foundation allow us to move our innovative solutions forward at a faster pace.