Houston Methodist provides secure methods to manage you medical bills online 24/7 from any computer, tablet or smartphone. We understand that paying health care bills can be confusing. If you do not see your type of bill on this page, please contact your doctor's office directly. Or, if you have a hospital-related bill (such as a bill from an anesthesiologist, lab, radiology, etc.), visit the "Billing Information" page for your particular hospital (you'll find links in the right-hand column of this page.)
MyChart Bills
If the hospital you visited is currently using MyChart, you can manage your bills by logging into MyChart and clicking on the "Billing" tab at the top of the page. If you don't have a MyChart account or don't remember your password, you may also pay as a guest.
Billing-related tasks in MyChart include:
View my statement (click on the billing link in MyChart)
Pay my bill (click the "pay" button under outstanding balance on the billing page in MyChart)
Sign up for paperless billing (click on the billing link in MyChart)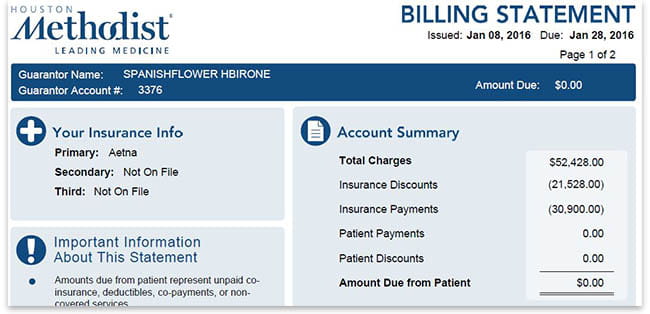 Hospital Bill – Only used at certain Houston Methodist locations
If your hospital billing statement has a 13-digit number without dashes, and you will need to pay and manage your account through this system. Please follow these steps:
Make a one-time secure payment without logging in
Log in or create a secure account and take advantage of the following features:
View up-to-date account information
Update your insurance information
Pay your bill securely online
Find answers to frequently asked billing questions
Email the Customer Service Department
Update your address information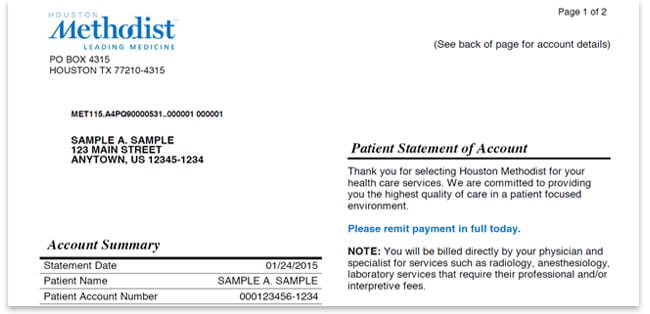 Houston Methodist Clear Lake Hospital and Houston Methodist Continuing Care Hospital (bills prior to March 2017)
Clear Lake Hospital and Continuing Care Hospital bills prior to March 2017 are paid through a different
online portal
. Bills can be paid online using the "Internet Explorer" web browser only. You can pay using a credit card or checking account transfer.
Visit
if your statement looks like the following: