For more information, call 713.363.8554
Email Us
Upcoming Events
In the News
October 24, 2022 | THE NEW FRONTIER OF RNA NANOTHERAPEUTICS - The George and Angelina Kostas Research Center for Cardiovascular - Nanomedicine Annual International Meeting


August 31, 2022 | Houston hospitals, pharmacies to soon offer new COVID-19 shots targeting omicron, BA.5 variants
Dr. John Cooke, the director of the Center for RNA Therapeutics at Houston Methodist, said he anticipates they will provide more protection against omicron and its subvariants while maintaining the same level of protection against prior strains of the virus.
February 1, 2022 | Kristopher Brannan, PhD, joins Houston Methodist Center for RNA Therapeutics, Leading RNA Therapeutics
The Houston Methodist Research Institute is pleased to welcome Dr. Kristopher Brannan, PhD, as a faculty member of its Center for RNA Therapeutics.
August 20, 2021 | Telomerase therapy reverses vascular senescence and extends lifespan in progeria mice
Chronological age is a major risk factor for cardiovascular disease.
August 9, 2021 | Houston Business Journal reveals honorees of third-annual Innovation Awards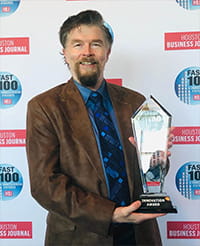 Houston is full of pioneering companies across all industries, and 20 have been selected for the Houston Business Journal's third-annual Innovation Awards
May 26, 2021 | The RNAcore at the Houston Methodist Research Institute

April 10, 2020 | Houston Methodist Doctor Preps for New COVID-19 Vaccine with Woodlands-Based VGXI
Developing a vaccine for the novel coronavirus is a meticulously detailed endeavor that can take years. For one Houston Methodist team though, the novel coronavirus has dramatically changed this game plan.
December 12, 2019 | Cooke elected to National Academy of Inventors
John Cooke, M.D., Ph.D., chair of Cardiovascular Sciences Department, Houston Methodist Research Institute and Director, Houston Methodist Center for Cardiovascular Regeneration, has been successfully elected ...
December 6, 2019 | VGXI, Inc. Establishes Pilot mRNA Manufacturing Capabilities
VGXI announces successful implementation of new RNA production services through completion of all Phase II initiatives as part of a license agreement with the Houston Methodist Research Institute.
March 1, 2019 | Creating RNA for New Vaccines
Houston Methodist's RNAcore has developed a process for producing RNA that is reliable and reproducible on a large scale. Directed by John Cooke, MD, PhD, the RNAcore has become a leader in RNA synthesis, generating RNA constructs for scientific and medical collaborators.
June 22, 2015 | Houston Methodist RNACore Awarded $4.8 Million
Scientists from the Houston Methodist Research Institute RNACore will receive $ 4.8 million from the Cancer Prevention and Research Institute of Texas for pursuing RNA-based therapeutics and research.
May 20, 2015 | CPRIT Core for RNA Therapeutics and Research
The CPRIT RNA Core at the Houston Methodist Research Institute will help Texas scientists to make breakthrough discoveries, and will help Texas physician investigators turn these discoveries into transformational therapies for cancer patients.