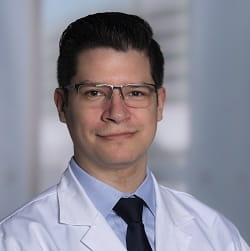 Rodrigo DeLaTorre, PharmD
PGY2 Oncology Pharmacy Resident
Email: RDeLaTorre@houstonmethodist.org
Rodrigo is originally from Monterrey, Mexico. He graduated from the University of Houston College of Pharmacy with a Doctor of Pharmacy in May of 2018 and completed his PGY1 pharmacy residency at Houston Methodist Hospital in June 2019. His current practice interests include breast cancer and bone marrow transplantation. In his spare time he enjoys watching soccer and football, as well as spending time with his wife, son, and daughter.
Major research project: Use of preemptive plerixafor plus granulocyte-colony stimulating factor in multiple myeloma patients during peripheral blood stem cell collection prior to autologous stem cell transplant
Quality improvement project: Institutional review of factor product use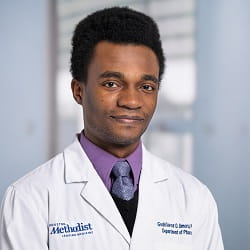 Godsfavour Umoru, PharmD
PGY2 Oncology Pharmacy Residency
Email: GOUmoru@houstonmethodist.org
Godsfavour is originally from Lagos, Nigeria. He earned his BS in Chemistry from Cameron University in Oklahoma and PharmD from The Ohio State University College of Pharmacy. Godsfavour completed his PGY1 residency at Houston Methodist Hospital and is continuing his post-graduate training as a PGY2 pharmacy resident in oncology at Houston Methodist Hospital. He has a current interest in both hematology and medical oncology and earns great satisfaction extending education and discharge counseling services to oncology patients. In his spare time, Godsfavour enjoys playing the piano and clarinet.
Major research project: Evaluation of efficacy and safety of pegfilgrastim in oncology patients who received chemotherapy within two weeks versus greater than two weeks of pegfilgrastim administration
Quality improvement project: Impact of pharmacy-led opioid education program to improve cancer-related pain