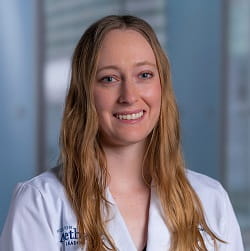 Lauren Bailey, PharmD
PGY2 Oncology Pharmacy Residency
Email: LBailey@houstonmethodist.org
Originally from Dallas, TX, Lauren attended undergraduate school in Austin before earning her Doctorate of Pharmacy from the University of New Mexico College of Pharmacy. She completed her PGY1 Pharmacy Residency at Harris Health System in Houston. Lauren's interests lie in hematology and she has a passion for taking care of her cancer patients. Upon completion of her PGY2 oncology residency, her goal is to obtain a position as a clinical hematology/oncology pharmacist.

Major research project: Effect of appetite stimulants on weight management in patients with cancer-associated anorexia
Minor Project: Development of a dose rounding policy to standardize dosing of factor products used in hemophilia within the institution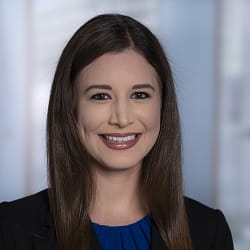 Jade Hefler, PharmD
PGY2 Oncology Pharmacy Residency
Jade earned her BS in Food Science and Human Nutrition from the University of Florida in 2014 and PharmD from the University of Florida College of Pharmacy in 2017. She completed her PGY1 residency at Houston Methodist Hospital and is continuing her post-graduate training as a PGY2 pharmacy resident in hematology and oncology at Houston Methodist Hospital. Her current research interest is hematopoietic stem cell transplantation. In her spare time, she enjoys playing tennis, running, traveling, and spending time with family and friends.
Major research project: Olanzapine versus fosaprepitant for chemotherapy-induced nausea and vomiting prophylaxis in patients with hematologic malignancies receiving hematopoietic stem cell transplantation
Quality improvement project: Review of current prescribing practices for glucarpidase in the setting of high-dose methotrexate-induced acute kidney injury and development of an evidence-based algorithm for glucarpidase use