Pharmacy Residency Program (PGY1) - Sugar Land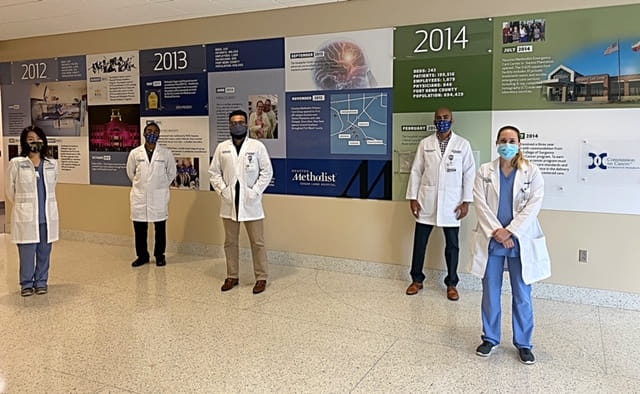 Welcome
Thank you for your interest in the PGY1 pharmacy residency program at Houston Methodist Sugar Land. Through a unique combination of individually tailored clinical experiences, drug information opportunities, medication safety initiatives, and research endeavors, residents will have the opportunity to advance the growth of the pharmacy profession, contribute to the advancement of the medical and pharmacy literature, and develop clinical, teaching, and leadership skills.
Residents will train at Houston Methodist Sugar Land, a full-service, acute care community hospital serving Fort Bend County and surrounding communities. In 2019, the institution had 17,799 admissions, boasting 356 beds, 24 operating rooms (OR), and 36 outpatient infusion chairs. The hospital has 3 pharmacy departments – Inpatient, OR and outpatient infusion. We have a longstanding history of recognition for excellence in patient care, medical advancements, and community involvement with achievements that include being one of the 100 Best Companies to Work for by Fortune magazine and ranked as one of the leading hospitals in the Houston area and in the state by the U.S. News & World Report, tied for no.4 in Houston and no.6 in Texas. In collaboration with our academic programs at Houston Methodist Hospital in the Texas Medical Center, residents will also be involved in various research and patient care-based projects, allowing for a fulfilling academic experience.
Purpose Statement
The purpose of the (PGY1) Pharmacy Residency Program is to develop compassionate pharmacist practitioners, able to adapt to the ever-changing healthcare landscape through progressive clinical, operational, leadership, and research experiences.
Program graduates will be prepard to excel as highly-skilled clinical pharmacists. Whether stepping into the role of a clinical or hybrid pharmacist, or transitioning to a PGY2 residency, graduates will seamlessly become an integral member of a multidisciplinary patient care team, providing high-level pharmaceutical care to a vast array of patient populations and positioning themselves for a role in pharmacy leadership.
Pharmacy Department
In addition to being mentored by 12 Board Certified preceptors in a variety of specialized practice areas, residents will work alongside 72 professional staff in a decentralized model.
Residents will engage in patient care committees and participate in the clinical pharmacist consult service, all while working with over 140 physicians in several specialties.
In the future, our department looks to continue our commitment to excellence in patient care as Houston Methodist expands to include ceaseless additions in various services to meet the needs of the community.
You are invited to attend one of our virtual recruitment events for the Pharmacy Residency Programs at Houston Methodist. These events will give you the opportunity to learn more about our programs and give us a chance to get to know you. The first half of each session will include a brief overview of the hospital, pharmacy department and each of the following programs: PGY1 Pharmacy, PGY1/2/MS Health System Pharmacy Administration & Leadership, PGY1 Residency for International Graduates, and PGY1 Pharmacy - Sugar Land. Then, you will be split into breakout rooms with current residents and program leadership for the program(s) you indicate interest in below to learn more specific information and ask any questions you may have. If you are interested in attending one of our virtual webinars, please provide your responses below. We look forward to connecting with you!
Residency Webinar Signup Link: https://forms.office.com/Pages/ResidencyWebinars