Thank you, PPE and Medical Device DOnors!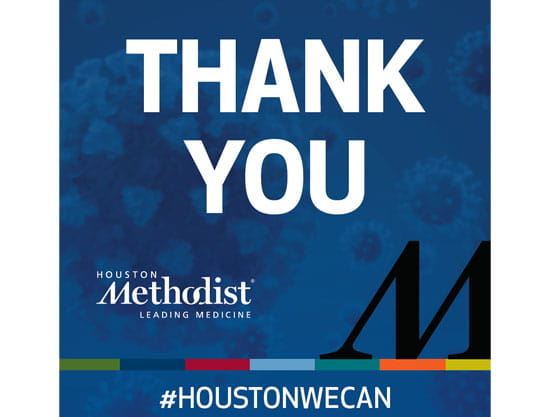 #HOUSTONWECAN
Houston is strong. When confronted with adversity, we band together and overcome. And though this coronavirus pandemic is unprecedented, we face it the same way — together.
Thank you to all of the generous benefactors who have contributed Personal Protective Equipment and medical devices -- we deeply appreciate your thoughtfulness. Every warrior in the fight against COVID-19 needs an ally standing beside them, and we're so glad that's YOU! Thank you!

Thank you to these generous PPE (Personal Protective equipment) Donors


Rima and Farouk Alattar
Anonymous (13)
Tom and Susan Arnold
Baker Hughes
Bechtel Group/Bechtel Equipment Operations - Sugar Land Texas
Bioness Inc. /Josh Miller
BP America
Capital Abrasives, LLC
China General Chamber of Commerce Foundation and CGCC-HOUSTON
Christensen Building Group
Community Toyota Honda Kia
ConocoPhillips Chinese-American Employees
Construction Concepts Group/David Sandoval
Roberto Contreras and Claudia Contreras
Charles and Dana Creekmore
Dharma Relief
Leslie and Ann Doggett
Lindsay Dragos, MD
ECFMG (Educational Commission for Foreign Medical Graduates)
Encino Energy
Epiphany of the Lord and Volunteers
Linda Eversherg
Faithbridge
FASTSIGNS Cypress, TX
Fitts Law Firm
Fo Guang Shan Chung Mei Buddhist Temple;
Buddha's Light International Association, Houston Chapter
Ning Fu
Gateway Printing & Office Supply Inc.
George HW Bush Foundation for US-China Relations

Kevin A. Grimes, MD, MPH and Derek James Homes
Sarah Hartley
Lee Haverman
Dennis Hoofnagle, DDS
Hope Disaster Recovery
Houston Northwest Church
Houston Tsinghua Alumni Association
Houston Chinese Alliance in partnership with ConocoPhillips Chinese American Employees Group
Houston Community Toolbank
Houston Helpers Taking on COVID-19
Houston Northwest Church/Shirley Brom

Hương Từ Foundation
Soniya Kapadia and Vishal Kapadia
KEYTOP USA
Kinder Morgan
Dana Koger with AsherKate
Lakewood United Methodist Church
Leva Patidar Samaj of Houston (LPSH)
Thompson Lin on behalf of Applied Optoelectronics, Inc.
George Lopez
Love 4 Humanity
Luminess Beauty
Richy Lyttle, RN - HMH - Neurosurgerical ICU
MatterHackers
Morgan Stanley – Houston Post Oak Complex
New Hope Christian Church, The Woodlands
Northrop Grumman/Chris Coulter, Tom Cote, Julie Godby, Tom Tuite, Marc Costantine, Bob Parenti
Northwest Vietnamese Alliance Church
Occidental
Joshua Ogden-Davis
Pacific Drilling
Chloe Peek
Peking University Alumni Association of Houston;
Peking University Education Foundation (USA)
Beverly Permenter
Debora G. Ponce
Pavit Randhawa
Rebuilding Together Houston
Arnaldo and Janice Richards/Picos Restaurant
Sage Dental Baytown
Schlumberger Technology Corporation
Seadrill Ltd.
SETRAC
Priti Sinha
Sino Professionals
Society Awards
Callie and John Soltis
The Sparkly Elephant Sewing Lounge
Talen Energy
Nina Tang (Katy Christian Community Church)
Tellepsen
Trae tha Truth
Ann Tsung, MD, MPH and Friends
Twinstar Bakery
United Way of Greater Baytown Area and Chambers County
University of Houston College of Pharmacy
University of Houston-Downtown, College of Sciences & Technology

The Team from Venus Medtech and Keystone Heart
Veolia North America/Mike Richter-Nathalie Ionesco
Robert and Sherry Wallis
Zhejiang Blossom Tourism Group Houston, LLC
Linda Zhou
*As of 5.04.2020