Pulmonary Hypertension Treatments and Symptoms
Find a Specialist Near You
We diagnose and treats pulmonary hypertension as a team, with cardiologists, pulmonologists and other experts working together to provide you with the best care for your specific condition and unique needs.
Our Approach to Treating Pulmonary Hypertension
Our specialists have extensive experience identifying pulmonary hypertension, a condition so difficult to pinpoint that patients can suffer for years before being properly diagnosed. People are often misdiagnosed with asthma or as being physically unfit and seek out our experts for a correct diagnosis.
Pulmonary hypertension cannot be cured. However, we aim to treat and manage your specific condition through advanced treatment options proven to improve and extend lives of those with pulmonary hypertension.
Additionally, chronic thromboembolic pulmonary hypertension (CTEPH), a serious form of pulmonary hypertension, can be treated surgically and with medicines. The Houston Methodist CTEPH Program at Houston Methodist DeBakey Heart & Vascular Center offers specialized care to CTEPH patients.
About Pulmonary Hypertension
What is pulmonary hypertension?
Pulmonary hypertension occurs when arteries carrying blood from your heart to your lungs narrow to the point of restricting blood flow. As a result, blood pressure in your pulmonary arteries increases and stresses your heart's right ventricle, causing it to weaken, enlarge and develop into right heart failure.
What are the symptoms of pulmonary hypertension?
Shortness of breath
Ankle, abdomen or leg swelling
Fatigue
Fainting
Chest and/or upper right abdomen pain
Dizziness
Heart palpitations
Lips and/or skin turning blue
What causes pulmonary hypertension?
Connective tissue diseases such as scleroderma, rheumatoid arthritis and lupus
HIV
Pulmonary embolism (blood clots in lungs)
Lung diseases such as COPD
Left heart disease
Sleep-related breathing disorders such as sleep apnea
Drugs, stimulants and appetite suppressants, including cocaine, methamphetamine and the discontinued fen-phen (dexfenfluramine and phentermine)
Genetics
Unknown causes


How is pulmonary hypertension diagnosed?
Right-heart catheterization
Pulmonary function tests
V/Q scan
Blood tests


How is pulmonary hypertension treated?
Pulmonary Hypertension Program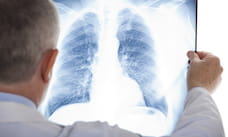 Houston Methodist Lung Center's Pulmonary Hypertension Program is one of only two accredited Centers of Comprehensive Care for adults in Texas. We offer effective treatment options for those suffering from advanced pulmonary hypertension. We also conduct, participate and lead innovative research, meaning we can offer you experimental therapies when appropriate. Learn more here or call 713.441.7779 to schedule an appointment.
Choose a Doctor at One of Our Locations