Our Doctors Are Among the Nation's Finest Specialists in Neurological Care, Offering Both General And Sub-Specialty Expertise.
The Neurological Institute is one of Houston Methodist's six centers of excellence – emphasizing medical care, research and academics. Our world-renowned physicians collaborate across specialties and departments to provide the best possible care. The institute is recognized as a research leader, with teams involved in developing new treatments, drugs and clinical trials for disorders, including stroke, Parkinson's disease, Alzheimer's disease, ALS and brain tumors. We also are committed to advancing the future of health care by teaching prospective doctors.
SPECIALIZED CENTERS AND PROGRAMS
Through integration of neurological specialties, Houston Methodist treats the most complex neurological disorders while providing personalized care from diagnosis to rehabilitation.
NEW STATE-OF-THE-ART PATIENT TOWER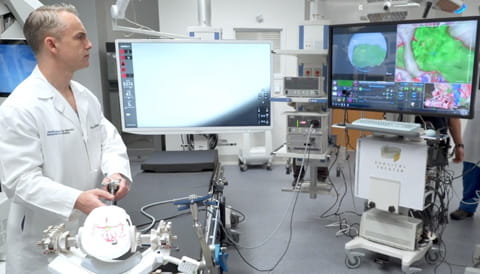 Houston Methodist Hospital's new Paula and Joseph C. "Rusty" Walter III Tower offers the most advanced treatments and innovations available, transforming the complex heart and neurologic care we deliver to patients worldwide.
Read more
NATIONAL RECOGNIZED
Houston Methodist Neurological Institute
6560 Fannin St.
Scurlock Tower, 9th Floor
Houston, TX 77030
Latest News
Upcoming Physician Events