Otolaryngology Head and Neck Surgery Residency Program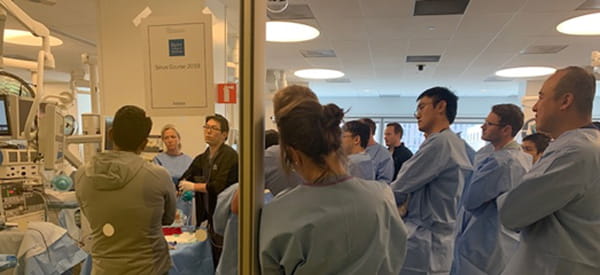 **Pending ACGME Approval**

Mission Statement


The mission of the Houston Methodist Department of Otolaryngology Head and Neck Surgery Residency Program is to be the recognized leader in clinical care, education and scientific discovery, and to provide the finest comprehensive training to residents in all aspects of this specialty. Emphasis is placed on academic learning and the basic sciences, surgical and clinical competency, and research. Additionally, the Department of Otolaryngology is dedicated to develop a physician who upholds the ICARE values (integrity, compassion, accountability, respect, and excellence); is skilled in the specialty of otolaryngology; who will provide evidence-based quality care; who will be a lifelong learner and display integrity and professionalism as an otolaryngologist; and who will have excellent interpersonal skills that relate to the art of medicine. The trainees are held to the highest degree of ethical character at every rotation site throughout their residency. The program is committed to serving the greater Houston metropolitan area and Gulf Coast communities, with a dedicated passion to provide an academic and scholastic environment which allows the pursuit of basic and clinical research. Today's trainees will become tomorrow's leaders within the field of otolaryngology.


Goals & Objectives


Residents at the Houston Methodist Department of Otolaryngology Head and Neck Surgery Residency Program team will be exposed to and immersed in the field of otolaryngology – head and neck surgery with a primary emphasis on adult laryngology and facial plastic surgery. This rotation will serve as an opportunity for the resident to examine, evaluate, diagnose, treat, and manage patients with disorders involving laryngological disorders, upper aerodigestive tract ailments, voice/speech and swallowing dysfunctions, cosmetic and reconstructive interventions for facial plastic and head and neck disorders. Additionally, the resident is expected to participate in other disciplines of otolaryngology including head and neck (benign and malignant disease management), rhinology, and otology.

The resident will be involved in the care and management of patients located in the inpatient (floors, ICU, etc.), outpatient (clinics), surgical (perioperative), and emergency room settings. The resident will be closely supervised in each of these locations by a faculty member. It is also expected that the resident will take calls, and he/she will be responsible for the evaluation and on-going management of these patients in this scenario under faculty supervision. These consults will need to be appropriately staffed in a timely manner with a faculty member. The resident rotation will be exclusively at Houston Methodist Hospital and the associated outpatient clinical and surgical settings (includes but is not limited to: Smith Tower 17th floor, OPC, all in-patient Methodist towers, HMH ER department, ICUs, floors, other operating rooms). HMH is an academic, tertiary referral center, and, as such, affords the volume of complex otolaryngology/head and neck surgery disorders necessary for a resident rotation training site.
Facilities


The ENT and Facial Plastic Surgery outpatient facilities are located on Smith 17th floor. There is clinic five days a week. The clinic is fully stocked with state-of-the-art equipment, including otologic microscopes, rigid and flexible endoscopes, video strobes, television monitors, camera for endoscopes, various otolaryngic-specific equipment pieces, and serums. At no time is the resident allowed to use these items for personal use, and, if they are removed from the clinic, the resident is responsible for obtaining prior approval from the clinician and/or clinic manager. These equipment pieces are VERY expensive, delicate, and difficult to replace. There are specific sterilization procedures that need to be followed to decontaminate any used equipment. It is the resident's responsibility to return the borrowed equipment and to notify the clinic staff of any dirty instruments which need to be appropriately sterilized.
Resident Experience

While on rotation at the Houston Methodist Department of Otolaryngology Head and Neck Surgery Residency Program, the resident will frequently encounter ancillary members of the department including audiologists, aestheticians, and Texas Voice Center personnel including speech therapists. When not engaged in other clinical/operative responsibilities, the resident is invited to spend time with these individuals which will further enhance their educational experience.

The resident is under the constant supervision of all Department of Otolaryngology faculty members. These faculty members will function as mentors and supervisors- overseeing the resident's performance, overall curriculum review, annual program review, case experience review, and resident evaluation at the end of their rotation. These faculty members will be involved in the resident's overall educational, clinical and operative experiences. These faculty members will be responsible for providing appropriate and adequate supervision of the resident during his/her rotation at HMH. At no point does the resident substitute for the faculty member in providing services to the patient except as identified for educational value and delineated in the program. A weekly schedule (clinic dates/times, operative case schedule, conferences) is provided to the resident to help guide his/her use of time.

In addition, there may be Baylor College of Medicine Otolaryngology/Head and Neck Surgery faculty members who will be potentially responsible for the supervision of the resident during call coverage, inpatient/ICU/emergency department consultations, or acute floor issues. Didactic experiences will include but are not limited to weekly grand rounds, teaching conferences, head and neck tumor board, bedside rounds, journal clubs. The resident is encouraged to participate in research opportunities, attend local/national meetings, and integrate themselves into the daily activities of the department. The resident is encouraged to engage in research activity that can lead to submission of scientific abstracts for poster and oral presentations with the potential for publication of these works.


Evalution

Resident evaluation will be both formal and informal. HMH faculty members will complete an evaluation form supplied by UTMB at the conclusion of the resident's rotation at HMH. These evaluations will be returned to UTMB Program Director, Dr. Wasyl Szeremeta, for review and documentation. Residents may also be asked to complete an evaluation for the HMH rotation and the teaching faculty.
Program Director
Sr. Residency Program Coordinator
Sr. Residency Program Coordinator