Curriculum & Training Sites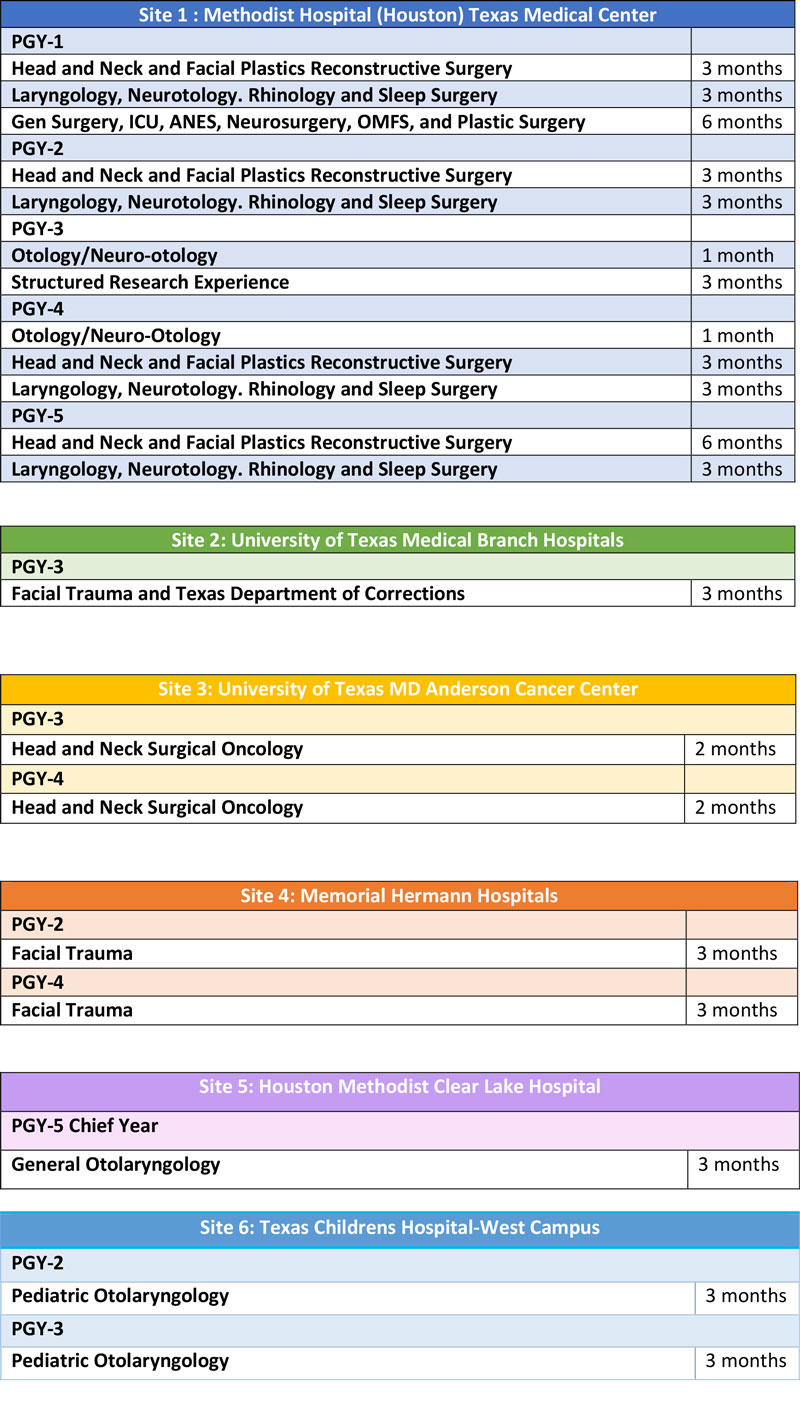 Training Sites 
HOUSTON METHODIST HOSPITAL
Houston Methodist Hospital is the primary teaching institution for the Otolaryngology
Head and Neck Surgery residency training program. The care of inpatients and consult
patients is provided by a team of residents who report and round daily with faculty.
In general, at Houston Methodist Hospital, surgical cases are performed by residents
and faculty together, with the resident performing as much of the procedure as possible –
given the complexity of the case and the experience of the resident. There are approximately 4000 cases performed by the otolaryngology operative service line at HMH. There is a wide range of adult general otolaryngology cases, major tertiary as well as quaternary care experiences, including complicated head and neck cancer, neurotology, sinonasal/skull base tumors, laryngology and plastic and reconstructive surgery cases.
UNIVERSITY OF TEXAS MEDICAL BRANCH HOSPITALS
For more than 130 years, UTMB has stood with Texas—training today and tomorrow's
health care workforce; working to better understand and treat illness and injury; providing
care for Texas families; and innovating new ways to improve health. UTMB serves as
a site for our residents to engage in a public/county hospital setting with educational
experiences at the John Sealy Hospital, UTMB Health Children's Hospital, the Jennie
Sealy Medical Surgical Tower/ Clinical Services Wing, and the Texas Department of
Criminal Justice Galveston Hospital. It is a full-service hospital with a Level I Trauma Center
UNIVERSITY OF TEXAS MD ANDERSON CANCER CENTER
The University of Texas MD Anderson Cancer Center is one of the world's most
respected centers devoted exclusively to cancer patient care, research, education and
prevention. MDACC is a facility that will provide comprehensive head and neck cancer
care experience for the Otolaryngology residency program
MEMORIAL HERMANN TEXAS MEDICAL CENTER
As one of only two certified Level I trauma centers in the greater Houston area, Memorial
Hermann provides 24/7 emergency and trauma care and has the Life Flight® rescue
service that spans a 150-mile radius. Children's Memorial Hermann Hospital is a premiere
pediatric otolaryngologic and head & neck trauma facility and part of the Hermann
system. Our residents will experience the full care of both adult and pediatric trauma.
---