Our team of neuro-ophthalmologists at Houston Methodist helps patients address the nervous system diseases that affect vision, the control of eye movements, or pupillary reflexes. We use a multidisciplinary approach to assist patients with neuro-opthalmologic diseases to apply the latest therapies and proactive symptom management. We know that you are concerned about your vision, and our goal is to provide the optimum setting for healing.
Our specialists diagnose and treat patients with often difficult-to-diagnose neuro-ophthalmologic symptoms:
Cognitive disorders that affect vision
Optic nerve disorders
Diagnosis and Treatment of Neuro-Ophthalmologic Disorders
Correct identification of neuro-ophthalmologic conditions is a major hurdle because the symptoms are linked to so many diseases. Headache, facial pain and blurred vision are all common in neuro-ophthalmologic disorders. Moreover, diagnosis is especially important because neuro-ophthalmological disorders are often indicative of other serious underlying diseases, such as
multiple sclerosis
,
diabetes
, Lyme disease or
stroke
. This is where Houston Methodist's specialists in neuro-ophthalmology excel.
At Houston Methodist an interdisciplinary team of doctors, including neurosurgeons, neurologists, ophthalmologists and oncologists , work together to ensure the highest quality of patient care.
US NEWS: NEUROLOGICAL INSTITUTE RANKED NO. 16 IN THE COUNTRY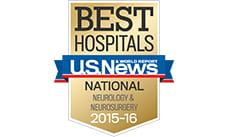 Houston Methodist Neurological Institute is ranked #16 in U.S. News and World Report's 2015 rankings for national hospitals in neurology and neurosurgery, we have reached this level of excellence by combining practiced skills with continuous learning and the cutting-edge research from the Houston Methodist Research Institute.
TREATMENT LOCATIONS
Our physicians at Houston Methodist specialize in neuro-ophthalmological disorders at the following convenient locations: