Our Doctors Are Among the Nation's Finest Specialists in Neurological Care, Offering Both General And Sub-Specialty Expertise.
The Neurological Institute, consistently recognized by U.S. News & World Report as one of the best hospitals for neurological and neurosurgical care, is one of Houston Methodist's six centers of excellence – emphasizing medical care, research and academics. Our world-renowned physicians collaborate across specialties and departments to provide the best possible care. The institute is recognized as a research leader, with teams involved in developing new treatments, drugs and clinical trials for disorders, including stroke, Parkinson's disease, Alzheimer's disease, ALS and brain tumors. We also are committed to advancing the future of health care by teaching prospective doctors.
Treatment for the Most Complex Neurological Conditions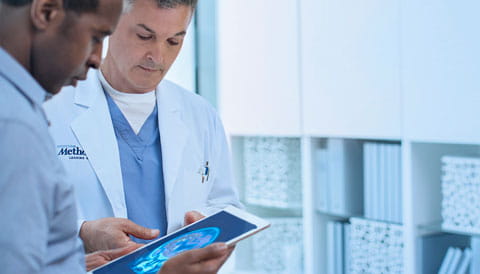 At Houston Methodist Neurological Institute, our physicians collaborate across specialties to diagnose and treat common to complex neurological disorders. As the highest nationally ranked neurology and neurosurgery hospital in Texas, we offer clinical trials and advanced technologies, bringing advanced treatment options to those who have few. For more information on our comprehensive neurological services in the Texas Medical Center, or to schedule an appointment, call
713.441.3850
.
Specialized Centers
Houston Methodist is a pioneer in the neurosciences, providing exceptional patient care, groundbreaking research and renowned academic programs. Through integration of neurological specialties, Houston Methodist treats the most complex neurological disorders while providing personalized care from diagnosis to rehabilitation.


MINIMALLY INVASIVE TECHNIQUE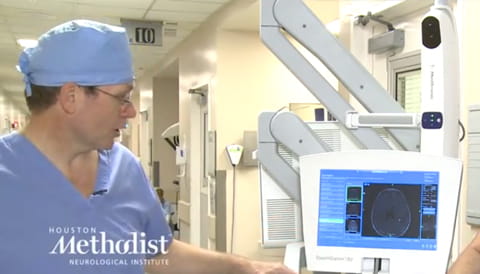 Dr. Gavin Britz used a minimally invasive technique to remove a vascular lesion from deep within a 44-year-old patient's brain. Houston Methodist Hospital neurosurgeons are first in the region to remove a lesion from deep within the brain through a tube inserted into a hole smaller than a dime.
Watch the video >
Eddy Scurlock Stroke Center     Get With The Guidelines Award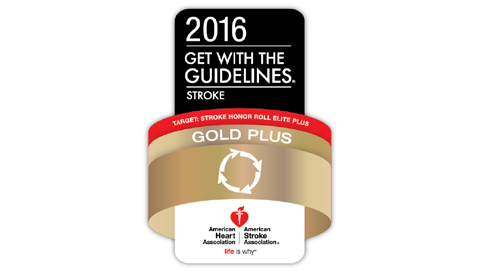 Houston Methodist has received the Get With The Guidelines®–Target: Stroke Honor Roll Elite Plus Award for 2016. The award recognizes the hospital's commitment and success ensuring that stroke patients receive the most appropriate treatment according to nationally recognized, research-based guidelines based on the latest scientific evidence. Learn more about the Eddy Scurlock Stroke Center


Neurology & Neurosurgery Ranked No. 17th in the Country 
U.S. News & World Report has ranked Houston Methodist Hospital No. 17 among 1,349 hospitals in neurology and neurosurgery. U.S. News & World Report has also recognized Houston Methodist Hospital for the fifth year in a row as No. 1 hospital in Texas, No. 1 hospital in Houston and as one of the nation's top 20 hospitals, placing it for the second time on the magazine's prestigious Honor Roll.
Houston Methodist Neurological Institute
6560 Fannin St.
Scurlock Tower, 9th Floor
Houston, TX 77030
713.441.3850
Latest News
Upcoming Physician Events