Neurology & Neurosurgery at Houston Methodist West Hospital

Experiencing symptoms of a neurological disorder, whether it's from chronic headaches or Alzheimer's disease, can be frightening and confusing. But you're not alone. Our neurologists and neurosurgeons at Houston Methodist West Hospital are here to help.
We have extensive experience treating a wide range of neurological disorders using progressive techniques. From noninvasive radiosurgery for brain tumors to the latest minimally invasive spinal surgery techniques, you can expect the same advanced care Houston Methodist is known for right here in your community.
Houston Methodist West is a designated Primary Stroke Center, meaning that when seconds count, you have access to the best rapid-response stroke treatment and resources. We've also received the American Heart Association/American Stroke Association's Get With The Guidelines Gold Plus Award, honoring hospitals that consistently provide treatment aligned with nationally recognized, research-based guidelines.
Complex Neurological Conditions — Treated in West Houston and Katy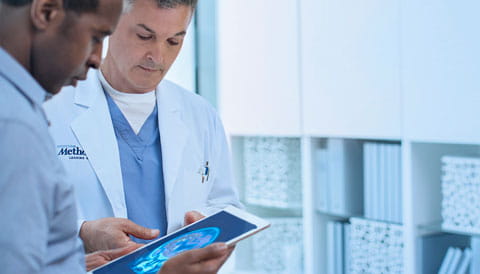 At Houston Methodist West, our physicians collaborate across specialties to diagnose and treat common to complex neurological disorders. With advanced treatment options, we provide comprehensive care close to home. For more information or to schedule an appointment, call
832.522.5522
.
Conditions We Treat
Alzheimer's and memory disorders
Amyotrophic lateral sclerosis (ALS)
Aneurysms
Back, neck and spine pain
Brain and spinal tumors and malformations
Carotid atherosclerotic disease
Carotid-cavernous sinus fistula
Cerebrovascular diseases
Chiari malformation
Concussions
Epilepsy and seizures
Headaches and chronic pain
Head and neck arteriovenous malformations
Intracranial atherosclerotic disease
Multiple sclerosis (MS)
Neuromuscular disorders
Pain conditions
Parkinson's disease and movement disorders
Psychiatry
Stroke and cerebrovascular diseases
Neurology and Neurosurgery Services
Comfortable, precise diagnostic testing using state-of-the-art technology
Rapid-response treatment for stroke and concussion
On-site Spine Center offering a full spectrum of spinal services integrated with pain management and physical therapy to care for you before, during and after surgery — all under one roof
Spine surgery using innovative endoscopic technology, which enables spinal procedures traditionally performed with open surgery to use a minimally invasive approach, reducing risks and speeding recovery
Robotic surgery, including the latest da Vinci Xi robot — Houston Methodist West is currently the only hospital in the Energy Corridor to offer the newest model, which enhances range of motion and safety for complex surgeries
Brain surgery for tumor removal, epilepsy, aneurysm and other neurological conditions
Stereotactic radiosurgery for brain tumors and neurological conditions affecting the brain, head and neck
Surgery to treat peripheral nerve disorders, including carpal tunnel pain
Houston Methodist West Hospital
832.522.5522
18500 Katy Frwy.
Houston, TX 77094