Weight loss surgery, or bariatric surgery, can lead to significant weight loss and improve weight-related health conditions. With additional benefits including increased energy and self-confidence, weight loss surgery is a step toward a new you.
The decision to have weight loss surgery is an important one, as is determining which doctor and hospital are right for you. Houston Methodist's team of surgeons, nurses, care navigators, dietitians, counselors and an exercise physiologist offers comprehensive care throughout your weight loss journey.
Benefits of Houston Methodist Center for Weight Loss & Bariatric Surgery include:
Skilled, board-certified surgeons using the most advanced and least invasive surgical weight loss approaches available
Free information sessions where you can learn what happens before, during and after weight loss surgery
Ongoing care after surgery, including monthly support groups, nutritional guidance from a registered dietitian and exercise advice and tips
What are the benefits of weight loss surgery?
Carrying excess weight for long periods of time can put you at risk for developing serious medical conditions, including heart disease, diabetes and cancer. It can also affect your mental and emotional health.
Weight loss surgery is a treatment that helps you gain control of your weight. It works in partnership with healthy choices, exercise and lifestyle changes. Whether you're motivated by medical reasons or personal ones, improvements in overall health and well-being are often reported after surgery.
The benefits of weight loss surgery include:
Safe and effective weight loss
Weight loss surgery can help you lose weight — and continue to keep it off. While weight loss varies from patient to patient, about 60% of excess weight is typically lost after surgery.
Improvements in your health
Weight loss surgery can improve several weight-related medical conditions, including:
Type 2 diabetes
Hypertension
Heart disease
Sleep apnea and other respiratory disorders
Nonalcoholic fatty liver disease
High cholesterol
Many people are also able to reduce or eliminate the medications they take for conditions such as diabetes, hypertension and acid reflux.
For women in their child-bearing years who are considering having children, the weight loss that occurs as a result of bariatric surgery can improve fertility.
Increased energy and interest in physical activity
Significant and sustained weight loss often results in a notable increase in energy levels. This means everyday tasks become easier, and many people experience a greater interest in physical activity.
Weight loss can also provide relief from joint pain and reduce dependence on pain medication.
Greater self-confidence
Carrying excess weight can affect a person's emotional and mental health. Feeling trapped in a cycle of losing weight, only to regain it later, can be incredibly frustrating. In addition, obese individuals may feel embarrassed about their weight and avoid social activities due to body image issues.
Weight loss surgery is a treatment that can help a person lose weight and keep it off. After losing excess weight, many people feel more self-confident, as well as mentally and emotionally balanced.
Am I a candidate for weight loss surgery?
Weight loss surgery, or bariatric surgery, is a procedure that can help you lose weight and reverse the dangerous side effects of being overweight. While it's a powerful tool, your long-term success depends on your ability to make permanent lifestyle changes.
Is Weight Loss Surgery Right for Me?
The following considerations are important in determining whether weight loss surgery is right for you:
Your BMI and health conditions play a role
Body mass index, or BMI, is a screening tool to determine if a person's weight puts him or her at risk for health problems, including heart disease, diabetes and cancer.
Weight loss surgery is for people with a BMI of:
40 or higher
At least 35 with an accompanying weight-related health condition, including type 2 diabetes, hypertension, heart disease, sleep apnea and other respiratory disorders, nonalcoholic fatty liver disease, high blood pressure or high cholesterol
You have a history of unsuccessful weight loss
Weight loss surgery may be right for you if you have trouble losing weight and keeping it off, suffer chronic health conditions and are limited from daily activities because of your weight. The procedure can help you lose weight, and Houston Methodist's comprehensive care team will provide you with the support needed for long-term success.
You have a positive attitude and determination to succeed
No two people struggle with their weight for the same reasons — but some factors include:
Stress and anxiety
Social factors
Major life changes
Past trauma
Weight loss surgery can help you lose weight, but only when it's paired with lifestyle changes. To ensure your success, you will need to address any personal or social issues that may prevent you from making the healthy choices needed for weight loss. Weight loss surgery and an associated program can provide a plan and structure to help you succeed — if you can manage your surroundings and keep a healthy mindset.
What are the different weight loss surgery options?
Houston Methodist's board-certified bariatric surgeons have decades of experience and use the most advanced minimally invasive weight loss surgery procedures available.
You and your weight loss surgeons will work together to determine the type of weight loss surgery that is best for you. This typically is based on your:
BMI
Weight-related medical conditions
Future health goals
The types of weight loss surgery procedures performed at Houston Methodist are:
Gastric Sleeve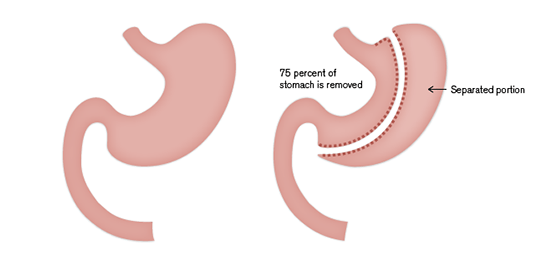 Also called a sleeve gastrectomy, the gastric sleeve is a minimally invasive surgical procedure that:
Promotes weight loss by permanently removing two-thirds of the stomach
Results in a feeling of fullness from smaller amounts of food
Preserves the stomach's ability to slow the emptying process
A gastric sleeve procedure typically lasts about an hour and involves only five small incisions. Patients usually return to work or activities in about two weeks.
Gastric Bypass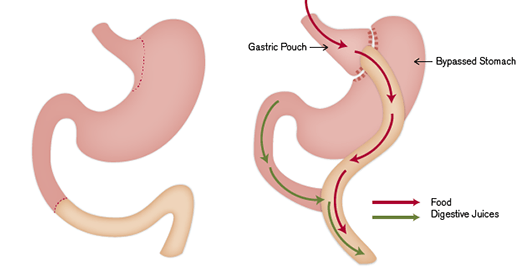 Also called the Roux-en-Y gastric bypass, this minimally invasive surgical procedure promotes weight loss by:
Restricting food intake to a small, surgically created pouch divided from the rest of the stomach
Connecting the new food pouch directly to the middle of the small intestine — bypassing the upper small intestine, which reduces the amount of calories absorbed
A gastric bypass decreases hunger and increases the feeling of fullness. It also reduces absorption of some vitamins and nutrients.
Weight Loss Surgery Revisions
Revisions are typically performed because of a complication from a previous weight loss surgery (lap band, stomach stapling, gastric bypass or gastric sleeve). These complications include:
Ulcerations or strictures
Weight regain resulting from reverting to poor eating habits. The weight loss surgeon would either revise the existing technique or convert to another procedure.
An adjustable gastric band (lap band) that has eroded or slipped — or is preventing a person from tolerating solid food. The weight loss surgeon would remove the band and convert to a gastric sleeve or gastric bypass.
Severe gastroesophageal reflux disease (GERD) caused by a gastric sleeve that cannot be resolved with medication. The weight loss surgeon would convert the sleeve to a gastric bypass.
What are the risks associated with weight loss surgery?
Houston Methodist's weight loss surgeons have extensive surgical experience and use the least invasive techniques available. However, as with any surgery, there are risks. Complications are rare and include (but are not limited to): leaks, ulcers, strictures, bowel obstructions and hernias.
If you have concerns or are experiencing urgent medical issues, please contact your surgeon's office immediately.
Candidates for weight loss surgery include those with a body mass index (BMI) of 40 or higher, or those with a BMI of at least 35 who also suffer from one or more weight-related medical conditions, such as diabetes, high blood pressure, heart disease or breathing problems.
If you're looking for more information about weight loss surgery or want to start your search for the right doctor, please complete the form on the right side of this page and a representative will get back to you within two (2) business days.
Choose a Doctor at One of Our Locations
A Team to Meet Your Needs Before, During and After Surgery
Each specialist on our team plays an important role in helping you achieve your long-term weight loss goals. The team includes:
Board-certified bariatric surgeons skilled in minimally invasive surgical weight loss procedures
Bariatric coordinators who can help answer your questions about the process of weight loss surgery
Registered dietitians offering presurgical nutrition assessments and dietary advice after surgery
Counselors providing mental and emotional support before and after surgery
Exercise physiologist offering exercise advice and tips
With seven convenient locations across the greater Houston area, Houston Methodist offers bariatric surgery near your home or work:
Texas Medical Center
Baytown
Clear Lake
Sugar Land
West Houston/Katy
Willowbrook
The Woodlands
All seven Houston Methodist hospitals are nationally accredited by the Metabolic and Bariatric Surgery Accreditation and Quality Improvement Program (MBSAQIP). The MBSAQIP recognizes weight loss surgery programs that meet national quality standards and provide safe, high-quality bariatric patient care.